Car hire in Mauritius
My advice on car hire in Mauritius. Is it worth hiring a vehicle during your holiday? How to spot an illegal car rental and why GPS is not necessary. Road traffic laws with driving license requirements.
How will you decide on a type of vehicle for getting around the island: cheap or luxury, automatic or manual, 4x4, all-inclusive or budget? 

Budget car hire in Mauritius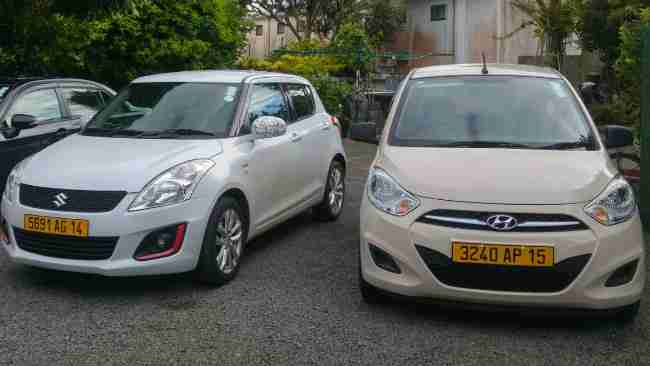 Car hire in Mauritius 
It's obviously a nice feeling to have a vehicle at your disposal 24 hours a day. The freedom to come and go as you please. You'll find lots of international and local car hire services competing for your booking. 
Check that the rental company offers extras you need. Surf, bike rack or a child seat. If you request a baby car seat make sure it's a recognized make. You don't really need a GPS. The software cannot keep track of the ongoing changes on our roads.
Let's first look at driving licence requirements for Mauritius. 
Driver's licence rules
Your driving permit must be at least one or two year old depending on the rental agency. In South Africa where driver's licences are renewed every few years and your current one is less than a year old, bring proof it's a renewal.

As a foreigner visiting our island you can drive for four weeks with your overseas licence. You'll need an international driving licence if you are staying longer than 4 weeks.
You can use your UK, Indian, Australian and any other country's driving licence provided it's in Roman letters.  For example, Chinese, Hindi, Russian or Arabic must be translated.

Car hire insurance companies require a minimum driving age of 21 or 25.
Make sure to enter the name of whoever is going to drive in the rental agreement
How to spot an illegal car rental
Our government has strict laws regarding car hire in Mauritius.
1.  A registered car rental must have 2 yellow number plates. Don't accept an offer for a vehicle with a white number plate. It's illegal and you have no guarantee it's in good running condition. 
2. All cars offered for hire must be a maximum of 5 years old which means vintage cars cannot be legally rented.
By law the vehicle must be equipped with a fire extinguisher and a safety triangle
Registered car rentals have a yellow number plate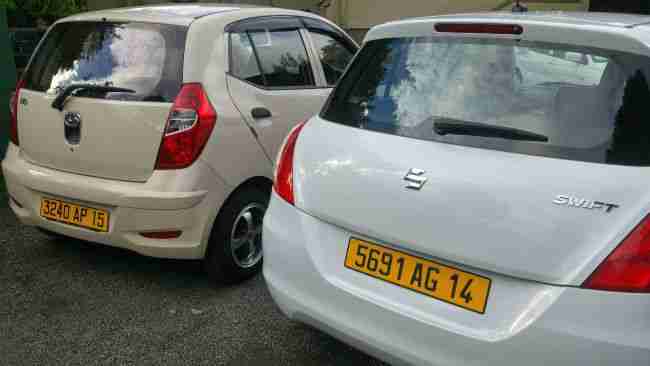 Which category of car?

Important:
We drive on the left in Mauritius so all vehicles are right hand drive. If you come from a country where you drive on the right side of the road then an automatic transmission vehicle will be easier for you to manage.
Car rental companies offer vehicles in various categories where you compare prices. It's best not rent a convertible sport car during our rainy season.
Small cars are great for up to four people.
Lower cost, less petrol and easier to drive on our narrow roads
If you are travelling with family and friends:
A SUV is similar to a Station Wagon usually equipped with four wheel drive 4 x 4
A MPV or multi-purpose vehicle is a 7 seater. An ideal family car.
SUV for families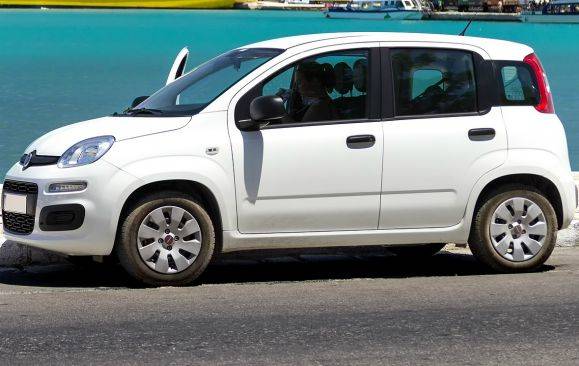 Before you decide on the size of a car have a look at driving in Mauritius with information on our types of road,  seat belts, cell phones, parking and speed cameras.

Car rental Mauritius airport transfer
Are you planning to self-drive a hired car from the airport? I don't advise driving from the airport for your own safety. My airport transfer page will show why it's not safe and suggest alternatives. Some car hire companies might encourage you to drive from our international airport. Why should they lose a day's rental?

Whether you stay in Belle Mare, Trou aux Biches, Flic en Flac, Bel Ombre or Grand Baie it will take about two hours to reach your accommodation from the airport. Don't rely on distances from coast to coast on the map.
Although the island is small, I would recommend unlimited mileage allowance
Village road traffic
Cheap car hire
The hidden costs could be

extra charge for airport delivery and hotel drop-off
extra charge for roof rack, baby car seat or GPS
airport exit fee not included
insurance and 24 hour emergency breakdown not included
How to save on car hire in Mauritius

ask the company for seasonal prices. Low season is from May to September
at times a 5 day car hire costs the same as a 10 day car hire
it's cheaper to return the car where you picked it up
all-inclusive car rental is a good alternative
Long term rental should have cheaper rates. A discount for 7 days, 10 days or more.

Car insurance

Book with a reliable company and read the fine print in the terms and conditions. Check the vehicle is licenced for insurance purposes. Does the rental quotation include comprehensive insurance? It's usually offered with an excess refunded to you if you have not used it.

Keep your car rental contract and your driver's licence in a safe place. These will be required if you come across a police check.
Some car insurance companies require drivers to be 100% sober. By law the alcohol limit must be less than 50mg/100ml in your bloodstream. A small glass of wine ... 
Not all petrol stations are open 24/7. Some are open daily from 6 00 am to 8 00 pm. Be safe and refuel when the tank is half full. You have a choice of filling stations: Total, Shell, Engen, Indian Oil ...
Petrol Station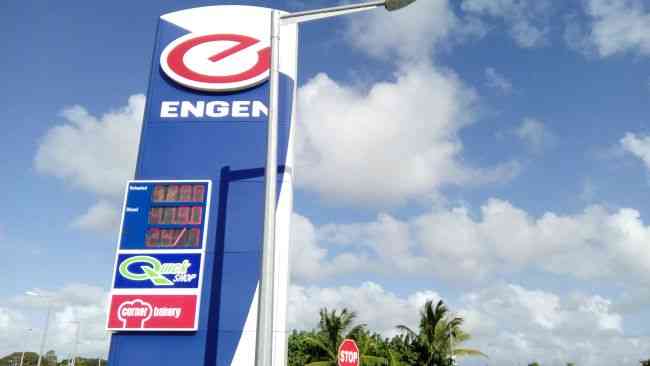 Emergency phone numbers
Dial 999 for the ambulance and police or 112 for the police and 114 for medical emergencies.

If you are planning to spend your holiday relaxing at the beach and tour the island for a few days then rather book a taxi for your sightseeing tours. A car hire in Mauritius for 3 or even 4 days is not worth it. 
You can now make an informed choice and answer your question:
Should I hire a car in Mauritius?
Home > All transportation > Car hire in Mauritius
I'd love to hear from you - add your questions or comments below!