Catamaran cruises in Mauritius
Full day with lunch
The magic of catamaran cruises in Mauritius …
Which sailing tour should you choose? Lagoon or deep sea sailing? Read my guide before you book your sea excursion. 
You'll find a map and a detailed itinerary with images for each cruise below. 
Cruise the South East lagoon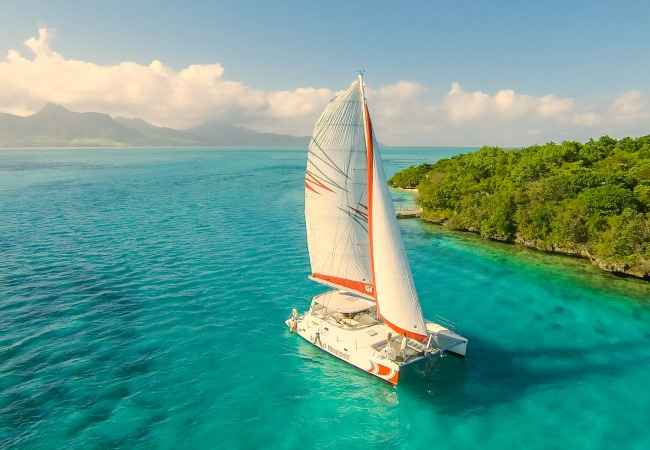 The cruise itineraries have to do with the topography of the island. What does this mean? When you sail in a lagoon, the ocean will be more flat and pleasant. If you sail in the deep sea, there will be more waves. 
These are the 3 cruise itineraries in Mauritius:
Lagoon sailing in the South East 
Lagoon sailing in the South West 
Deep sea sailing in the North 
Catamaran cruises in Mauritius - Map with islets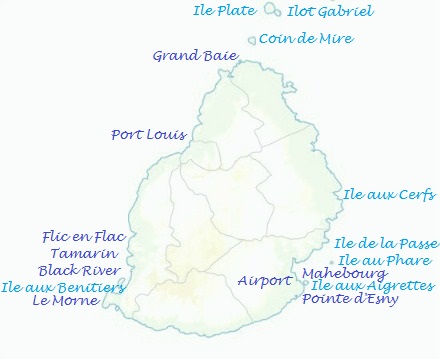 During these cruises you'll visit wild islets, snorkel and swim among exotic fish, sample a delicious barbecue lunch, sip a rum cocktail and more … All from the comfort of a catamaran with a diving platform, swimming ladder and a canopy for sun protection.

In other words, a day in heaven!
The crew will entertain you with local songs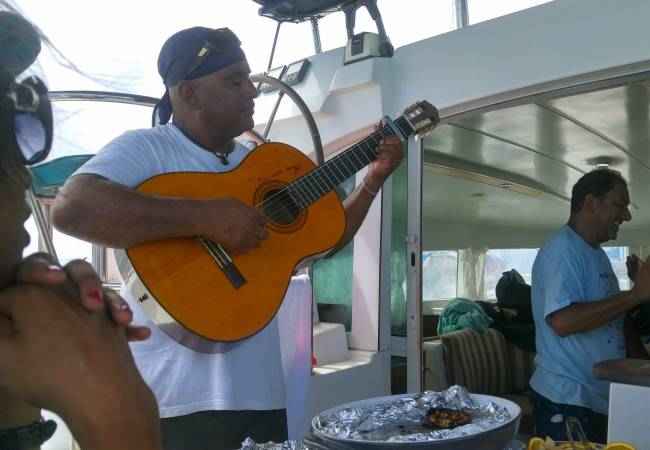 Catamaran cruises in Mauritius - Lagoon or deep sea?
Let's make things simple...
Do you have kids? Take a lagoon cruise
Do you get seasick easily? Take a lagoon cruise
Are you adventurous? Take a deep sea cruise

Deep sea sailing in the North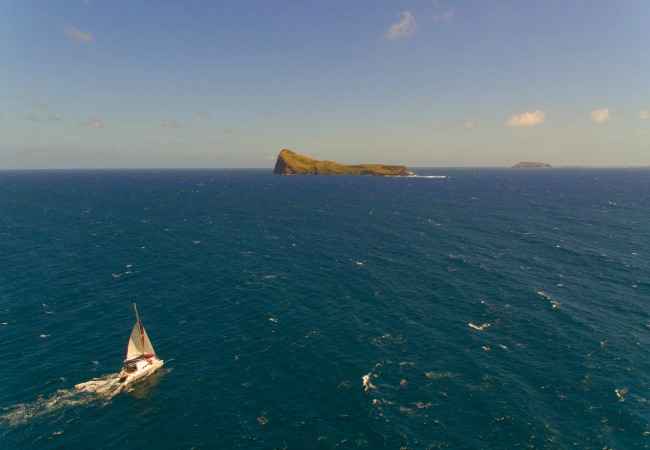 Lagoon sailing has a different feel. It's a smooth ride all the way! The waves are far and few. It's an ideal family attraction. Unlike deep sea sailing I highly recommend these catamaran cruises if you are travelling with children. Boats and snorkeling add to their sense of adventure.

Lagoon sailing in Mauritius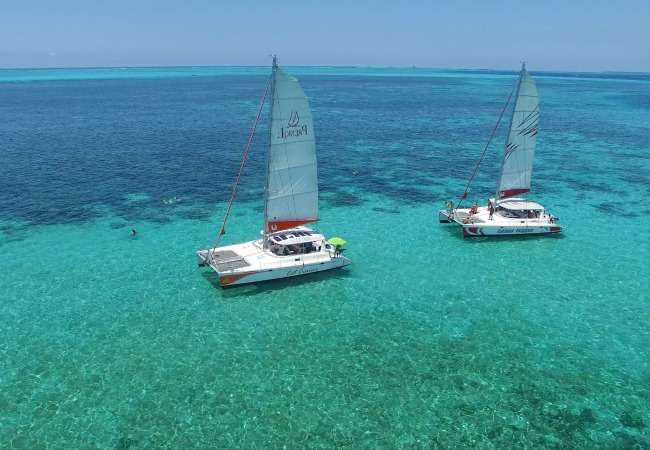 Below you'll find a detailed itinerary for each catamaran cruise:
I may receive a small commission from these affiliate links. At no extra cost to you! This helps me run my website and give you insider information for your Mauritius holiday. Thank you for your support!
South East lagoon - cruise itinerary
You have two choices:
1. The cruise starts in Trou d'Eau Douce in the East.
It sails down south to Mahebourg Bay and back to Trou d'Eau Douce. Check the itinerary
2 The cruise starts in Mahebourg in the South East.
It sails up east to Trou d'Eau Douce and back to Mahebourg. Click here for the itinerary

Both cruises offer the same itinerary, just in reverse. My suggestion? Check which is the closest starting point to your hotel.
Our South East lagoon is the largest and very scenic. Look at the magnificent mountain scenery and the turquoise sea in the photo.

South East lagoon with Ile aux Aigrettes on the right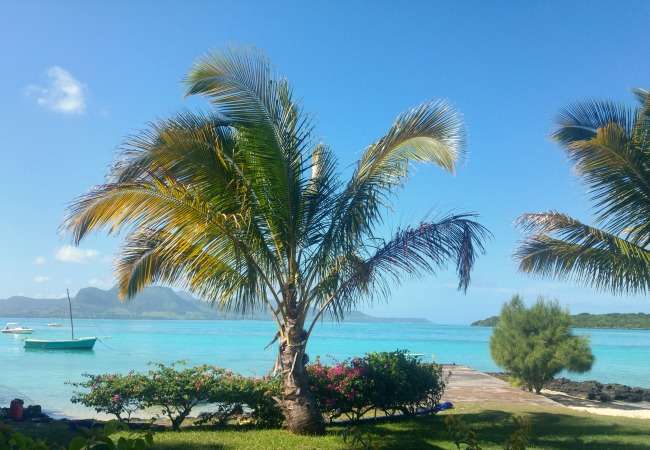 You'll embark at Pointe Jerome in Pointe d'Esny and sail across Mahebourg Bay. The skipper will cast anchor at a spot where you'll snorkel among dozens of colourful fish.

Snorkeling from the catamaran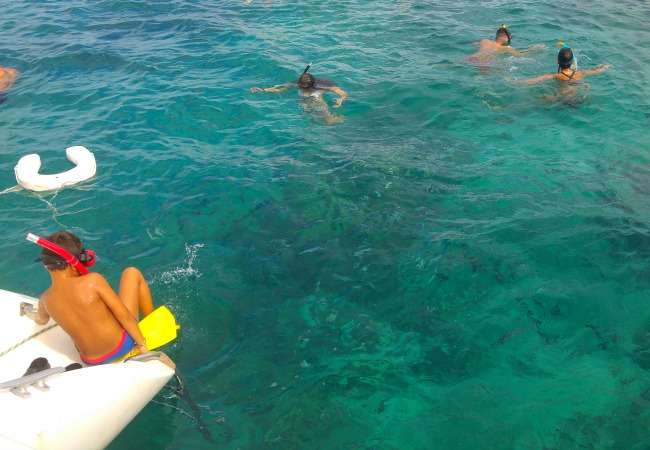 The catamaran will then set sail to the 'Grande Riviere South East' to view her waterfall. En route the boat will navigate past a couple of small islands with interesting history. Ile de la Passe and Ile Plate.

Sailing up the Grande River South East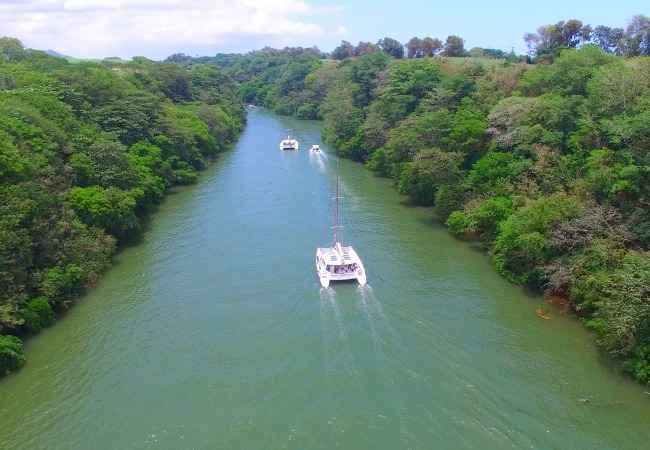 The 'chef' will prepare a tasty barbecue lunch on your way to Ile aux Cerfs. You might even see some dolphins!
You'll have plenty time at Ile aux Cerfs for swimming or maybe join a water sport activity. Ile aux Cerfs is a popular island in Mauritius.
Ile aux Cerfs beaches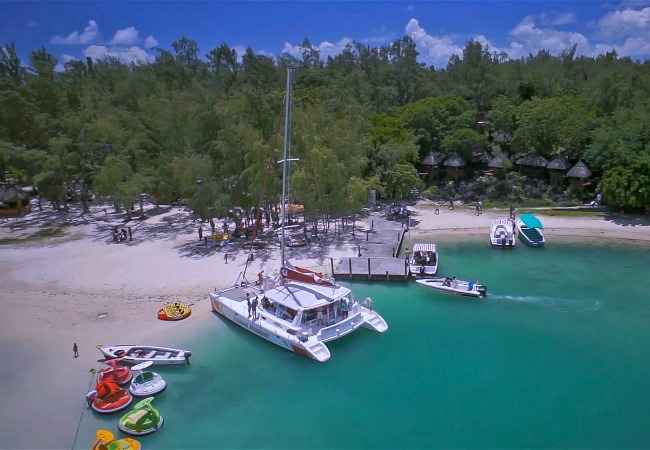 In the afternoon you'll board your catamaran for the leisurely cruise back to Mahebourg. The crew will entertain you with our sega music.

South West lagoon - cruise itinerary
Enjoy a one day catamaran cruise sailing Mauritius' South West lagoon. Ile aux Benitiers is a popular island stop during this catamaran excursion. Here she is in the image below.
Check the itinerary here.
South West lagoon with Ile aux Benitiers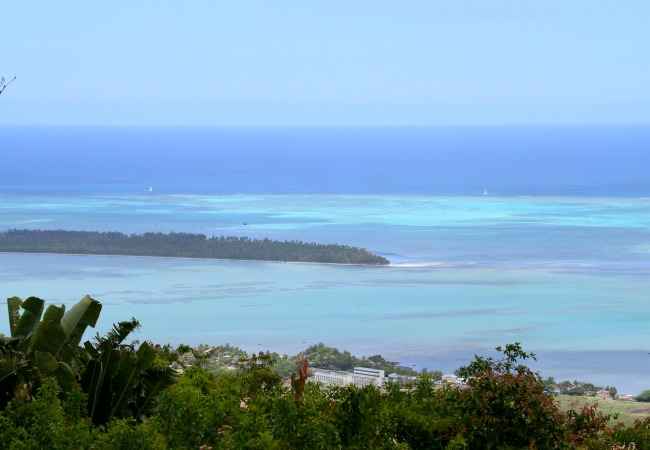 Your catamaran will set sail  with the iconic Le Morne Mountain in the background. Then onto dolphin watching in Tamarin Bay. These beautiful fish have their morning swim in the bay to the delight of tourists.
Enjoy some snorkeling before a barbecue lunch prepared by the crew on board your catamaran. The grilled fish is absolutely delicious.

Barbecue lunch on board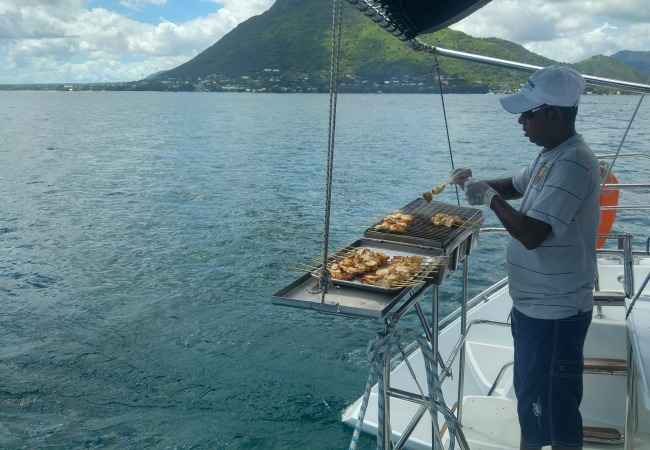 After lunch you'll be taken by motorboat to Ile aux Benitiers. En route you'll stop at Crystal Rock to admire her intriguing shape. She is made of fossilized coral.

Crystal Rock with the iconic Le Morne Mountain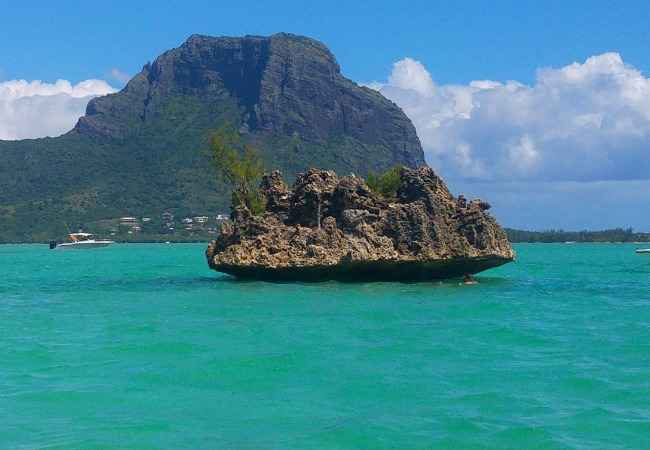 Spend time swimming alongside ile aux Benitiers. Maybe buy a souvenir from the stalls on the beach or sip coconut water right out of the shell.

Ile aux Benitiers beach vendors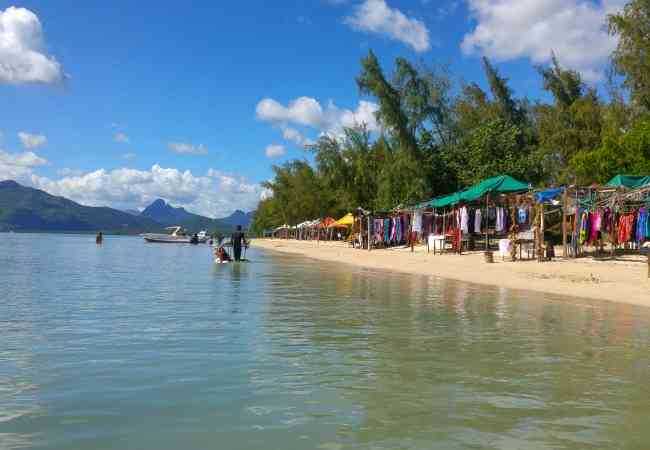 You'll sail back to the jetty in the afternoon.
Deep sea cruise itinerary - the North 
You'll sail beyond our coral reefs to the small islands of the North in a luxury catamaran. These trips take about an hour and a half. You can see the outline of Mauritius on the horizon in the image below. 
Check the itinerary here

Ilot Gabriel and Flat Island have their own lagoons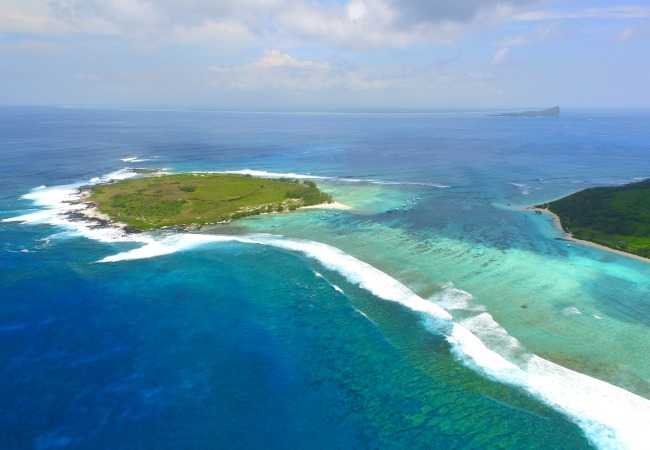 No one is allowed to stay over on the islets for a snooze. Robinson Crusoe here we come!

Enjoy your swim in the turquoise sea. Bring your sandals and go for a walk among the casuarina trees to watch the white-tailed 'tropicbirds'. You can see one of them in the casuarina tree below!

The catamaran cruises in Mauritius visit Ilot Gabriel  in the North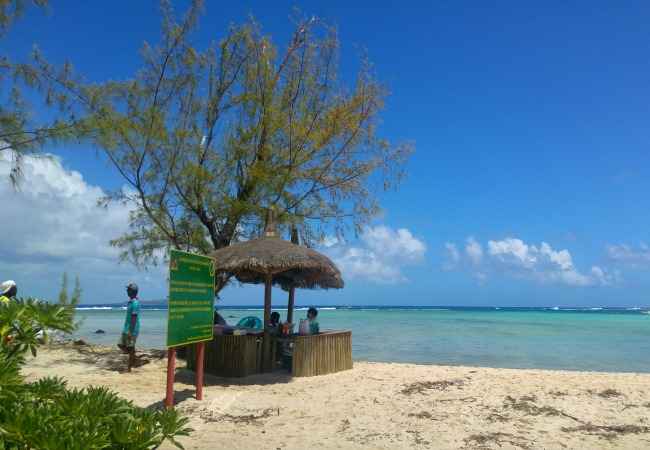 Join your fellow passengers for a barbecue lunch on board your catamaran before sailing around 'Coin de Mire' or Gunners Point for a great snorkel.

Enjoying the barbecue lunch with my daughter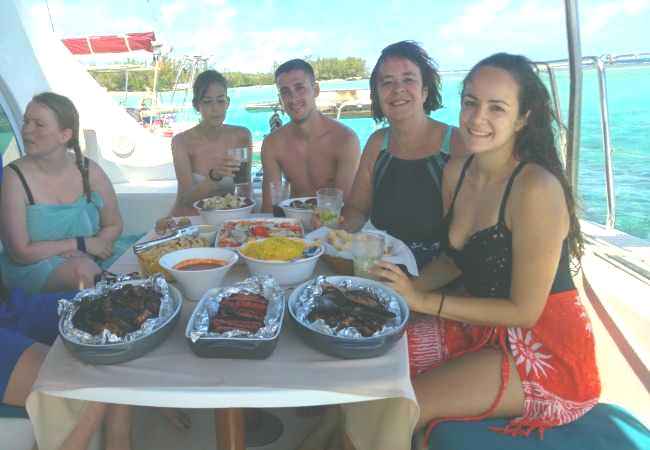 You'll sail back to Mauritius in the afternoon whilst the crew entertains you with local songs.

Motion sickness tips
You'll feel the swells when you sail to the islets in the North. Cruising back to Mauritius the boat sails with the wind so it's a smoother ride.


Sailing back to Mauritius from Ilot Gabriel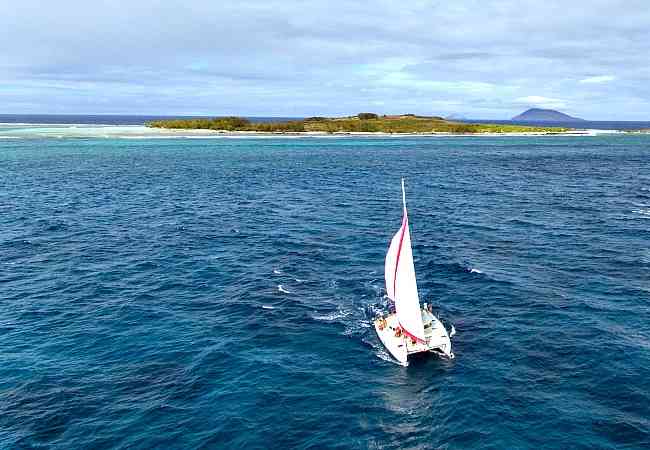 Not everyone suffers from motion sickness. I do and it's not too many cocktails … 
Follow my well tried tips and you should be fine:
Wear a seasickness bracelet and drink ginger tea 
Stand at the entrance of the cabin at the back of the catamaran and face the front 
Keep the horizon in sight without staring at it. Let the breeze caress your face 
Sailing Weather
Pack a windbreaker for catamaran cruises in Mauritius during our 'cool' months. That's from June to August. It feels cooler when you are at sea. The water temperature will be about 23 degrees Celsius.
Bring spare clothing, a towel, sunscreen and a hat. Snorkeling equipment is provided. 
Please drop me a line when you return from your holiday to share your experiences about the catamaran cruises in Mauritius

Happy sailing!


Home < Catamaran cruises in Mauritius

I'd love to hear from you - add your questions or comments below!