Mauritius Map
Your 'must have' travel guide
Have fun planning your holiday with the Mauritius map I have prepared for you. I bet you'll soon travel our paradise island like a local. Explore and enjoy!
Mauritius island map 
On this island Map I have shown the location of our airport in the South East. It will give you a good indication of how far you'll travel from the airport to your holiday accommodation. 
Mauritius Island Map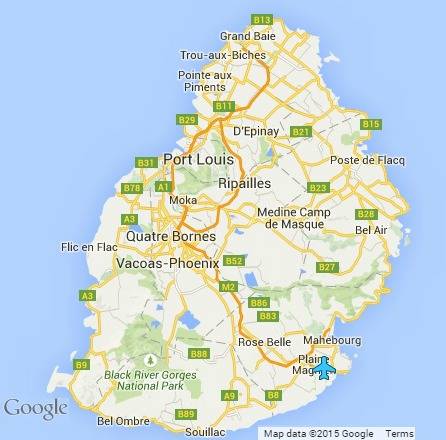 Our world class airport is named after our beloved first Prime Minister. The late Sir Seewoosagur Ramgoolam or SSR for short. The new terminal was designed by Aeroports de Paris in the shape of the 'traveller's palm tree'. 

We want to welcome you in style!
How to use each Mauritius map 
Below you'll see a list of Mauritius maps by category. Select the map you want to view. You can also download them for free. 
Once you are on a live map click on the small white square in the top left corner. A list of labels for that particular map will appear.
For a satellite image of the island click on the small dark square in the bottom left corner.

Note about Google labels:
When I was adding my own labels on the Google maps I noticed some labels at the wrong places. Rather be on the safe side and invest in a Mauritius Globetrotter road map for use together with the digital maps. You can then double check the locations. 


Mauritius map by category
Where is Mauritius on the world map? Mauritius road map and a virtual tour of our best beaches for swimming with Google earth.
Maps of Mauritius beaches with own itineraries 
Select a coast and discover remote beaches on a leisurely drive with your rented car or a taxi. Plus I have thrown in little known coastal attractions far from tourist spots. I hope you'll enjoy my self-guided tours.
Why download a Google map to use offline? 
Offline maps are useful when you have no internet connection. To save a map for later use you need:
Your device
Network connection
A Google account which is free and easy to set up.
It's best to save a map for each section of Mauritius you'll visit. You can't save large maps. If you try, an error message will appear stating 'the on-screen map area is too large'. You must then zoom in and wait until a save button appears on your screen. Then save.
The maximum land size for saving a map is 50 km by 50 km.
When you need directions simply zoom in your downloaded map for a closer look at the streets and maps data. That's all you really need for driving in Mauritius.
It's the old fashioned way of navigating manually. Directions, navigation, map layers and satellite maps are not available offline.
Please note that at the moment Google will keep your saved maps for 30 days. After 30 days your saved maps will automatically be cleared.
Home < Mauritius map


I'd love to hear from you - add your questions or comments below!