Where is Mauritius on the world map?
"You are so lucky you come from Mauritius. But where is Mauritius located? It's such a beautiful island." I am usually asked this question when someone hears my accent and asks me: "where do you come from?"
Mauritians have a permanent accent! It's there when we speak French and it's there when we speak English.

Location map of Mauritius on the world atlas
Have a look at the World map below. I have included my beautiful island with a red dot in the Indian Ocean to show you our location in relation to flying distances, weather and surrounding countries.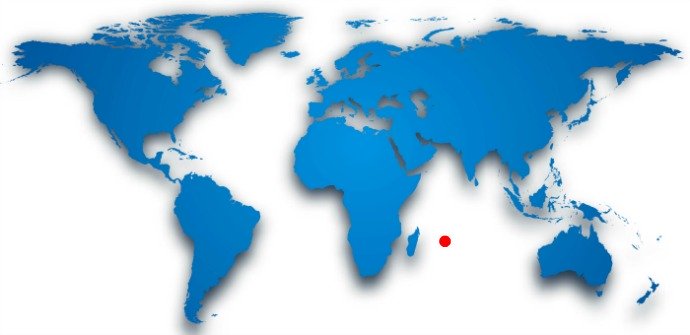 Where can Mauritius be found?
Mauritius is located below the equator, just north of the tropic of Capricorn in the Southern hemisphere. 
We are four hours ahead of Greenwich Mean Time or GMT + 4.
Latitude: 20 .4 degrees.
Longitude: 57.7 degrees

Where is Mauritius located in the Indian ocean?

Our closest neighbour is Reunion Island which belongs to France, only 220 km away. Travel west and you'll come across the big island of Madagascar, 805 km away. 
The East coast of the African continent is about 1800 km further west. India is 3,200 km to the north and Western Australia is 5,854 km to our East.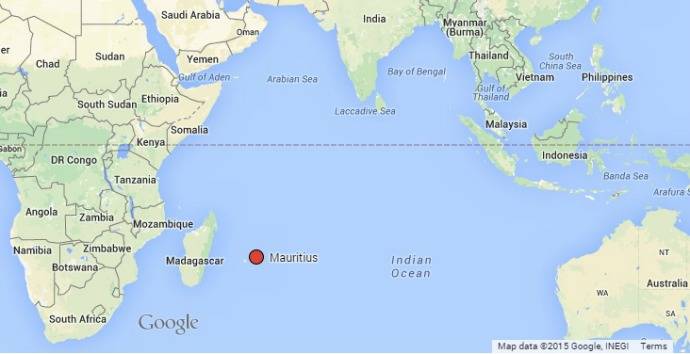 We have a world class international airport located in the South East of the island. Lots of airline companies fly to Mauritius. Do some research to compare ticket prices for the best air fares.
How many hours is Mauritius from ...
Travel time is ...
Mauritius is about a 12 hour flight from Europe, 6 hours from Dubai and Mumbai, 8 hours from Perth, 10 hours from Hong Kong and about 3 hours from South Africa. 
If you are in the Northern hemisphere bear in mind our seasons are opposite to yours in the South. Summer time is during Christmas and New Year and … beyond. Winter (yes we do have a winter) is during July and August.
For you a tropical island may be exotic but for us snow is exotic!  Lots of Mauritians can only dream of a white Christmas… 
Entry requirements and currency
You may not need a visa to enter Mauritius. But ... there are other documents you must show the passport control officer. Otherwise you'll not be allowed into the country. You'll find this information in my Mauritius travel page. 

You'll want to know what type of currency you should take along with you. Which currency is best and where to find the best exchange rates? All the information you need is on the page.

Feel like exploring more of the island with a map? From a virtual tour with a satellite view showing the best beaches for swimming, holiday maps to road maps. All at your fingertips. Choose a category in the Mauritius map collection.   
'Where is Mauritius?' has no more secrets for you.
Enjoy your travels!
Home < Mauritius Maps < where is Mauritius


I'd love to hear from you - add your questions or comments below!