The weather in Mauritius 
When to travel and where to stay?
Mauritius weather forecast should be a breeze. Before you get all excited and book your holiday travel read my "Best Time to Visit Mauritius Guide" below. The weather map, where to stay, average temperature and monthly rainfall with charts, cyclone season, wind, hottest month and humidity all on one page!

The weather in Mauritius could spoil your holiday! Read on to make sure it doesn't happen to you.

We are a small island in the Indian Ocean about 3000 km from East Africa. Right? After all tropical islands bring to mind pictures of peaceful nights, the gentle rustle of palm leaves … the reality could be different in certain parts of Mauritius.

Rainbows over the lagoon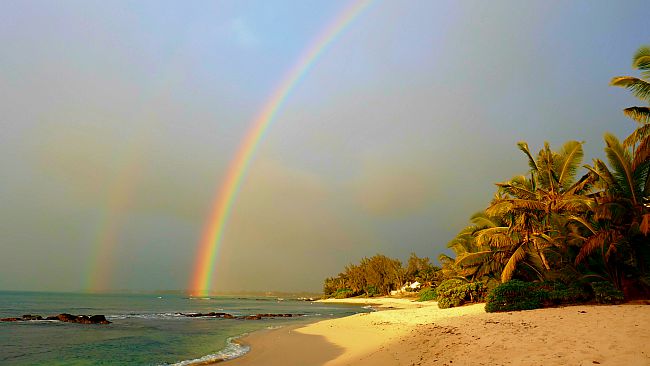 The weather in Mauritius can be confusing … 

cool winters that might surprise you 
summer rains
southeast trade winds - most of the year
cyclones visit us in summer - not always
anticyclones visit us during winter - always
27 micro climates and counting!
Our summer is from December to March.
Our winter is from June to August.
What about spring and autumn?
We Mauritians are not bothered with four seasons. Instead we have transition months: September and May. 
When is the best weather in Mauritius? 

I am often asked this question. For me October is the best time to visit Mauritius. It really depends on your interests and the weather you enjoy on holiday. Hot weather with warm sea or lukewarm weather and cool sea?
Sunrise overlooking the East coast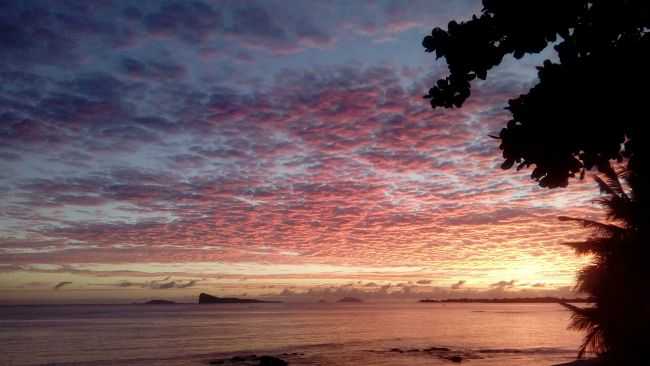 Maybe you like to kitesurf? How about scuba diving? Carry on reading to find the best time and weather for these activities and more.
Our hottest months are December to March and the coldest June to August. The sea temperature is 27 degrees Celsius during summer compared to 22 degrees during winter.
The best beach weather
During summer: 
All our beaches are glorious! Pick a beach anywhere on the island and you'll be happy.
Insider tip! Do you like a little breeze on the beach? Choose any East or South facing coast. That's where our trade winds will keep you refreshed. Our West and North coasts are protected from these winds by our mountains.
Beautiful beach weather in Mauritius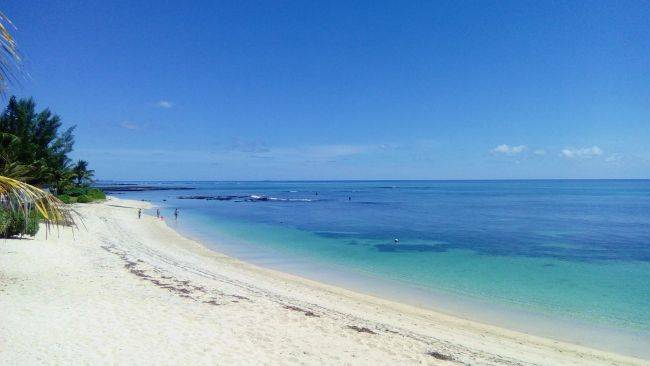 During winter

It's best to choose a coast which is not South or East facing. This is because of our trade winds. A non-stop windy beach can really spoil your holiday.
But remember that our coast is not a perfect straight line! You can see that in the map below. There are beaches that are protected from trade winds in the South and East.
A bit confusing? Don't worry. I'll help you choose a hotel that won't be windy. Or maybe a better hotel for you somewhere else... You can contact me here.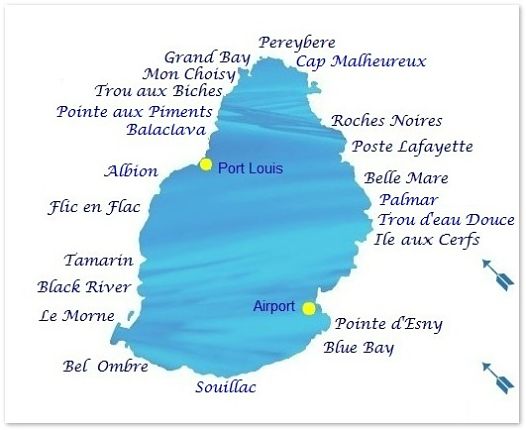 Mauritius weather charts
The charts will give you a prediction for the average day and night temperatures.
Note the wind chill factor.


Weather and activities

Deep-sea fishing season is in summer off the West and North coast. It's also when you'll have the best visibility for scuba diving and snorkeling. 
Kite surfing is best from June to October.
Insider tip! If you dream of beach sunsets choose a West facing coast. 
Sunset over Le Morne in the South West lagoon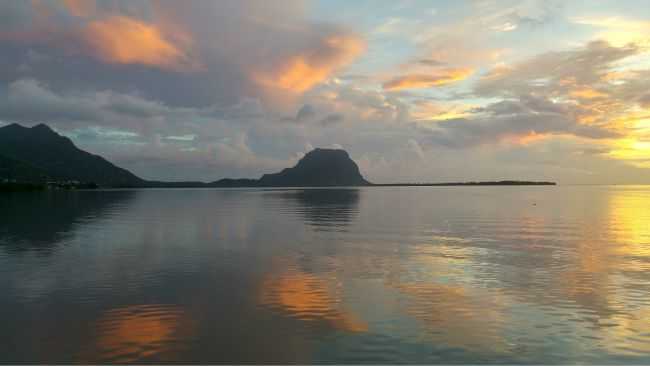 Mauritius rainy weather
Wet season is during our hottest months which is great. You'll welcome our summer rain and her colorful rainbows. Beautiful over the sea on the horizon!
Let me reassure you, our rain lasts between a few minutes and a few hours, seldom for days on end like a monsoon rain. 
Monthly precipitations vary a lot from coast to coast as you'll see in this chart.
Mauritius Weather: Rainfall Chart

Beautiful cloud formation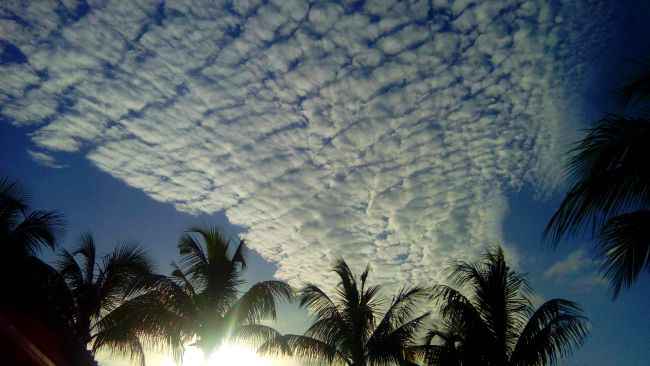 Our rain is fussy …
You look to your left the sun is shining in a clear blue sky. You look to your right it's raining cats and dogs. Some rain drops ... I always smile looking at tourists running for cover, towels, hats and sun screen in tow.  A while later the sun will usually shine again.
The secret is ... 
Swimming in the rain! Dive into the sea and enjoy the rain drops caressing your body. I highly recommend you try in summer when the water temperature is delightful. An experience you won't forget.
Worried about cyclones?
Don't worry, you will probably not experience one! 
For more information look at my page on cyclone seasons. Our 'hurricanes' can be intimidating if you did not grow up with them. Tropical storms could send you on a wild goose chase, these real life cyclone stories will keep you on your toes.
sun and rain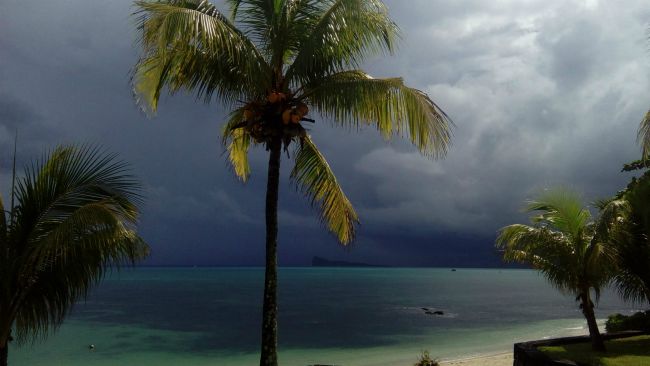 Month-by-month Mauritius weather patterns 
Weather trends for your long term holiday forecast 
January        summer - hot and humid weather
February      hottest and wettest - air fares are cheaper
March           still hot and humid
April              end of summer - a slight chill in the air
May               transition month - cooler sea and air temperature
June               it's officially winter in Mauritius
July                 winter - chilly at night and at sea
August           last winter month
September   transition month - it's getting warmer
October         glorious - the best time to go to Mauritius
November    summer on its way - a beautiful month
December    high season - Xmas and New Year
You'll get used to our climate and humidity. How? 
I returned to my beautiful island after many years overseas. My friend Louis told me:

"Marie Christine, I can see you have just come back"
"How?"
"You do everything fast. You walk fast, you speak fast and you work fast"
"Oh"
"I give you a few days and you'll do everything slowly like us. It's the weather"...
If the service is a little slow in a restaurant, don't blame your waiter. It's the weather. You'll soon be strolling like a local instead of walking. It's the weather. 
The only thing some Mauritians seem to do fast is driving. It does not apply to sailing 
Fishermen in their pirogue
Mauritius weather map forecast
Have a look at the Mauritius weather forecast for the various regions on the map. 
Reference: Mauritius Meteorological Services
Phew!
There you have it! I know it's a lot to take in. But it's important for your perfect holiday planning. The weather in Mauritius has no more secrets for you ...

Home < Mauritius weather
I'd love to hear from you - add your questions or comments below!