Mauritius cyclone stories
I promised to entertain you with a few Mauritius cyclone stories. At the time they were not funny. I was in fact quite stressed. A cyclone warning can have the most unusual repercussions in the most unlikely places.
To cook or not to cook …
It happened in Mauritius when I was the manageress of a boutique hotel. It's Christmas and the hotel is full. There is a cyclone warning number two. Shops are about to close. The wind is picking up and it's pouring with rain.
Ten o'clock in the morning … Mario the cook is nowhere to be seen. His assistant is off sick.
Eleven o'clock … still no sign of Mario.
What about lunch for the guests? The clock is ticking.
"Does anyone know where Mario lives?"
"Mamzelle (creole word for miss) Mario lives in Grand Bay but we don't know where".
Twelve o'clock … I am now desperate. 
I see Rajen the taxi driver.
"Rajen do you know where Mario lives?"
"Yes Mamzelle I can take you to his house"
I am so relieved. Off we go driving through semi flooded roads. Suddenly he veers off the road to the right onto a path. After a while he stops in front of a small tin house lost in the middle of nowhere.

"This is where Mario lives"
"Mario"
No sign of Mario.
"Mario"  "Mario"
The suspense is building …
"Mario" 

The front door slowly opens. And here is Mario standing in the doorway in his pyjamas rubbing his eyes.
"Mario you must come to work. It's nearly lunch time. The hotel is full and the guests must be fed".
"But Mamzelle there is a cyclone".
"Mario this is when you have the most work because the guests can't go out".
Mario used to work in a restaurant. Restaurants are closed during cyclones …
Mario is on the right wearing a white shirt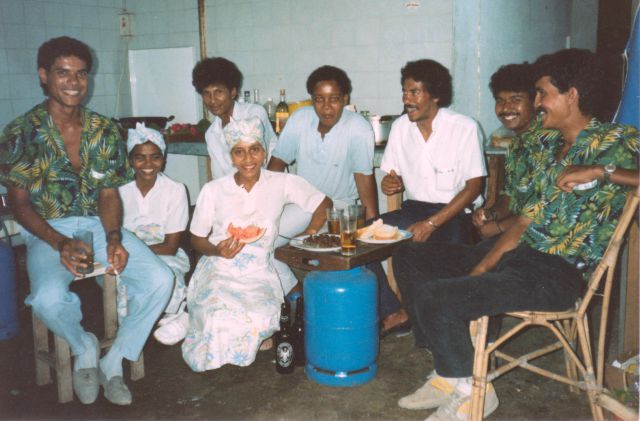 The next Mauritius cyclone story started far away.
No yellow fever vaccination …
It's the early eighties and I am about to escort a tour from South Africa to India with an overnight stop in Mauritius. I had escorted many of these tours and it should have been plain sailing except for that one.
Cyclone warning in Mauritius - Airport closed! 
How can we get to India? At the last minute our flight is rerouted via Malawi with an overnight stop at Blantyre, now called Lilongwe. The Malawi government does not allow women to wear trousers. I always wear trousers when I fly. My skirt is in my suitcase …
No skirt - no entry
We arrive at Blantyre airport.
"Stop! You can't enter the country. You are wearing trousers!"
I open my suitcase, pull out a skirt, go inside an office and change.
"You can now enter Malawi". 
We arrive at a grand colonial hotel. Dinner is at 7 pm. I am in the dining room 15 minutes early to organize the seating arrangement for my group.

Seven pm.

"One, two, three ... twenty eight, twenty nine ... twenty nine."
I should have thirty. I have a missing passenger. I count again.
"One, two, three ... twenty eight, twenty nine ... twenty nine.  Who is missing?"
I go through my passenger list.
"Sir what is your name? Madam what is your name?" 

No tie - no entry
I start ticking names off my list. Ah! Mr Giles is missing. He must be in the hotel. I always count my passengers on the bus. I phone his room. 
"Christine they won't let me in the dining room because I don't have a tie".
"Don't worry I'll find someone with a spare tie".
Luck is on my side. One of my passengers has a spare tie. Mr Giles is allowed into the dining room.
No yellow fever vaccination - no entry
The following morning we fly to Bombay, now called Mumbai. As usual I walk behind my passengers to make sure everyone goes through health and passport control without problem. 
When I arrive at the health control I see six of my passengers huddled together looking absolutely terrified.
"What's happening?"
"Christine they won't let us through because we don't have yellow fever vaccination". 
I approach the health officer who is looking very important in his uniform.
"These people are coming from Malawi they must have yellow fever vaccination to enter India. They don't have yellow fever vaccination". 
Coming from South Africa yellow fever vaccination is not required.
"What do you suggest officer?".
"They can take the next flight out of India or go into quarantine".
By now my passengers are beside themselves with worry.
"Officer could we please try and find a solution. I can't leave my passengers behind". 
The officer directs me to an office. He closes the door.
"Officer this is the situation… blah, blah, blah. I am sure you understand and I would like to show you my appreciation".
I open my wallet and give him a 50 dollar note. The officer is very happy. He hugs me and gives me a kiss on my cheek like a long lost friend. We come out of his office. He rushes to my still terrified passengers. 
"Welcome to India. Enjoy your holiday in our country."
The officer eagerly stamps their health certificates and off we go. My passengers are bewildered.
"Christine what did you do to this man in that room?" 
I never told them. Sometimes certain things are better left unsaid. Desperate situations call for desperate measures. This happened many years ago. Please do not attempt ...
I hope you enjoyed my Mauritius cyclone stories. More to come soon.
Home < Mauritius weather < Mauritius cyclone stories
I'd love to hear from you - add your questions or comments below!