Diving in Mauritius  
insider tips
Which coast is best for scuba diving in Mauritius. What about the best time for your diving holiday? Why are some dive sites unique to Mauritius?

The information you need to make an informed decision is below. Just scroll down and have a look at our underwater attractions.
The thrill of a shark safari adventure, mysterious shipwrecks, coral gardens, reef and night dives, drop offs … you name it, we have it!
A warm welcome from our turtle ...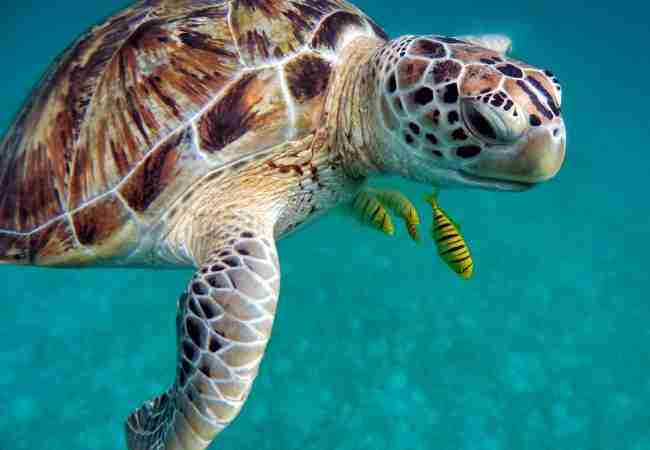 Mauritius dive awards
Mauritius was voted the Indian Ocean Leading Dive Destination by the World Travel Awards. We have won the coveted award five times and that's not all … 
The Cathedral a famous underwater cavern off our West coast was voted among the world's 50 best dive sites by CNN Travel.  
Cave diving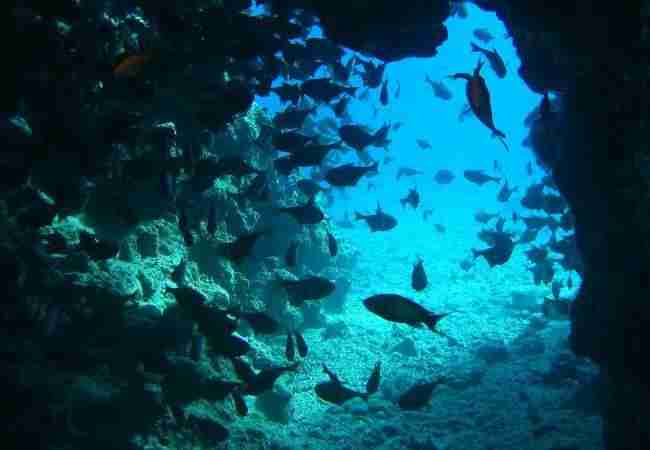 Why scuba diving in Mauritius?
 We are a volcanic island surrounded by coral reefs. Lava flows have created unique  underwater attractions: arches, tunnels, mysterious caves, cathedrals …
 You can enjoy two dives in ONE day! Most dives are a short boat ride from our coral  reefs. 
 We offer you over 430 marine species and 200 coral species. Many are endemic. 
 Artificial reefs have created unique underwater sculptures
Lion fish enjoying the comfort of our artificial reef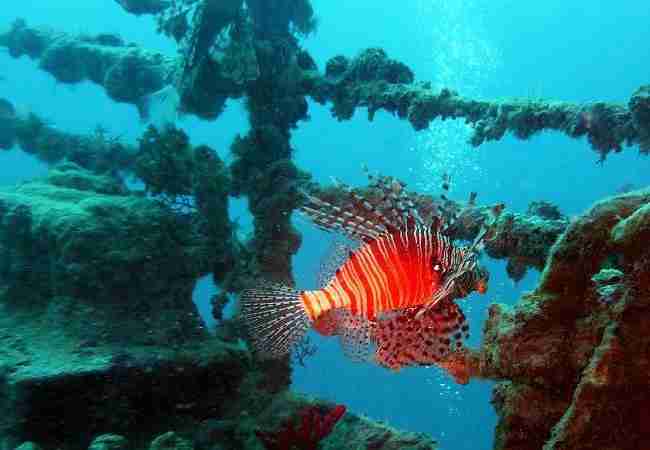 Our underwater attractions and awards speak for themselves. Just in case you are not sure which destination to choose in the Indian Ocean. Maldives vs Mauritius islands?

The best time for scuba diving in Mauritius
We have a summer when the water temperature is 28 C compared to 22 C during winter.
If you have dived before you already know that warmer sea temperature attracts more sea life and visibility is at its best. What you might not know is we also have a winter! 
For the best diving conditions visit us anytime during October, November and December. Give a miss to our peak cyclone months which are January and February. March and April are also good for diving in Mauritius.
June, July and August are our coldest months. May and September are our transition months.
The thrill of a shark sighting ...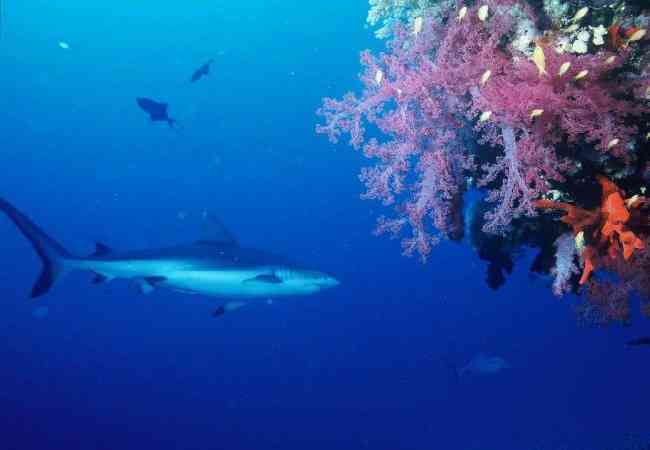 Top diving sites tips
Where should you dive in Mauritius? 
Because of our weather and topography we have more diving sites off our South West and North/ North West coast. If you are planning a diving holiday consider spending a week on our North coast and a week on our South West coast. You'll have the best choice of diving spots.
Think about it.
An abundance of sea life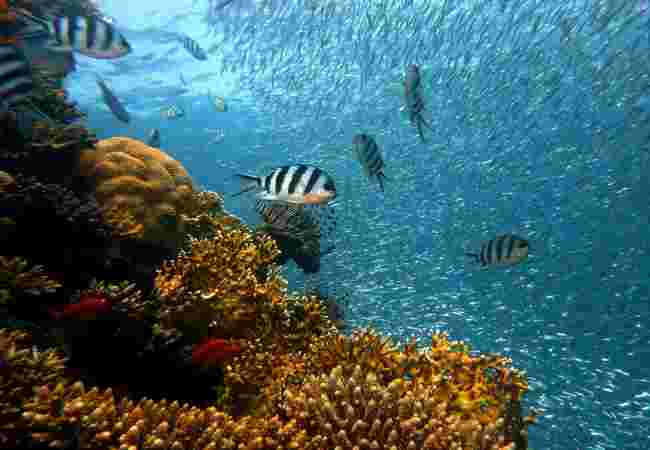 Dive Centers
There are many dive centres on the island. Some of them are located in resorts and hotels. Make sure the operator you choose is a member of the following associations:
PADI or 'Professional Association of Diving Instructors' 
MSDA or the 'Mauritian Scuba Diving Association'
MSDA  regulates the activities of recreational scuba diving.

Safety when diving in Mauritius  
Always go on a guided dive with a PADI qualified diver. Scuba diving in passes, drop-offs or wall diving require different techniques, buoyancy and strength.  Drift dives requires very little effort as you glide with the current.
Shark dives are not open to beginners or newly licensed divers.

Go diving with a PADI qualified diver
Cost of diving in Mauritius
You'll save on diving costs by taking a dive package. Some diving centers offer a 5 day 10 dive package. You can also book a one day two dive package. 
Rates will obviously vary according to the types of dive and if you are planning to dive in a group. From recreational dives, to PADI courses to CMAS courses or 'the International World Underwater Federation', plus equipment rental such as tank and weights.
If you are new to diving  start with an e learning course by correspondence. Then take diving lessons when you arrive.

Octopus hiding in a shell!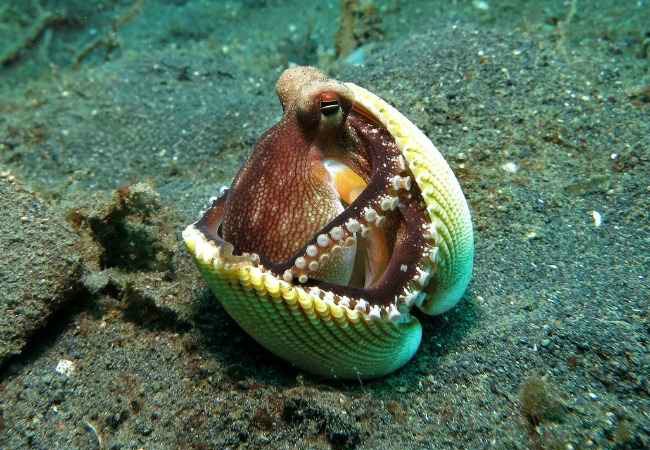 The North and North West coast
From Balaclava, Trou aux Biches, Grand Bay, Pereybere …
Explore coral gardens, shipwrecks, steep walls … 
The Stella Maru, Djabeda, Water Lily and Emily and Silver Star are well known shipwrecks. These artificial reefs are rich with marine life.
Holt's Rock with tunnels and caves where you'll see giant moray eels among the sea fans, Confetti Bay with her rays, Coral Garden, Chilli Drop with lobsters, octopus, scorpion fish, Poison Reef, Turtle Cave, Black Forest with her underwater coral trees, Japanese Garden ...
Beautiful and delicate sea anemones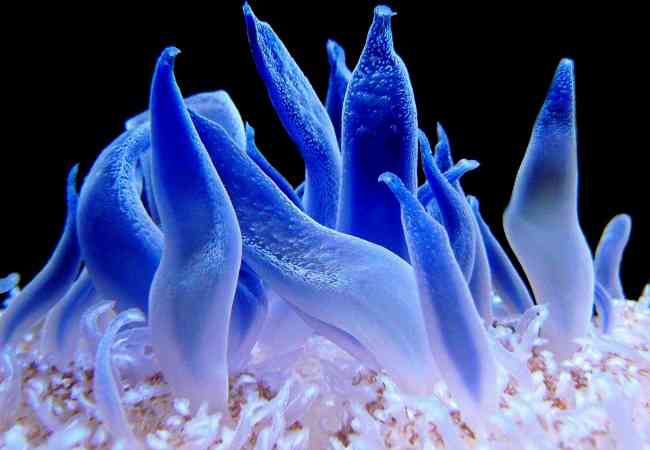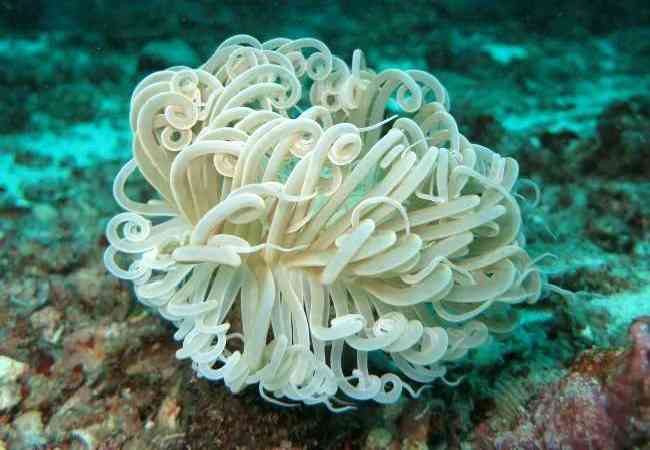 The South West 
From Flic en Flac, Tamarin, le Morne …
Reef, drift and wreck dives. Mysterious grottoes, impressive cathedral and boulders from volcanic rock  … You might see dolphins off the coast of Tamarin. 
The famous Cathedral with her caverns and eerie feel. 'Snake reef' which looks like a snake is home to moray eels, lion, scorpion and stonefish. The 'Passe Saint Jack' which is popular with sharks and rays.
This ray is intrigued by you ...
The South East and East coast
From Mahebourg Marine Park to Trou d'eau Douce and Belle Mare …
A 2 kilometer drift dive at Belle Mare at la Passe du Puits where you'll drift past eagle rays, sharks, barracudas … Colodaro dive or the rock pinnacle at Roche Zozo.
A colourful seahorse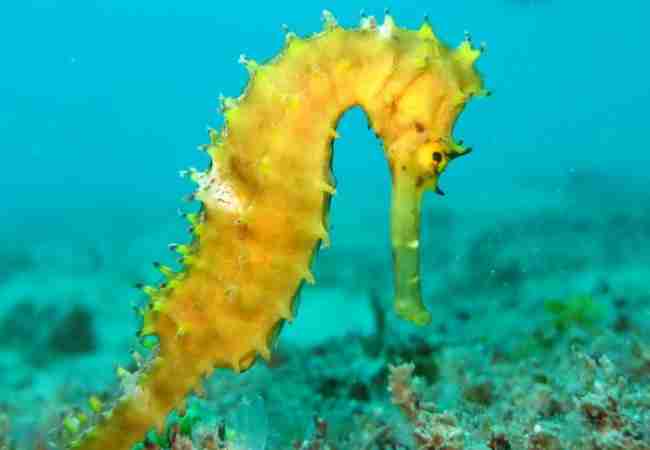 The Sirius off Pointe d'Esny is a historic wreck. The ship sank during the famous naval battle between the British and French in 1810. Cannons and cannon balls complete the underwater scenery. You can still see part of the wreck on the reefs.

If you are a beginner the Blue Bay Marine Park in the South East is ideal. It has a shallow reef and a large lagoon. 

Enjoy our emperors, porcupine and lion fish, snappers, jack fish, nudibranch, clownfish, morays eels, trigger-fish, giant sea fans, green and black corals, sharks, bat fish, barracudas…
Colourful clownfish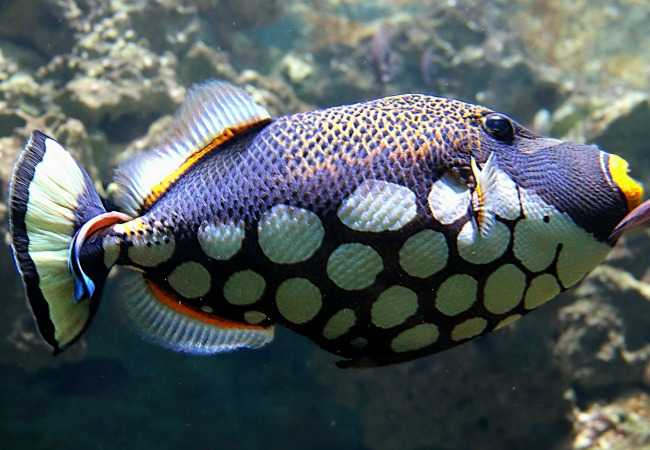 What a voyage of discovery!
You'll have an amazing holiday diving in Mauritius. Enjoy every minute.
Home < Mauritius beaches < diving in Mauritius
I'd love to hear from you - add your questions or comments below!