Best Mauritius beaches
Where are they?
The top Mauritius beaches? My guide below will show you how to find the best.
It has to do with the weather and location. Summer or winter? North, West, South or East coast?
Please take the time to inform yourself and choose the perfect coast for your travel dates. Who wants a cool windy beach during an island holiday? 

I have also included information about the Mauritian beach etiquette. What to expect at public and private beaches. 
At the bottom of the page I have included links to beaches for each coast, together with maps and pictures. 
Flic en Flac Public Beach on the West coast is a beauty ...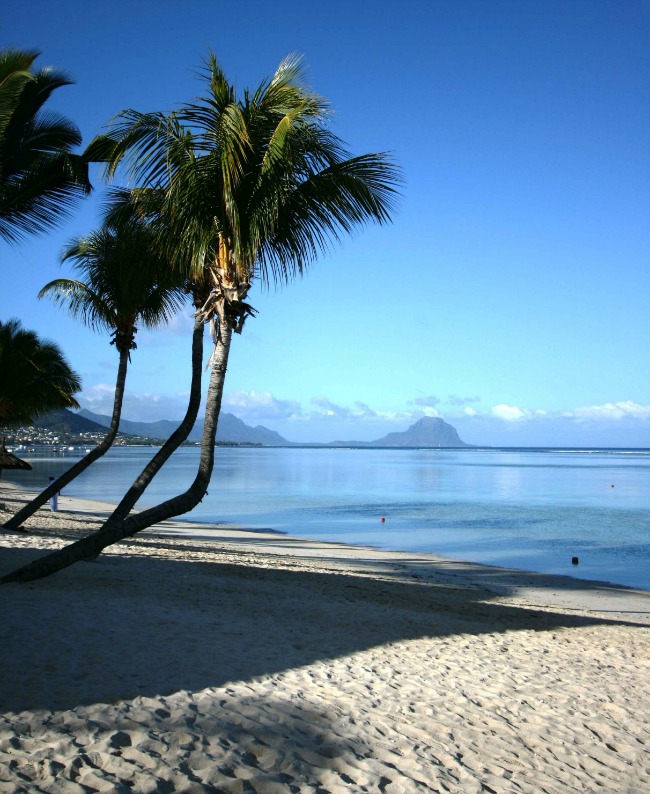 So how do you find the beach made for you among all the Mauritius beaches?

We Mauritians have our favourite beaches and they are all different, from famous to little known. Each one has something unique to offer.
Maybe a secluded beach tucked away between coconut trees or a long stretch of white sand alongside a turquoise lagoon.
East coast beach scenery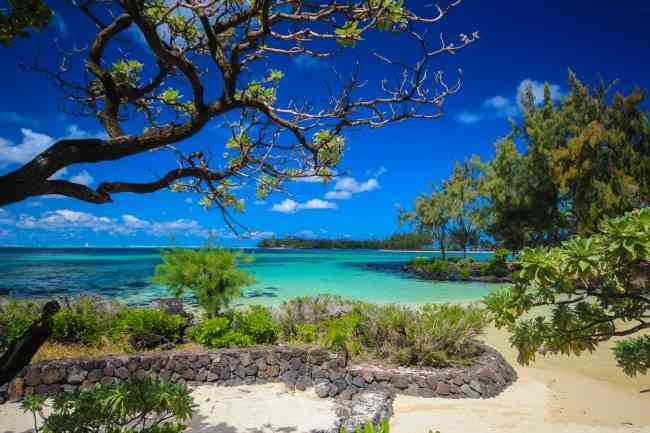 That's why I am a little shy to give you a review. We might have different views about what is a best beach. I rather give you a description with images and names and then you decide.

I have listed the main Mauritius beaches on the map below. 
The most popular ones are:  
Pereybere, Mont Choisy, Trou aux Biches in the North 
Flic en Flac, Le Morne in the West
Blue Bay in the South East
Ile aux Cerfs and Belle Mare in the East

Beach map of Mauritius

How to choose your beach
Nearby Attractions (sea excursions, restaurants …) 

Weather (varies from coast to coast)
Sunset or Sunrise?
For a small island we have an amazing choice of weather! Our trade winds blow from March to November on the East and South East coast. Are planning your holiday during our winter which is from June to August? Skip these areas. Book your accommodation on the North or West coast. 
Mauritius beaches are public - some more than others 
Belle Mare Public Beach on the East Coast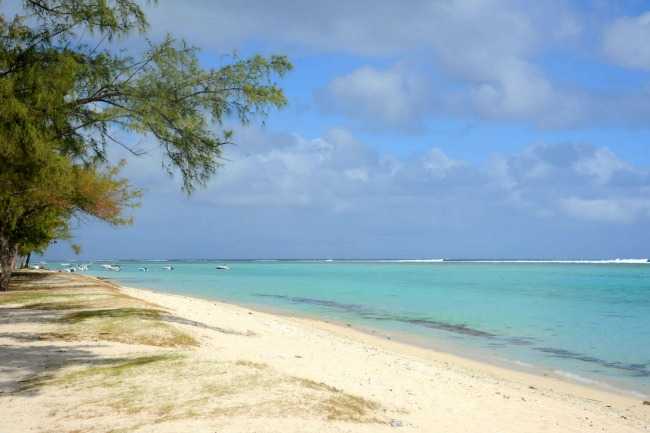 Many public beaches offer ablution facilities, water sports activities from kite surfing to snorkeling, sea excursions, bars, restaurants and vendors selling delicious exotic snacks.
Pineapple anyone?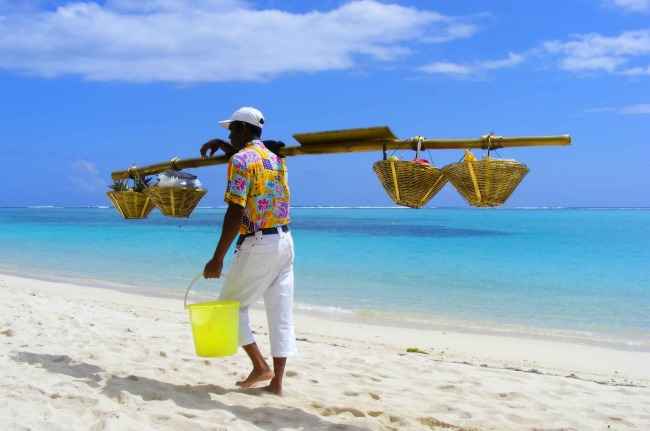 How do you know if a beach is not 100% public?
Beaches in front of resorts, hotels, houses and apartments are public up to the high level water mark. Which means they are private property above an 'invisible line'.
If you are wondering how to find this 'invisible line', simply look at the beach and you'll see the effects of high tides: a thin line of algae running alongside the beach.

Mauritian beach etiquette 
As a tourist on holiday in our corner of paradise, please remember the 'invisible line'. Resorts and hotels facilities are for their guests. By the way sundeck chairs are included. The good news are ...
If a sundeck chair is an essential part of your beach enjoyment you can hire one for the day at many public beaches.
Resort hotel beaches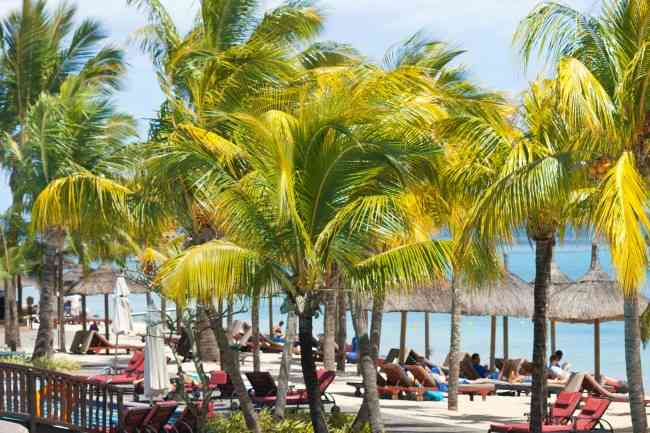 As for me I prefer lying on a beach towel feeling the sand between my toes and being one with nature.
Coconut anyone?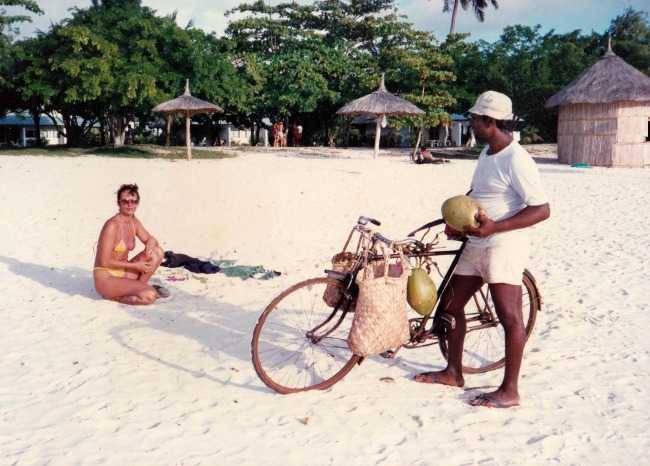 Beaches in front of villas and apartments
Unless you have rented a beachfront property please be discreet. How would you feel if strangers walked onto your property and made themselves comfortable on your lawn without being invited?
A typical beach property garden
Our dress code is conservative. When it relates to beachwear, remember… bikinis come with a bikini top. Topless sunbathing is not welcome on the island.

By the way if you have rented a car, please don't park on the beach. It's illegal.

Where are the quiet beaches?
Beaches in front of seaside homes, apartments and many public beaches are quiet.

It's unlikely you'll come across our charming vendors trying to sell you sea excursions, exotic souvenirs or snacks on quiet beaches. So bring some food and your bottle for water to fill up along the way.  Mauritius tap water is safe for drinking. 
Grand Bay beach in the North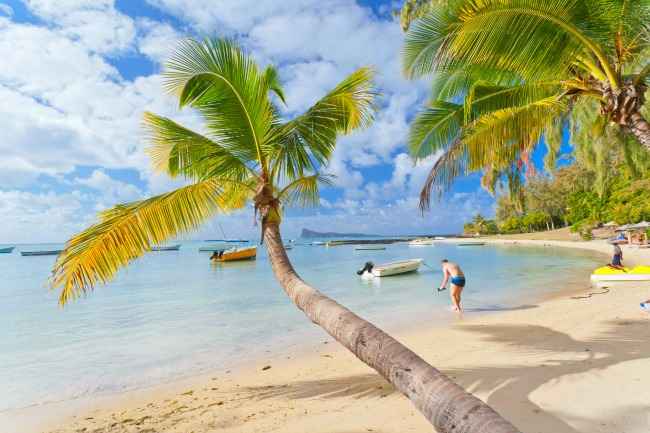 Popular public beaches are busy during weekends when you'll see the arrival of Mauritian families armed with all sorts of big pots having a picnic under the trees. Soon the air will fill with the aroma of spices accompanied by singing and dancing ... 

If you find yourself on a beach where the water is too shallow for swimming, the secret is … go explore! Walk on the beach and you should soon discover a lagoon where swimming is great.
I have also prepared a Google Earth map showing our 9 best beaches for swimming for a quick reference.
Coconuts and royalty are not compatible ...
Coconut trees on a quiet Mauritius beach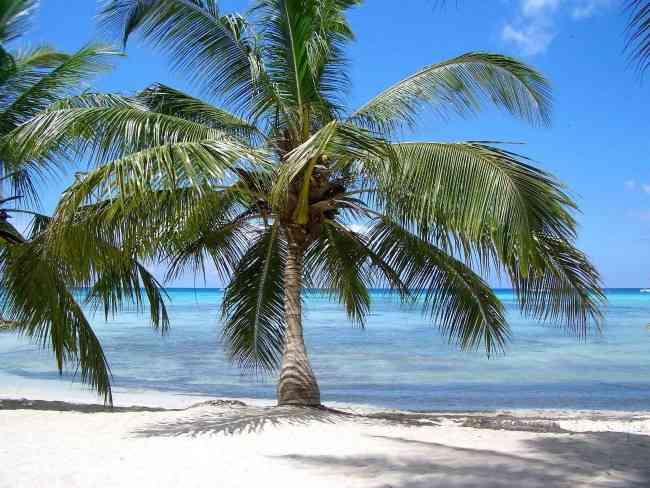 When Fergie the duchess of York visited Mauritius with her then husband prince Andrew they walked through a coconut plantation to reach a cabin cruiser. Some locals were assigned the task of climbing the trees alongside the path and remove every single coconut in case one fell on their royal head. One can never be too careful at the seaside …
I have never heard of a coconut falling on someone's head

A sandy walkway alongside the bay in Grand Bay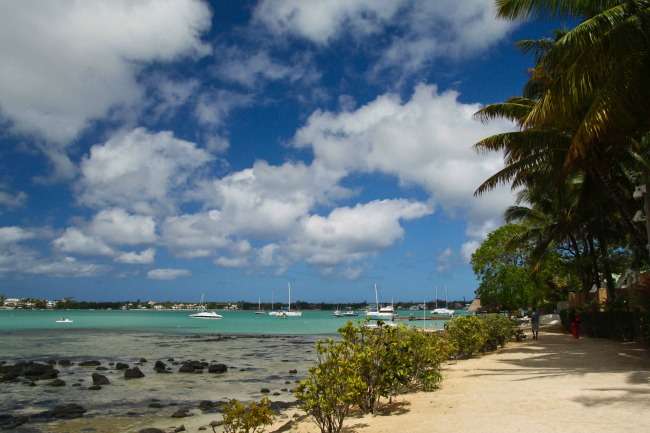 My swimming and snorkeling tips on how and where to swim in our lagoons are a must read. We do have unwanted guests in our lagoons ... 
You'll find the links at the bottom of the page.
Ready for your beach tour?
Take off your shoes. You don't need to wear them. Beach sandals will be fine. What you need is a car or taxi, a spirit of adventure and your swimming costume of course.
Scroll down, select a coast, click on the link and follow my self-guided itineraries. 
Enjoy the Mauritius beaches with maps and pictures.


Home < Mauritius Beaches 


I'd love to hear from you - add your questions or comments below!