Mauritius beach map
A virtual tour

Explore our best beaches for swimming on the Mauritius beach map with Google earth. Visit our beaches and lagoons from above. What better way?
Zoom in and find your perfect spot for the day in between places of interest you'll want to see during your holiday. 

We have 90 public beaches. Imagine all of them on a Mauritius map … It will look like a Christmas tree with 90 labels. Enough to confuse the most patient and dedicated tourist.
So instead of sending you on a wild goose search what I have done is a careful selection of our top beaches for swimming with a short introduction for each one. Click on the labels on the satellite view and take your pick from the list. 
Mauritius beach map with a satellite view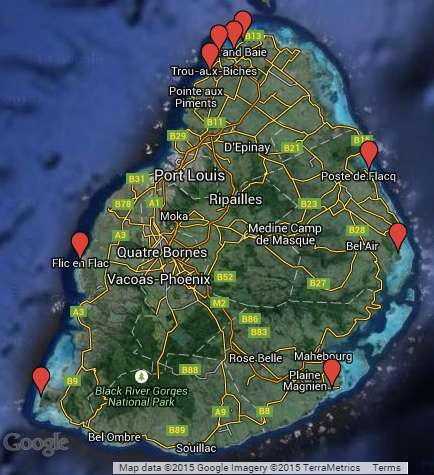 Our best beaches for swimming are …
I have swam and walked on all of them. In my humble opinion here are their names together with their location on the Google map. Perfect for spending a relaxing day with all the comfort of ablution facilities and snack vendors for a light lunch.

Our best beaches for swimming are:
North coast
Pereybere, la Cuvette, Mont Choisy, Trou aux Biches.

West coast                                                                                                                                     
Le Morne and Flic en Flac.
South coast
Blue Bay.
East coast
Ile aux Cerfs and Belle Mare.

We all deserve to spend a day relaxing on soft white sand doing absolutely nothing. Then ...

Put your explorer's hat on
Hire a car or taxi and travel alongside our coast where you'll discover little known beaches and attractions far from tourist spots. 
Wild beaches of the South East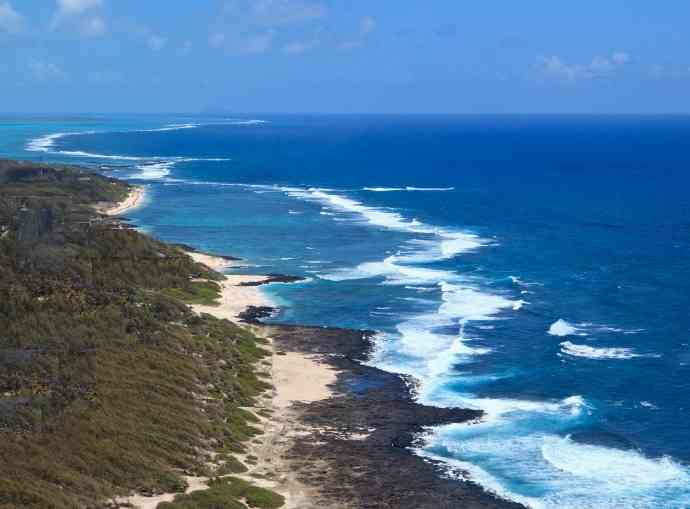 Simply follow the leisurely itineraries I have compiled for you on a map for each coast . Scroll down, select and explore.

The North coast:
From Anse la Raie in the North East to Balaclava in the North West. With a stop at La Cuvette and famous Mont Choisy beach.

The West coast:
From Albion to Le Morne . Enjoy a romantic sunrise, high cliffs and crashing waves.
The South coast:
From Le Morne to Souillac. Windswept, mysterious and secluded
The South East coast:
From Mahebourg in the South East to popular Belle Mare. Scenic drives and partly tamed.
Arrive prepared at the beach 
I am not talking about towels, hat, sunscreen or tourist attractions. I am referring to our beach etiquette. As a tourist visiting our tropical island you should know the difference between a public and a private beach. Click here for an insider guide to the beaches of Mauritius.
Home > Mauritius maps > Mauritius beach map
I'd love to hear from you - add your questions or comments below!