Kitesurf in Mauritius
I'll go straight to the point. The best spot for kitesurf in Mauritius is at le Morne off our South West coast. Our 'kite lagoon' is one of the safest and most picturesque locations in the world. 
Imagine kite boarding alongside a World Heritage Site in Mauritius! Here she is in the image below. Isn't the scenery beautiful?
The turquoise lagoon at Le Morne also called 'kite lagoon'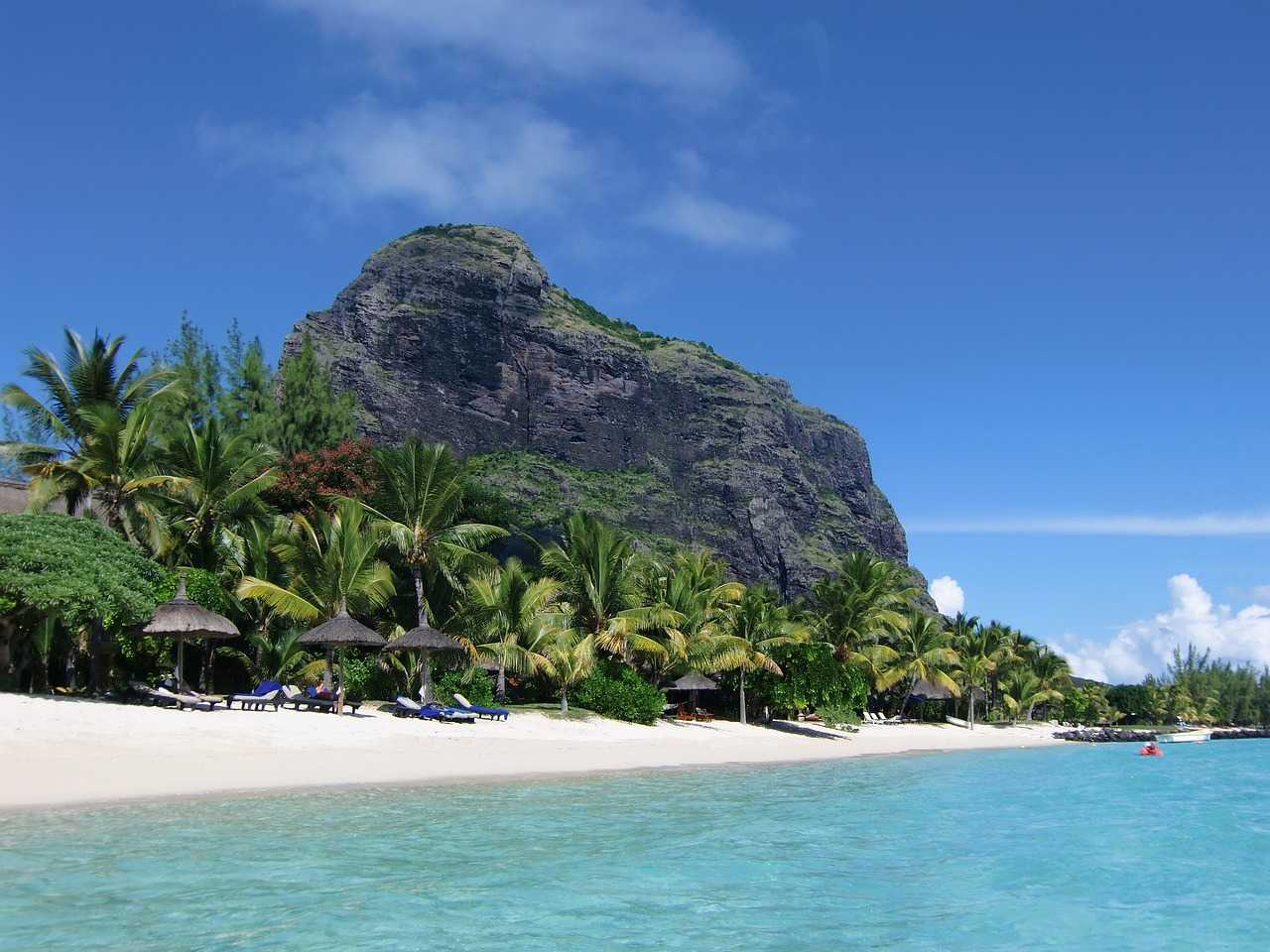 Even better news 
The wide lagoon and shallow flat water at Le Morne are ideal for beginners and advanced riders. Plus you'll have the protection of the reef. 
You want waves? No problem! They are a mere 600 m away. Some of the best in the world are right here at Le Morne. The famous Manawa and One Eye wave are not for the faint-hearted. 
You'll enjoy free riding and wake style to your heart content. Plus lots of downwind glides in the steady South easterly winds. 
Le Morne is busy during winter with kite surfers from all over the world. You'll have a great atmosphere and also time to rest: there is no kite surfing for one to two hours at low tide.
Season for kitesurf in Mauritius
Best time
It's during our winter - yes we even have a winter! The best months are from June to September. That's our main wind season. The water temperature is 22°C on average. The wind is between 18 to 35 knots. Full wetsuit recommended.
Mid-season
April/ May and October/November. You won't have wind everyday but that's OK because there are lots of other sea activities you'll enjoy with the warmer weather. 
The sea and air temperature are warmer. The wind is between 10 and 25 knots. Shorty wetsuit will be fine.
Mid-season kiteboarding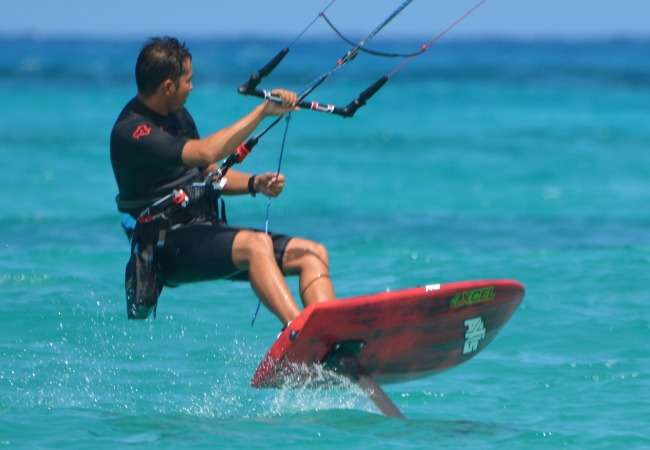 Summer season
December to March. Not as many windy days as the rest of the year and blowing mostly in the afternoons. Between 10 and 25 knots. Trade winds make room for thermal winds. The weather is hot. Board shorts and Lycra are ideal.
No wind? Here is what you do
Not all is lost. We offer you lots of other sea attractions. Try SUP, water-ski, a catamaran cruise, deep-sea fishing (no experience necessary), parasailing or scuba diving.
Getting ready for parasailing
Where are the kitesurf schools?
Most of the kitesurfing schools are located on the South West coast at le Morne 
Close to Grand Baie at Anse La Raie in the North East
Poste Lafayette, Palmar next to Belle Mare on the East coast
Bel Ombre in the South 
Some kite schools are located within resort hotels. They all welcome non-residents.
Check that the kite school you choose is an affiliated IKO Centre. IKO is the 'International Kiteboarding Organization'. 
You are welcome to contact me for my personal kite school recommendation. 
Kite surfing lessons
It will take between 6 and 10 hours of lessons to master the techniques of this extreme sport. The techniques and skills for performing freestyle, wave riding and jumping or air-style.

Kitesurf in Mauritius
During the lessons you'll learn how to control your kite, body dragging, water start, jumps … you'll soon be wave riding like a pro. Freeride is the most popular style and this is how you'll start if you are a beginner. In fact the most boards sold are designed for freeride. You'll be given an IKO progression card by your instructor.
Unless you are an experienced rider don't try self-landing or self-launching.
Where is the best hotel to stay at for kitesurfing?
Many people ask me this question! And it depends on your individual needs. Feel free to message me for a hotel recommendation during your kitesurf holiday.

Equipment rental for kitesurf in Mauritius
That's only if you can kiteboard. You'll have a good selection of North equipment in kite schools. They'll help you choose the right equipment for your needs and weather conditions. 

Kitesurfing in turquoise lagoon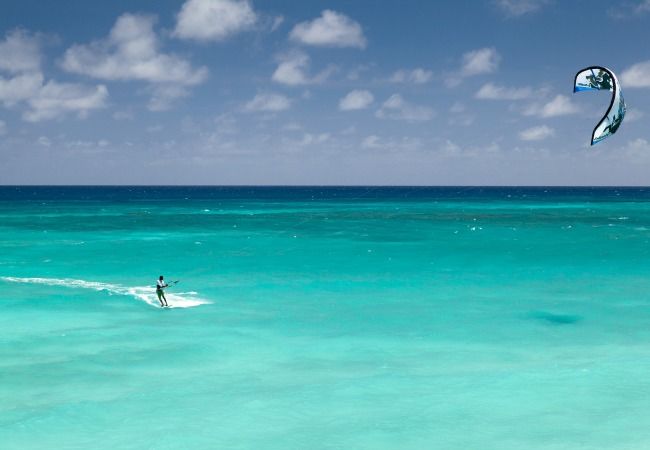 Lagoon conditions for kitesurf in Mauritius
I have covered Le Morne at the beginning. Below you'll find a few more spots.
East coast 
Belle Mare and Palmar:
These two public beaches are neighbours. Quiet during the week but quite busy during week-ends. There are buoys at Belle Mare so you must launch past the public swimming beach. Palmar is more suitable for beginners.
Poste Lafayette:
A little further up the coast with a narrow and quiet lagoon. 
North and North East coast
Anse la Raie:
Quiet lagoon.  Good for freestyle, beginners and wave riders. Winds are not as steady as on the South West.
Cap Malheureux next to Grand Baie:
The spot is in front of the famous red roof church. There are boats anchored in the lagoon plus the launching area is small. If you are a beginner go to nearby Anse la Raie.
The South 
Bel Ombre:
The lagoon is shallow with strong currents and not as wide.
La Prairie:
Ideal for beginners with shallow water
The South East
Pointe d'Esny:
There are many boats in the lagoon so you have to be careful. Access to the beach is difficult unless you rent a beach accommodation. Lovely rides in the late afternoons.
Accommodation 
If you plan to stay in a resort or a beach villa check that:

The beach in front of your accommodation is suitable for launching
The lagoon does not have lots of boat activities.
If you are planning to kite surf at le Morne
There are only resorts at Le Morne. Otherwise you can stay at la Gaulette. It's a small fishing village next to Le Morne popular with kite surfers. Maybe share a room with other kite surfers in a guest house. You could then share transportation to Le Morne as well.
Kitesurfing in the South of Mauritius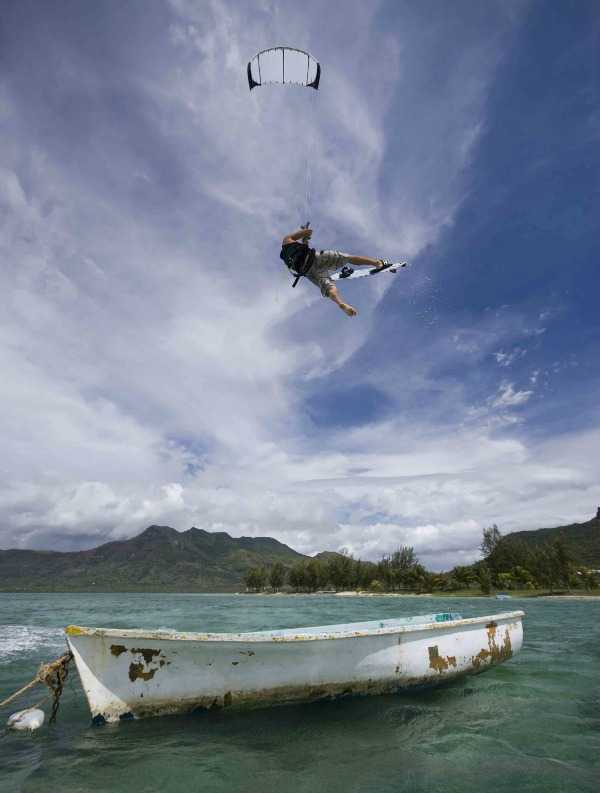 Tips if you bring your board 
If you are planning to go on a kitesurfing holiday to my paradise island why not bring your equipment? Find out about excess luggage cost with the airline you'll be using. Some airlines charge high rates. 
Carry your harness, hook and pad in your hand luggage. Use your board bag without wheels and pack all your gear inside. If it's too small, invest in a double board bag. Put some towels or a wet suit around the tip and tail of your board for protection.

Mauritius Kitesurf Festival
Kite festival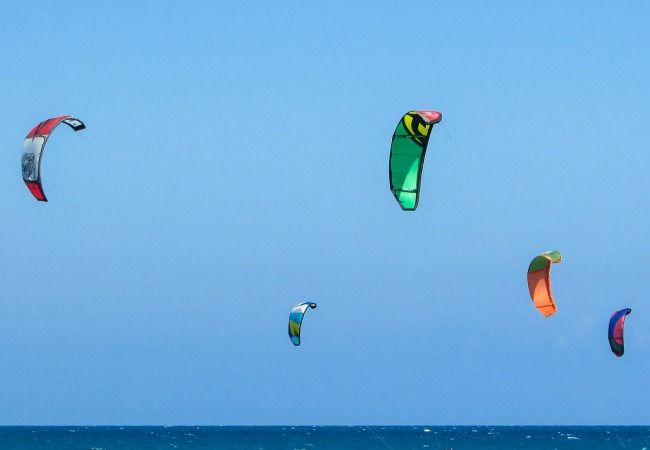 There was a GKA Kite-Surf World Cup in Mauritius from from the 19th to the 27th September 2020 at Bel Ombre in the South. The prizemoney was €30.000!
 A great opportunity for you to watch the world's best riders.
To enter a competition you'll need these riding skills:
Riding with other kiters
Knowledge of priority rules
Riding upwind easily
You should now have a fair idea about kitesurf in Mauritius. Enjoy!
Home < Mauritius attractions < Kitesurf Mauritius
I'd love to hear from you - add your questions or comments below!