Top Mauritius attractions
for tourists
Which Mauritius attractions to choose? Cultural sightseeing, sea excursions, extreme adventures, nature, self-guided tours … So much to do and see for tourists! When I put myself in your shoes I feel overwhelmed.

Many holiday makers make the mistake of booking attractions that don't need to be booked in advance. You'll find the list below. 
Let's have a look at my tips for the do's and don'ts during your vacation.
Lying on the beach is also an attraction...


Mauritius attractions - Must see ...
Make a list of the attractions you like. Where are they located? Although Mauritius is a small island it could take up to two hours to travel from one coast to the other.
Plus not all areas are suitable for deep sea fishing, diving or kite surfing.
Mauritius attractions - mornings or afternoons?
Mornings are best before the weather gets too hot. Some afternoon or full day excursions end late. If you are staying far away you'll have to travel in the dark. Our roads are not well lit. Unless of course you hire a taxi for the day.

Mauritius attractions - when to book?
Book attractions where space is at a premium. Sky diving and sea excursions fall into that category. Catamaran cruises are popular and you should book these cruises as soon as possible.

Museums, nature reserves, tea estates and plantation homes don't require booking. Simply pay the entrance fee on arrival when applicable.
You don't need to book a glass bottom boat. Many of these boats ply the lagoon off popular beaches.
I have compiled 5 self-guided tours for you. These tailor made activities are at the end of the list. Have a look for some ideas. They include key landmarks and where to explore local things at your leisure.
List of attractions by category

Sea activities
Cultural attractions
More cultural attractions:

Chateau Labourdonnais and Eureka are colonial homes in the North.
Rum distilleries in the South, West and North
Mauritius first settlement by the Dutch - in the South East
Nature attractions
More natural attractions:
La Vallee de Ferney in the South East - forest and wildlife reserve
La Vanille Reserve des Mascareignes in the South West
Casela Nature Park in the South West
Tea Plantation in the South
Natural History Museum in Port Louis - the rare dodo's skeleton
Blue Penny Museum in Port Louis - see our famous stamps
Shell Museum - in the South - amazing collection
Sugar museum and factory in the North
Self-guided tours
Best beaches and their key attractions with itineraries

List of attractions by location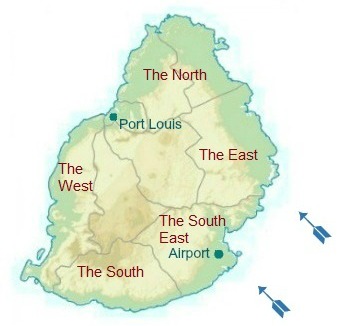 North / North West
Sailing - deep sea fishing - diving - kite surfing - Port Louis (museums, historical sites, market) - Botanical Gardens - aquarium - l'Aventure du Sucre (sugar museum) - Chateau Labourdonnais (rhum museum, orchards) - Hindu temples.
North East
Sea kayaking - sea plane tours - sky diving - stand up paddle - kite surfing.
East
Ile aux Cerfs - sailing - diving – deep sea fishing.
South East 
Sailing - diving - La Vallee de Ferney nature park - Mahebourg (museum) - Blue Bay marine park - ile aux Aigrettes nature reserve.
South
La Vanille nature park - Bois Cheri tea plantation and museum - shell museum - kite surfing - Chamarel coloured earth - Grand Bassin holy lake.
West / South West
Sailing - diving - deep sea fishing - kite surfing - Casela nature park - Black River Gorge - hiking -quad biking - sea kayaking - stand up paddle - dolphins.
Whether you are a sport enthusiast or prefer a gentle attraction like riding a giant tortoise or lying on the beach … Mauritius has it all.

I would love your comments and some pics
Enjoy our top Mauritius attractions for tourists. Have a great time!
Home < Mauritius attractions
I'd love to hear from you - add your questions or comments below!