Port Louis - Capital of Mauritius
self-guided tour

The heart and soul of Mauritius ... Port Louis  will leave you spellbound. Join me for a day of unique activities.
I'll take you to little known attractions where the old mingles with the new, vintage China Town and cannons, mouth-watering street food, our famous herbal 'doctor' ...
Government House in Port Louis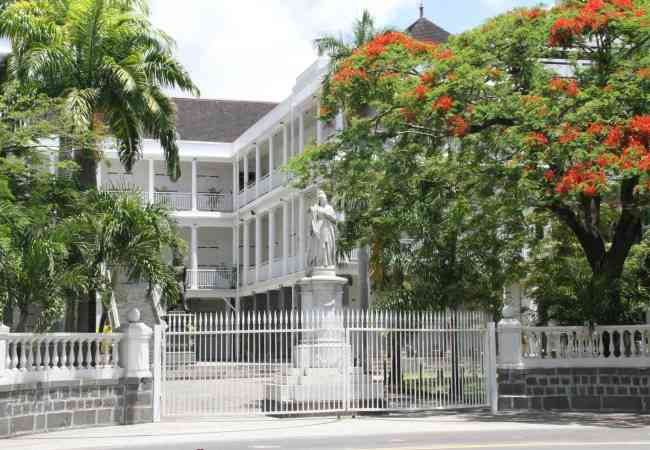 Who needs a shop?
The ingenuity of Mauritian vendors is quite charming. Their creativity is extraordinary. Have a look at Port Louis' pavement 'shops'. What masterful creations!

Who said cars were only for driving?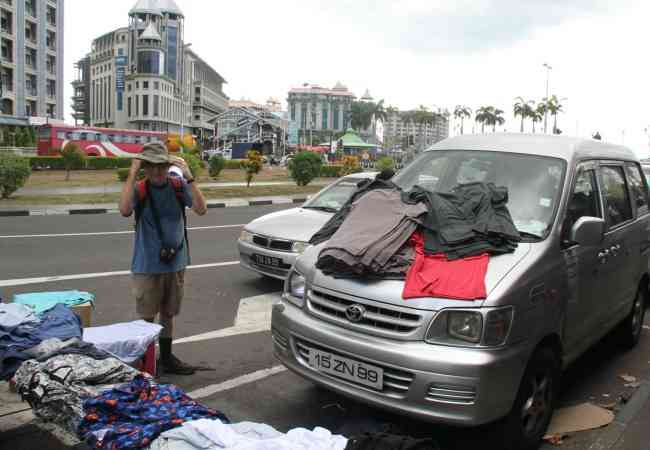 A scooter has many uses ...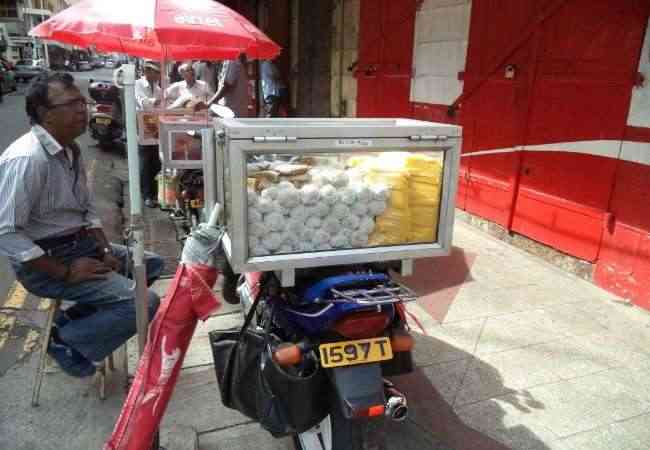 Lottery ticket vendor in his 'shop'

 Shop too small? no problem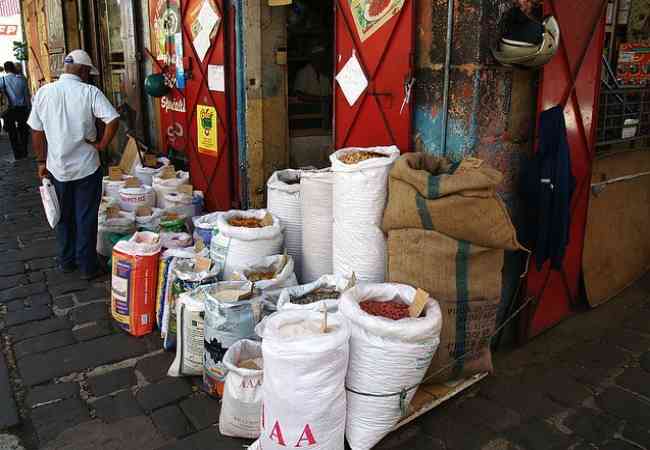 Port Louis Mauritius - one day itinerary
Discover things to do and see with the itinerary I have prepared for you together with a short description of the points of interest.
Ready? let's go.
Before it gets too hot let's visit the Citadel fortress on top of a hill within the city. There you'll have a scenic view over Port Louis, the 'Champ de Mars' famous for horse racing, mountain and harbour. It will give you a good insight of the Mauritius capital and her surrounding attractions.

Port Louis from the Citadel 
The Citadel also called Fort Adelaide was built by the British in 1830 when Mauritius was a British colony. Her cannons face the surrounding area in case of a French invasion ...

Fort Adelaide - Citadel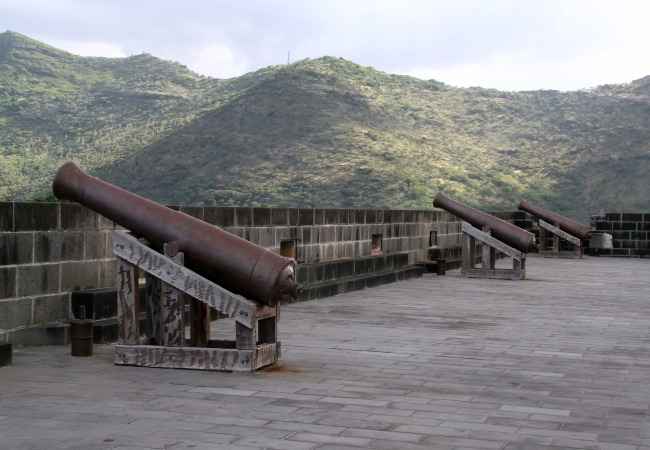 On your way back from the citadel, take a leisurely walk through nearby paved streets. Have a look at these delightful wooden buildings from Mauritius' colonial past. Here time stands still.

 Old Port Louis - Mauritius with her colonial architecture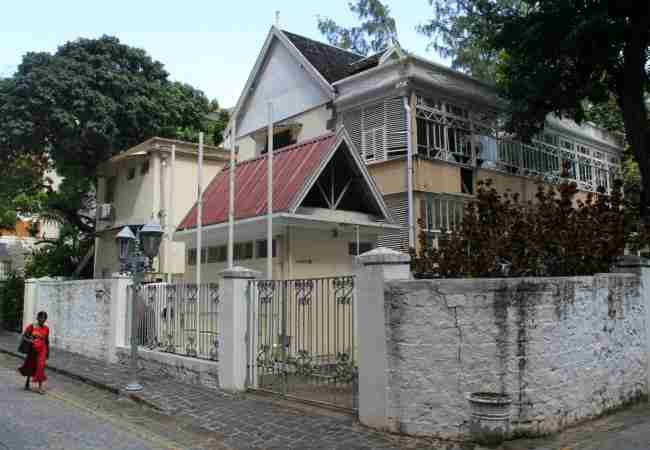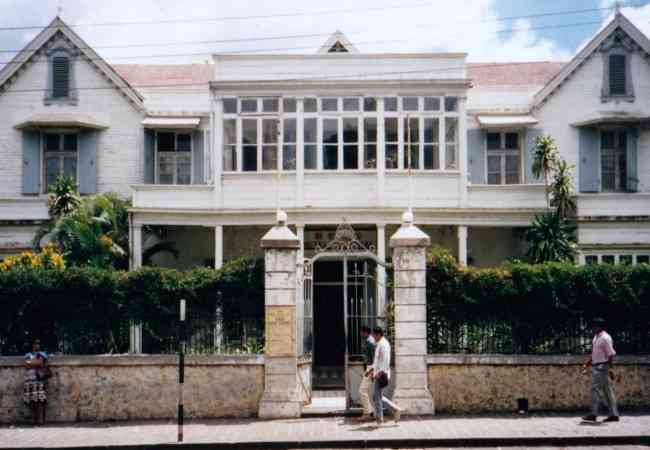 Have a look at Saint Louis cathedral in Bourbon Street one of the oldest catholic churches on the island. 

Saint Louis cathedral in Port Louis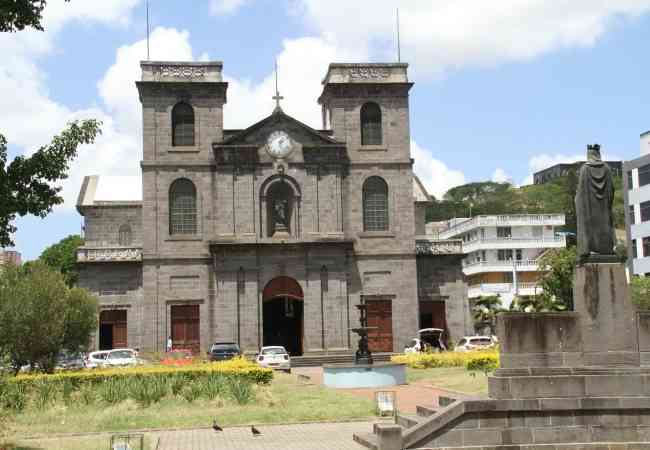 Down the road turn left into Remy Ollier Street where you'll see Port Louis' theater. Build in 1822 she is one of the oldest theaters in our part of the world.

The Port Louis theater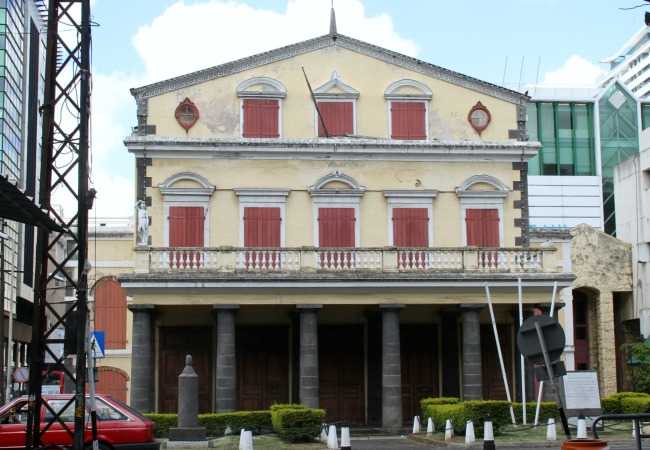 The rare dodo's skeleton
Then right into Intendance Street. Shortly on the left you'll come across the Natural History Museum in the Company Gardens. The highlight of the small museum is a skeleton of the famous dodo bird. One of the most complete in the world is right here in Mauritius!
Natural History Museum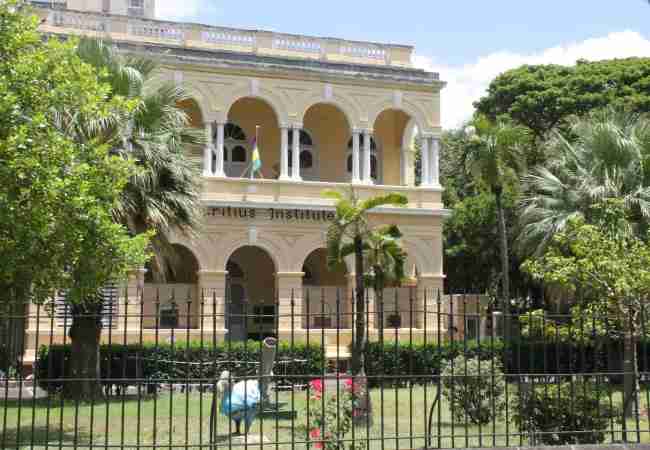 Land and marine species some unique to Mauritius are also on display at the Natural History Museum . Plus pirate's swords and other memorabilia from our colourful history.

Visit the Jummah Masjid mosque
Say goodbye to the dodo and cross over into Royal road. A few blocks to the left you'll see one the most beautiful places of worship in Mauritius: the Jummah Masjid mosque.
Mosques are not usually open to non-Muslims but the Jummah Masjid will offer you a warm welcome in the heart of Port Louis.
The Jummah Masjid mosque in Port Louis Mauritius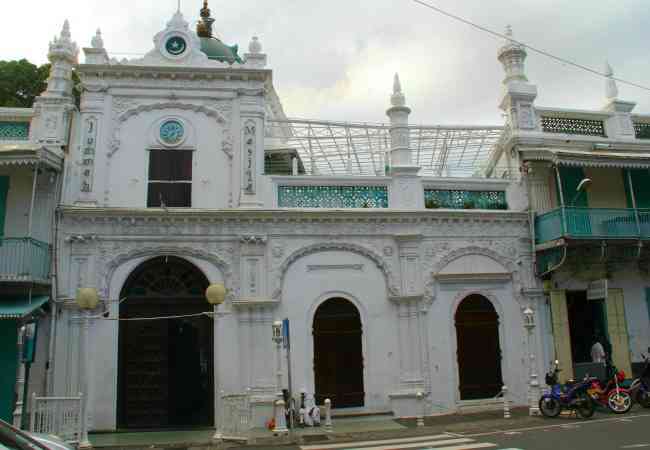 There is someone in attendance who will show you around and answer your questions. See the Badamia tree in the peaceful courtyard? She is as old as the mosque, circa 1850.
Oh by the way keep in mind that Fridays are busy with prayers.
Vintage Chinatown in Port Louis
A block away from the mosque you'll enter Chinatown. Have a peep at the Chinese pharmacy on your left. You'll be fascinated with the array of traditional Chinese medicine including ... preserved insects. 
You could visit old Mrs Kwok our famous fortune teller. You'll find her behind an aquarium filled with colourful fish. 

Chinatown shops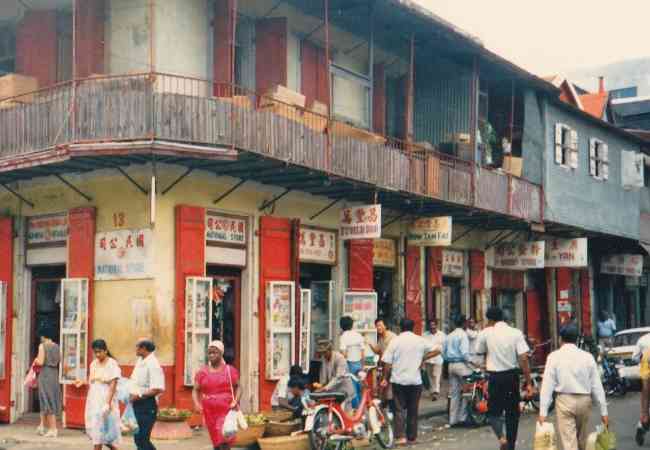 Entrance to Chinatown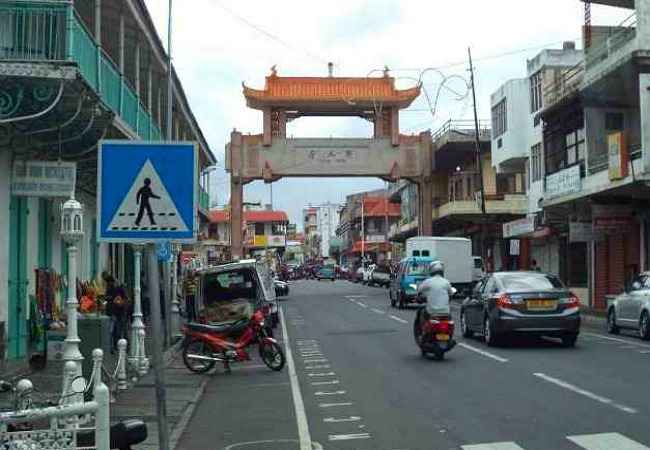 Lunch at Canton restaurant
Am sure by now you have developed an appetite so I'll take you to a little known Chinese restaurant for a delicious meal. Turn left into Emmanuel Anquetil street, cross over Queen Street and on your right you'll see a sign with big red letters 'L'Amical'.
Time to sample a mouth watering Chinese Mauritian lunch at l'Amicale, pronounce 'Ahmeekal'. Very few visitors know about this much loved Port Louis restaurant. A great place to eat. The exterior is nothing to rave about but once inside … I leave the rest to your imagination and palate.
Canton restaurant in Port Louis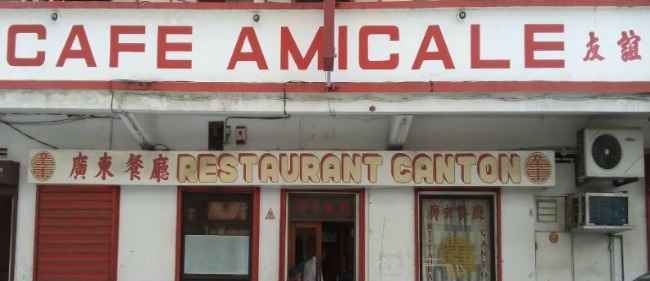 World Heritage Site
After lunch walk across the nearby bus station and you'll find yourself alongside the harbour at the Aapravasi Ghat. This monument was declared a World Heritage Site by UNESCO in 2006.

The Ghat is an important part of the Mauritius culture and history. It's here that thousands of Indian indentured labourers where housed when they arrived in Port Louis. They would work on sugar plantations after slavery was abolished. 

Aapravasi Ghat - World Heritage Site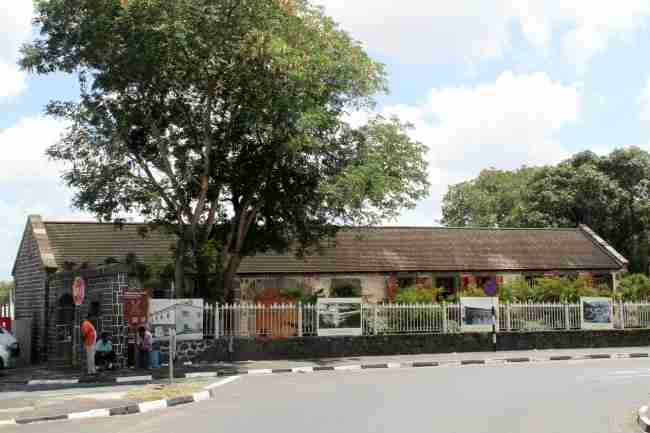 Mauritius Port Louis Central market 
You'll be mesmerized by our lively market. First walk alongside souvenirs stalls obviously a popular tourist attraction. Lots of shops where eager vendors are even more convincing than our beach vendors.
You wonder how you have lived without this packet of aromatic spices or that colourful woven basket. 
Souvenir shopping in Port Louis Central Market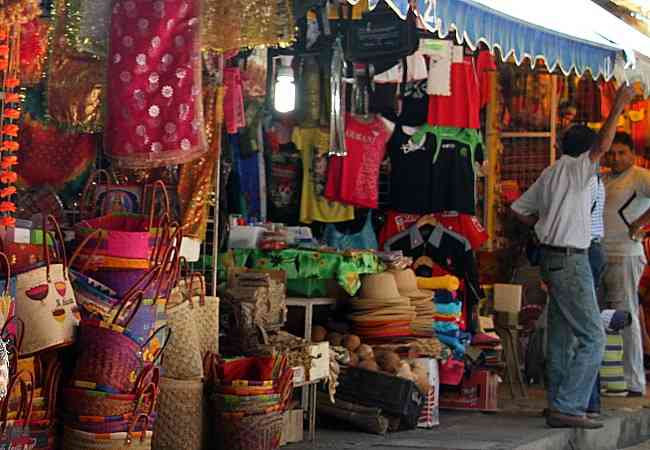 Then immerse yourself in our local life. Wander through the chicken, fish, vegetable and fruit sections of the market. Watch Mauritians do their shopping with much bargaining. Admire the artful display of tomatoes.
Sample our delicious street food.
Have a look at our famous herb doctor's stall. He is well known in Mauritius and can recommend an herbal cure for most ailments. A family tradition of many generations…
Vegetable market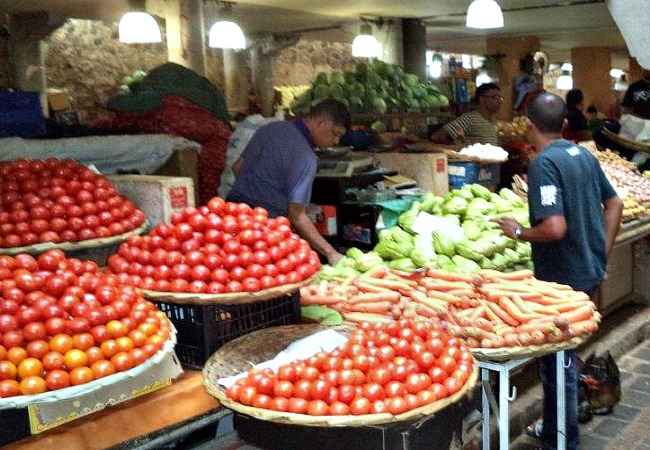 Herbal 'doctor'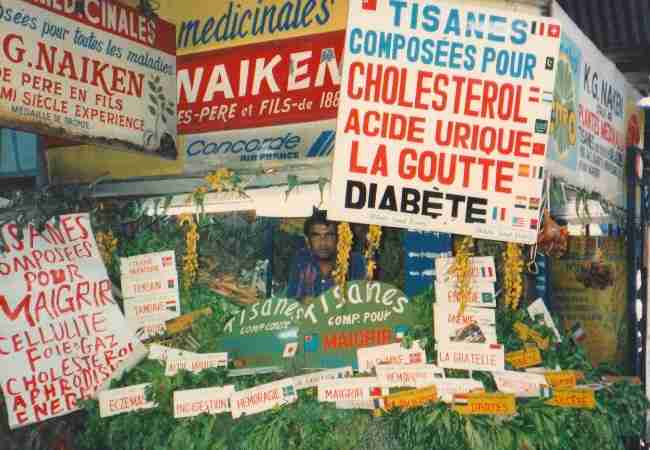 The Caudan Waterfront
End the day's excursion at the Caudan waterfront alongside the harbour in Port Louis. A five minute walk from the Central Market.
The Caudan is a modern complex with an interesting architecture. Lots of shops and restaurants away from the hustle and bustle of the real Port Louis.
Thirsty? Have a drink at the Keg and Marlin Bar a popular pub at the Waterfront.
Caudan Waterfront Port Louis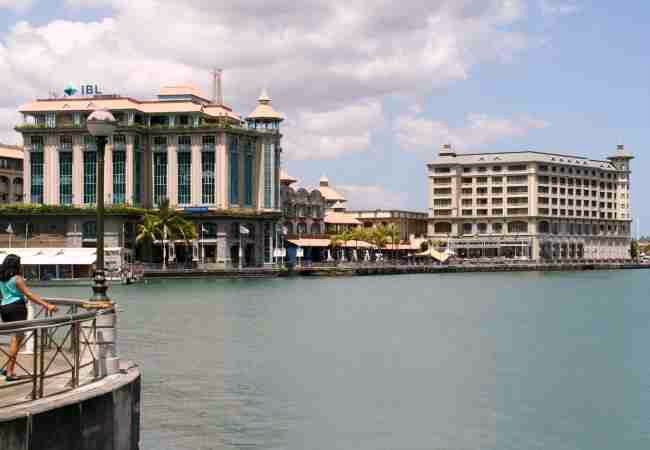 If you are into stamps and still have the energy visit the Blue Penny Museum at the waterfront. It's here that the famous Mauritius 'blue and red post office' stamps are on display.
Please note that to protect these rare stamps the display is lit for 10 minutes every hour on the half hour. For example  9 30, 10 30 and so on.

When not to visit Port Louis
Don't go sightseeing in Port Louis on a Saturday afternoon or a Sunday. You'll miss out on her captivating charm and attractions because most places are closed, even our colourful central market. 
There is not much of a night life in Port Louis. The two big hotels at the Waterfront cater mostly to businessmen. Sorry no resorts, beaches or airport!
Port Louis on a Sunday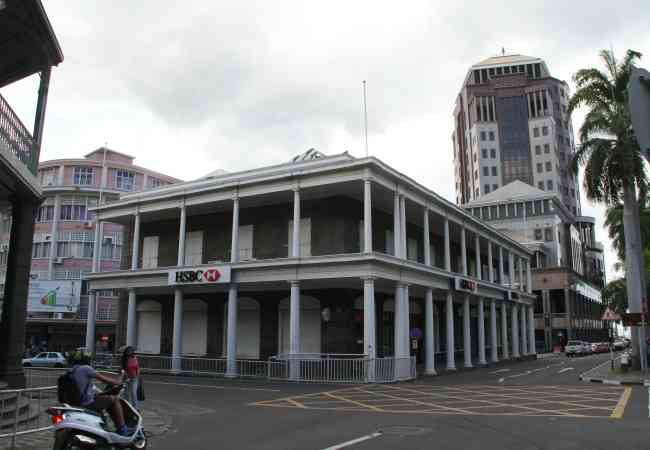 Weather in Port Louis Mauritius
Our capital city is surrounded by the Moka mountain range on three sides so the weather forecast is easy. It's hot in Port Louis throughout the year. Even during June, July and August. There is hardly any flow of air to cool the temperature.
If you are in the North do this ...
Why not travel by bus to the center of Port Louis? A bus trip is a delightful experience to do in Mauritius. From Grand Bay the daily express bus will whisk you to our capital city in about half an hour. They operate every hour from 8 am to 6pm
The Caudan waterfront has a parking. In case you are driving. 
A luxury bathroom fitting as a souvenir?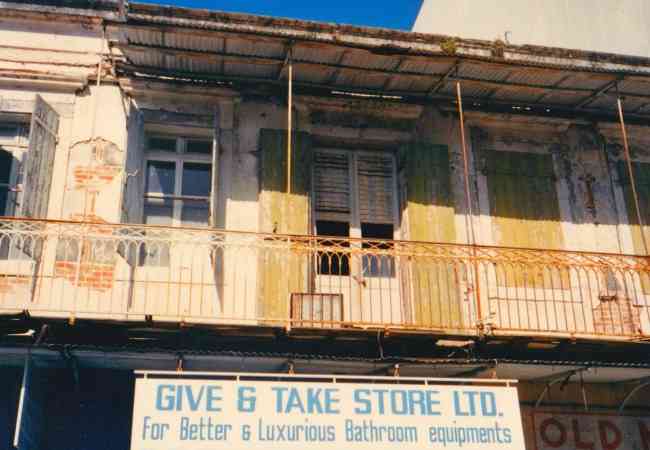 Enjoy your tour of Port Louis during your island holiday. You'll have lots of fun discovering the little known attractions of Mauritius' capital.
Home < Mauritius attractions < Port Louis Mauritius
I'd love to hear from you - add your questions or comments below!