Mauritius street food
A movable feast
Where to eat the best Mauritius street food? Join me on a Mauritian culinary safari and meet our travelling chefs. Let me be your guide to our traditional finger food from vegetarian to seafood to delicious sweet treats.
It's a fact: we are nuts about our street food!  We eat them just about every day.  It's almost a ritual to nibble on them at lunch time plus we often eat finger food or 'gajaks' before supper with a drink. All part of the Mauritian street food culture.

Vegetable fritters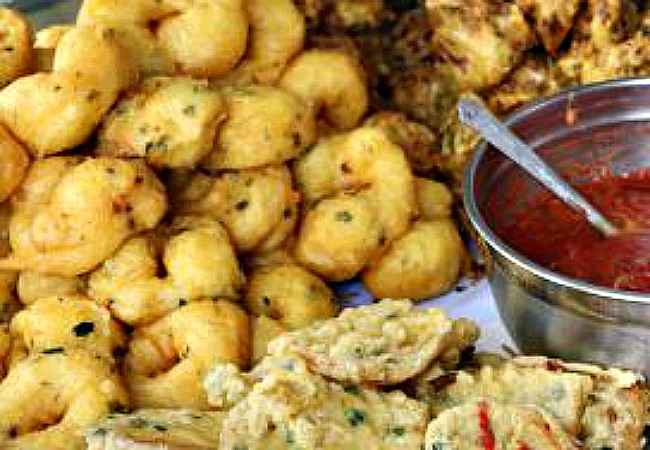 What is Mauritius street food?
A movable feast of Indian, Chinese and Creole tidbits with an island flavour. The aroma of spices, curries and creole sauces … It's not only the pleasure of the palate but also the sounds, the scenery, the people you'll meet and talk to.
What on earth are these fried shapes? What about those bright pink squares? These colourful sauces?
Street food cart in Port Louis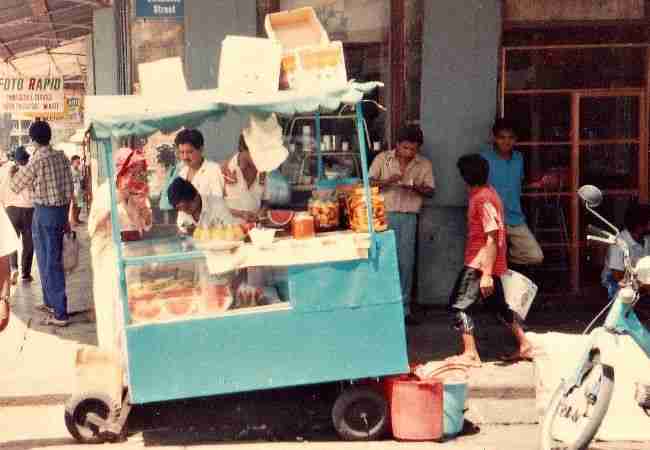 Have a look at our local version of 'fast food' with pictures and the types of goodies waiting for you. Mauritian street food is healthy as you'll see.
Ready? Let's see what's on the menu.
Mauritius street food examples
 Vegetable and bread fritters 
 Dholl puris and faratas - flat breads with tasty fillings
 Chinese fried noodles, stir fry, dumplings
 Chili bites and samosas
 Peanuts - boiled, grilled, roasted, spiced …
 Preserved pineapple and mango slices 
 Coconut and sweet potato cakes plus many more
Peanut galore - a popular Mauritius street food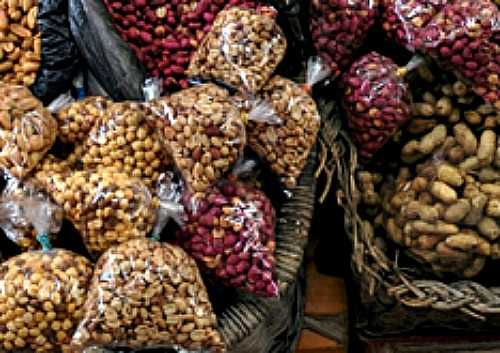 Tasty fritters
Vegetables and bread fritters slices deep fried in lightly spiced batter. Served still piping hot (heat hot not chili hot). Absolutely delicious.

Vegetable fritters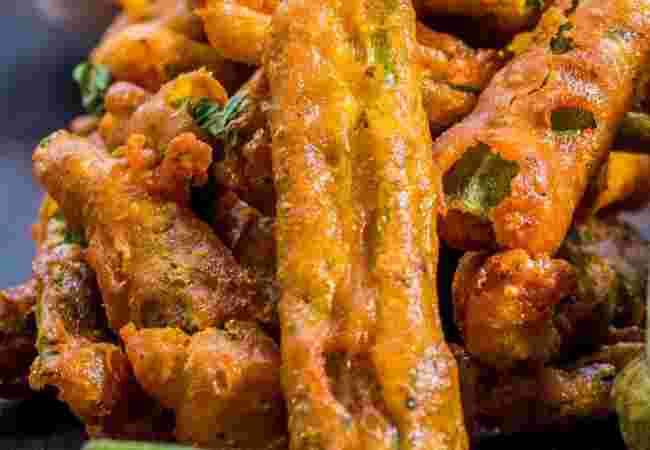 The best fried bread slices I have ever eaten were in the South of the island at Gris Gris beach in Souillac. Look out for Poonam who offer his delicacies from a mobile food van.

Local 'pancakes' with a difference
They are dholl puris our national dish made with yellow split pea flour and faratas with wheat flour. You'll have a choice of fillings from curried beans to rougaille. The main and famous creole dish is 'rougaille'.  It's made with sweet tomatoes, ginger, garlic, thyme …
Dhal puri and farata vendor in Port Louis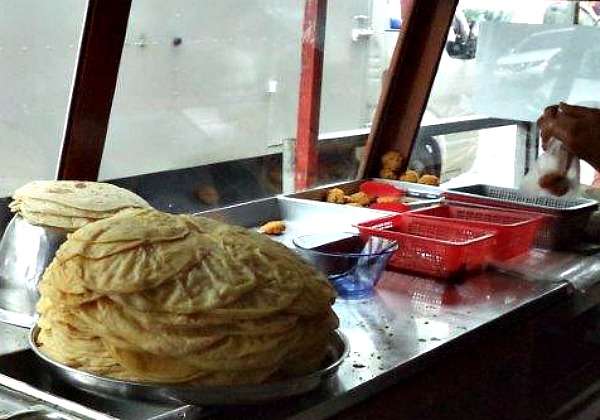 You'll find the tastiest dhal puris at Rewa in Rose Hill a town South of Port Louis. Ask for Rewa when you arrive. Everyone knows him.

Mauritius Chinese delicacies
Chinese street food include stir fried noodles, sweet and sour dishes, dumplings … You'll find a good choice in China Town, Port Louis or with vendors alongside popular beaches like Mont Choisy and Flic en Flac.

Mine frit a popular street food dish
Best Chinese Mauritian street food 
When you are in Grand Bay go to 'Ti Kouloir' which means 'small passage' in creole. This small side street 'restaurant' is literally a narrow passage. Here you'll find the tastiest dumplings and fried noodles 'mines frites' this side of the equator.
Either sit on a stool if you can find one or enjoy your feast on the beach in the bay.

'Boulet' is the Mauritian version of dumplings or dim sum. Filled with chicken, vegetables or seafood. Very healthy! 

Boulet the local version of Chinese dumplings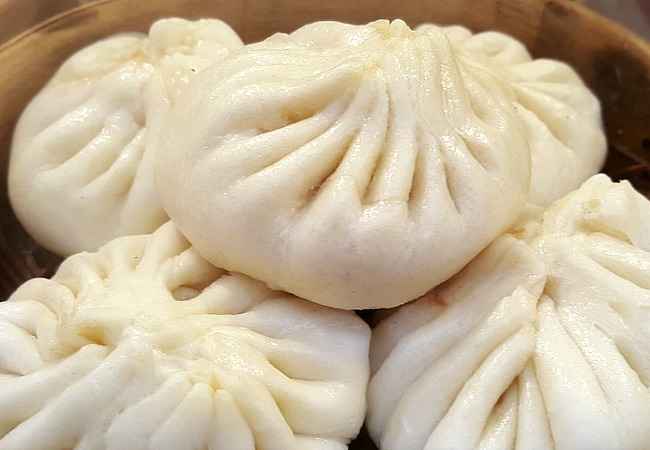 Chili bites 

They are called 'gato piments'. These finger food are a melt in the mouth treat and sold everywhere. Prepared with yellow split pea flour and deep fried.
To me they are not that hot but then I am Mauritian! Don't let the name mislead you. You can always buy one to taste and then order more of this delicious finger food. In my Mauritius food guide I show you what to do if you swallow a chili.

Delicious chili bites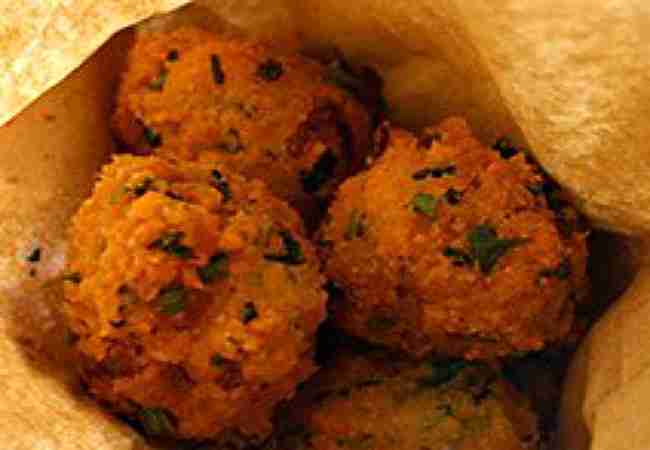 We enjoy eating chili bites tucked inside the local bread called 'pain maison'. A popular habit.

Samosas
Our samosas are the best I have ever eaten in the whole wide world. They are small, light and filled with potatoes. If I had to choose my favourite Mauritian street food, samosas would be on top of the list.
Enjoy and think about me when you eat them.
Tasty samosas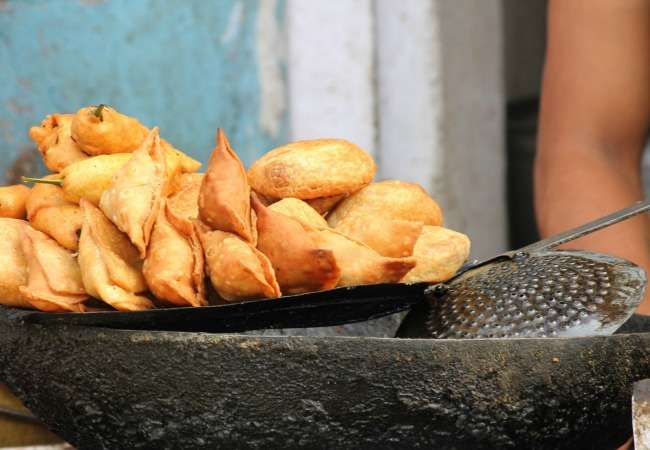 Pineapples and mangoes
Sliced pineapples and mangoes served with crushed chili and salt on the side or marinated in glass jars with a hint of chili, sugar and vinegar. So refreshing!

Sweet tooth?
Many of our sweet cakes are prepared with coconut or rice.
Sweet potato cakes and gateau moutaille or 'gato muthay' are two of my favourites. You'll most probably come across sweet potato cakes or 'gato patat' vendors next to the entrance of Port Louis market. 
Bombay Sweet Mart shop has a good selection of 'gato muthay' also called 'jalebi' in Asia.
Sweet street food treat - 'gato muthay'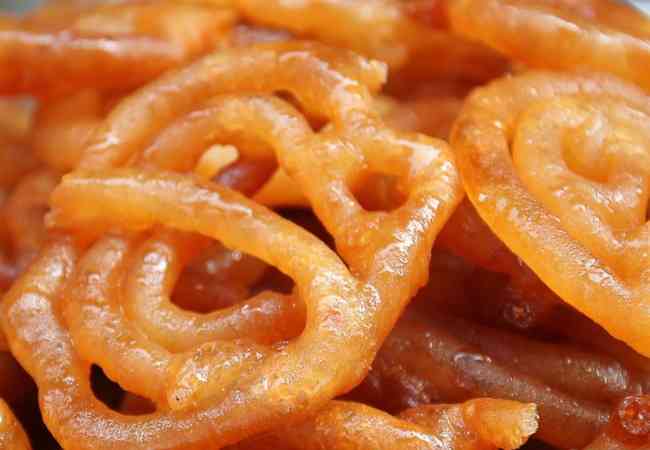 Other sweet food to try are coconut cakes in bright colours, rice cakes that look like round dumplings, root vegetable cakes, our own doughnuts called 'piaw' influenced by Mauritian Chinese … 

Where to eat Mauritius street food 
food markets or bazaars
vendors on beaches with their travelling kitchens
small side street eateries or stalls 
Port Louis market is the best! 
When you visit Port Louis keep at least a couple of hours for a street food discovery. From the Waterfront or the bus terminal it's a five minute walk to the central market and Chinese quarters. 
Be prepared to indulge yourself at a fraction of the price of a restaurant's meal.
Take you pick from the delicious treats you see on carts or in glass cabinets at the back of the vendor's bicycles or motorbikes. They line the street leading to the Central Market. 

Food vendors line the street in Port Louis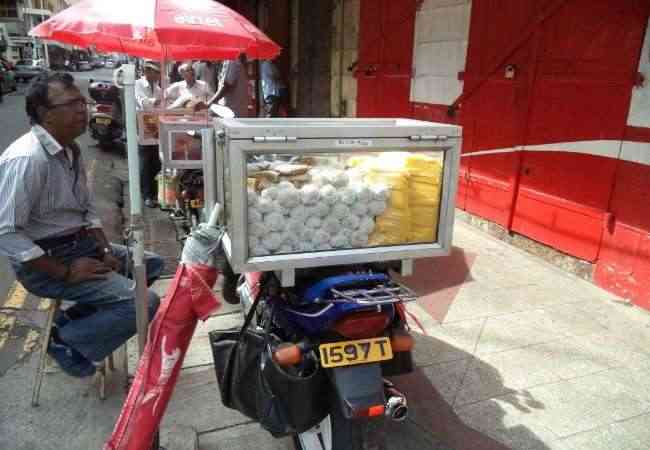 I hope you enjoyed your Mauritius street food safari. See you in the streets happily munching on delicious snacks!
 Home < Mauritius food guide < Mauritius street food
I'd love to hear from you - add your questions or comments below!