Mauritian food 
kissed by the sun
Mauritian food types and culture in a pocket guide? You bet! Let me introduce you to some famous Mauritius specialities you simply must savour during your island holiday. Our cuisine will surprise your taste buds. We even eat weeds!
Let's start your food tour and see what's cooking.
Basic ingredients of Mauritian cooking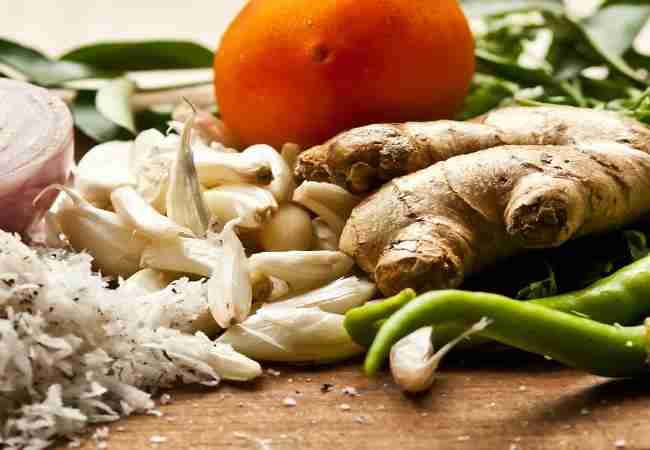 The basis of Mauritian food 
I'll let you into the secret of our main diet:
Rice 
'Dholl puris' a flat bread made with yellow split pea flour - our national dish
'Faratas' or rotis another type of Indian flat bread made with wheat flour 
Dholl puris and Faratas
I know they look a little uninspiring that's until you add tasty and colourful goodies. Think vegetables, beans, fish or meat. Some are pickled, others simmered or fried with spices, tomatoes, garlic, ginger, cardamom. Plus chutneys of raw vegetables or fruits with onions and at least a chili  ... A very healthy habit.

The most traditional Mauritian food : Dholl puris with rougaille or curry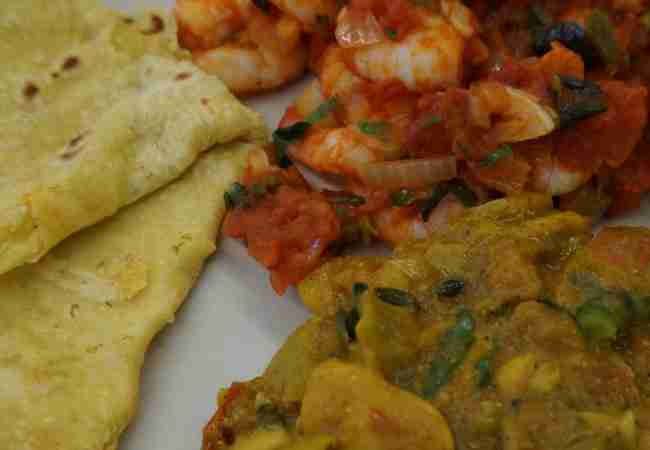 Add yummy weeds
Another word to remember on the island is 'bredes', pronounce bread. They are wild herbs and they grow everywhere except on the beach. I suppose they are called weeds in your country. Here we relish weeds and eat them with most dishes. 
Simmered with onions, garlic, ginger, a couple of tomatoes plus a dash of spices. Bredes are delicious with curries and creole dishes called 'rougailles'. 
Cook preparing 'bredes' in the kitchen
We also use squash leaves to make bredes. Why waste food?
Mauritian food types
A safari of many cultures and cuisine
Indian cuisine 
Chinese cuisine
French cuisine
Creole cuisine
Octopus curry and rice is a typical Mauritian dish
Indian Mauritian food types
About three quarter of our population is of Indian origin.  It goes without saying that the delicious savours of their food have found a place in our famous cuisine. With an island twist of course …  
Vegetable pickles called 'achards' are served with most dishes.
'Archards' is a popular side dish
Hindus eat very little red meat so it will be mostly vegetarian dishes prepared with our tasty tropical vegetables. Plus a choice of beans simmered in light curry sauces which by the way have a taste of their own. They contain a fair amount of turmeric the islanders call saffron.

Try the popular dish called 'biryani'. A Muslim speciality cooked with rice, meat, spices like cardamom, cinnamon, cloves and potatoes. A meal by itself.

Mutton Biryani
Chinese Mauritian food types
Noodles, noodles, noodles … also with a Mauritian twist. They could be handmade, fried or steamed with meat and greens.
Try the dish called 'upside down' or 'bol renverse'. Rice with chicken, vegetables, Chinese sauces and an egg on top. As you can see the egg is added after the dish is turned upside down.
'Upside down' bowl a popular Chinese dish
You haven't lived until you let your palate melt with a dim sum or 'boulet'. These popular snacks are filled with numerous ingredients. They are then steamed and they are not spicy.

What is Mauritius Creole food?
The basic of creole food is rice. The main accompaniment is a tasty tomato sauce called 'rougaille'. It could be a rougaille of sausages, salted fish or a rougaille of peanut butter which is absolutely delicious. We then add brown lentils, bredes, various chutneys and vegetable pickles. 
'Rougaille' is an important word to remember on the island. Pronounce 'rouxgaye'.
A prawn rougaille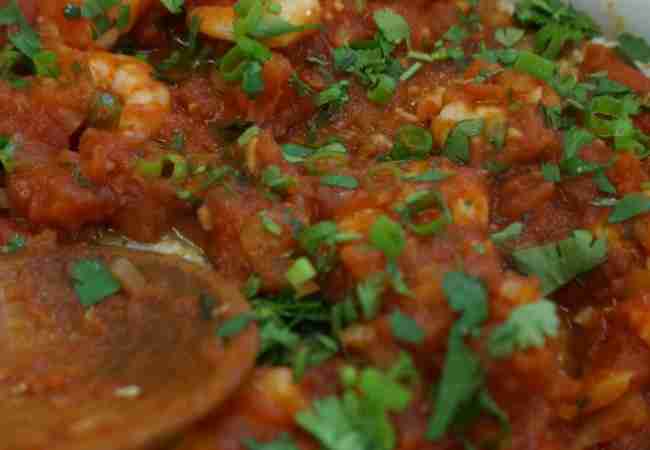 French influence

French influence is mostly found in the names of our various dishes. Plus garlic, thyme and parsley are widely used in our cuisine.
Afternoon tea and cake. Oh dear! What about our exotic banana tart?

Tasty banana tart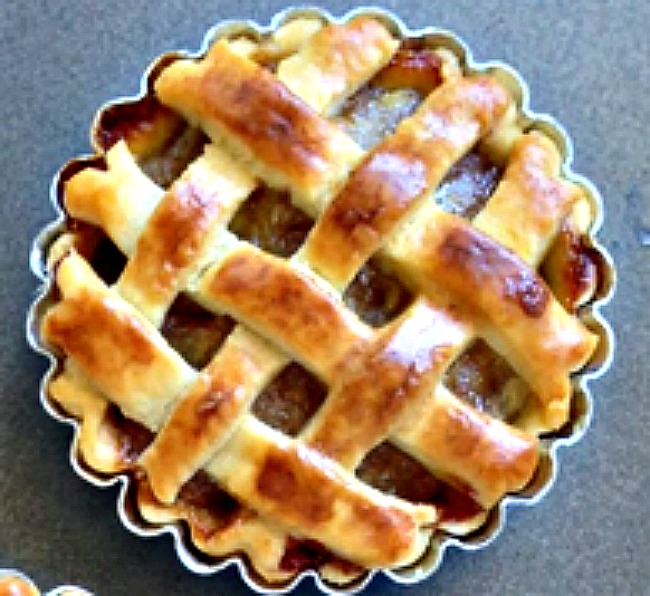 Most popular fish dish
You'll lick your lips in anticipation when I tell you about our traditional fish dish simmered in saffron and served with rice, brown lentils and chutneys. When you see 'fish vindaye' on a restaurant menu, grab it before it flies away and make sure the rice is 'basmati', the best of the best. 
I have shared my fish vindaye recipe with you. Try it!
Mauritian fish vindaye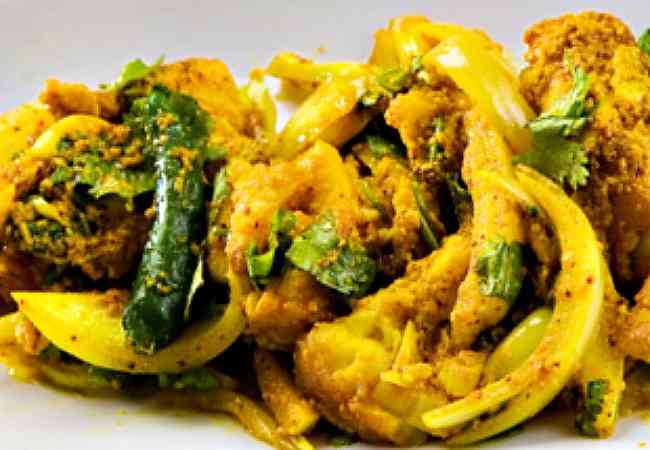 In my Mauritius food guide I show what to do if you swallow a chili (most important) and where to find the freshest fish (even more important).

This overview should give you an idea of our food culture and history. Don't miss out on our local 'fast' food:  our street food and vibrant bazaars where you'll indulge your senses and palate. Mauritian food here we come.
Bon appetit.
I'd love to hear from you - add your questions or comments below!