A golf holiday in Mauritius
Play in paradise
Imagine a golf holiday in Mauritius ... The "Golf Destination of the Year for Africa, Indian Ocean and the Gulf States". You'll play on award winning courses.  Add an all-inclusive package in a luxury golf resort. The perfect island vacation for your favourite sport! 
Mauritius has found her place on the world golfing scene. The island attracts the best players from all over. Our championship courses designed by famous golfers are waiting for you. 
Ernie Els, Peter Matkovich, Bernhard Langer, Gary Player ….
A golf holiday in Mauritius

Tips for your golf holiday in Mauritius
The Mauritius Golf Federation lists the tournaments on their website. Check the calendar and timetable before you book your golfing holiday. A great opportunity to see a couple of master tournaments with famous players in action.
Imagine the vibe at the resort!
Golf competitions

We have two major golf competitions. They both take place towards the end of November / beginning of December. 
1. The Afrasia Bank Mauritius Open at the Four Seasons Anahita resort. It's the only tri-sanctioned tournament in the world. Sanctioned by the Asian, European and Sunshine Tours golfing associations. 
You'll have the best of both worlds:
The Four Seasons Anahita won the Mauritius Leading Luxury Resort and Leading Hotel Suite award. Plus a nomination as the Mauritius leading family resort. Courtesy of the 2018 World Travel Awards.
2. The MCB Tour Championship at the Constance Belle Mare Plage hotel. It's a men senior professional golf tournament (over 50).

Watching a golf tournament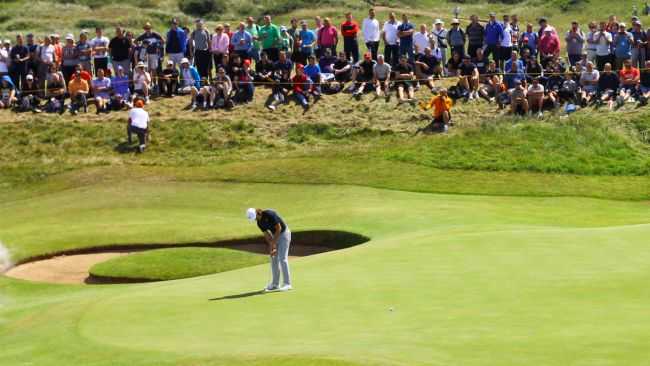 Various tournaments take place throughout the year. You could join or watch them during your golf holiday in Mauritius.
The Mauritius Gymkhana Club (MGC) 
The MGF Mauritius Golf Federation (MGF) 
Constance Legends Golf Open 
Tamarina Golf Club Open 
Ile aux Cerfs Golf Open BMW Golf Tournaments
Golf awards

The international Golf Travel Market (IGTM) is taking note.
'Mont Choisy le Golf' was a nominated the world's best new golf course by the World Golf Awards in 2018. 
Plus a second award from the International Association of Golf Tour Operators (IAGTO). 
A great success!
Golf Courses

The island boasts ten 18 hole and four 9 hole golf courses. Four are for the exclusive use of resort guests. Others are independent clubs or clubs within a resort where non residents pay a green fee. Prices vary between 3,800 to 6,800 rupees.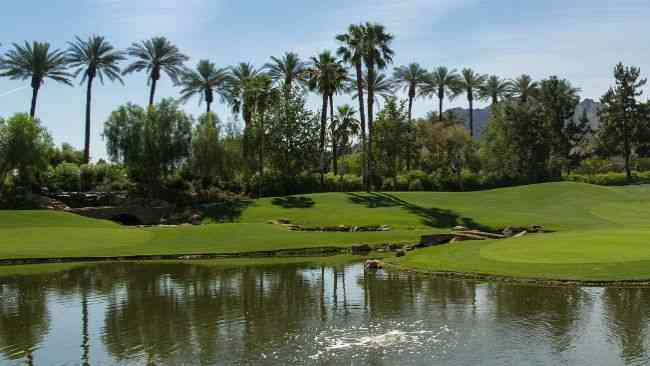 Golf packages 

Golf resorts offer complimentary packages to their guests. Green fees, range balls and more. It's best to book single or double packages and tee-off times before you arrive. 
Do you want to stay at a specific resort or hotel that does not have a golf course?
They might have an agreement with a golf resort for free green fees. Contact the resort directly. 
Which golf resort? 

Please keep in mind …
What are you planning to do besides playing your favourite game? What about your family?
You might want to enjoy sea attractions like deep sea fishing and sailing. Maybe explore our beautiful island and her exotic culture.
Research the resort location and facilities before you decide. 
You should also familiarize yourself with our weather. 

Golf lessons 

Golf resorts offer courses through their integrated golf academy. The Professional Golfers Association (PGA) specialists will help improve your game. Whether you are a beginner or a scratch player. 
Golf lessons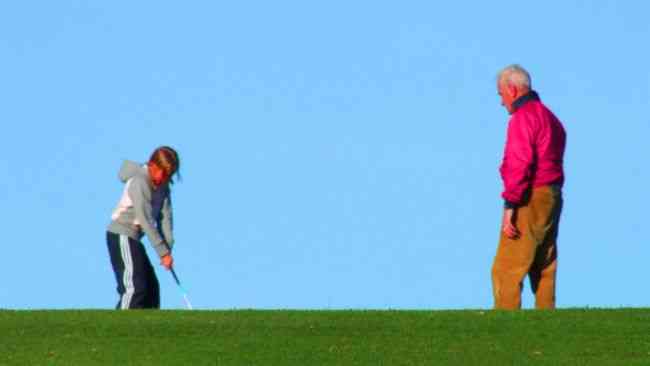 Choose between individual lessons or group packages with top coaches. Packages are usually for 3 or 5 days with on course playing lessons. 
lessons to improve your handicap 
lessons for juniors who want to learn the game 
A great opportunity for juniors to be coached by professionals! They'll learn how to hold and swing a golf club, ball position, posture and alignment. Who knows maybe your child could be the next Gary Player or Annika Sorenstam!
Your golf bag 

Nothing beats playing with your own clubs during your golf holiday in Mauritius! These airlines will carry your bag free of charge to and from Mauritius: 
Air Mauritius 
Emirates 
Air France 
Qatar Airlines 
Etihad
You can also hire high-quality clubs at the resort. Bring your glove, shoes and extra balls.
Bring your golf bag along for free
Golf history 

The sport was introduced to the island in 1844 when Mauritius was a British colony.  Officers of her Majesty played at the military base. The Gymkhana Club was built on these grounds.
This club is the oldest golf club in the Southern hemisphere. She has retained some of her colonial charm. 
I remember …
Playing tennis at the Gymkhana when I was a teenager. No need to pick up our stray balls. Young boys waited on the courts to do that! 
Waiters dressed in white with a red turban and well-polished brass buttons. Afternoon tea , dear. No cakes! Instead? Samoosas and chilli bites…
Golf and Sugar

The building of golf courses in Mauritius is linked to sugar. It was our main commodity. What happened? The sugar price started going down in the late 20th century. No need for so many sugar plantations. 
Tourism started to pick up during that time. Some of the surplus land was used for building golf courses with luxury resort hotels. Et voila!
Wishing you a fabulous golf holiday in Mauritius! 


Home < golf holiday in Mauritius
I'd love to hear from you - add your questions or comments below!