Transportation in Mauritius   
Taxis - Car Hire - Buses - Scooters?
How to pick your transportation in Mauritius? The advantages and disadvantages of bus travel, taxi hire and car rental for getting around the island. From airport transfers to hotels to sightseeing tours. Which transport service is best for your needs? and safest!

Check these modes of travelling before you book. Below you will find links with information on all the transport facilities for tourists in Mauritius.
Travel in style in a deluxe taxi ...
Transport services

Airport transfers
Taxi rental
Car hire
Public transport by bus - no rail transport
Scooters and bicycles
Mauritius airport transfers
You have a choice between a taxi service, a hotel shuttle or car hire for your airport transfers. There is no airport bus. I would not recommend you self-drive a rental car at the airport for your own safety.
More on airport transfers
Taxi Rental in Mauritius

Travelling in a Mauritius taxi is a relaxing way to discover the island. Sit back and let your cab driver guide you. Like buses, there are taxis all over the island. Budget and luxury. Some are registered and others operate illegally. How will you know?
More on taxi hire in Mauritius
A taxi minivan is ideal for families and friends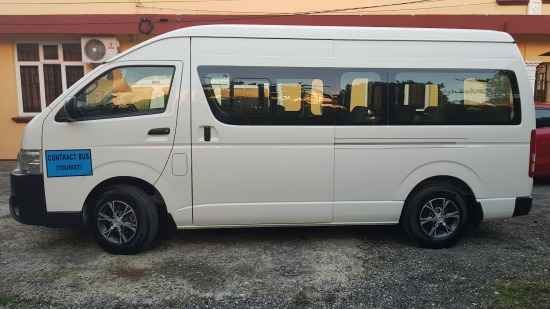 Car Hire in Mauritius

You have a choice of car rental companies. Some well known and others are Mauritian companies which are usually family run. Before you hire a car, have a look my driving in Mauritius page to see if it's your cup of tea. It will help you decide between booking a taxi service and self-drive.
More on car rental 
Bus Travel in Mauritius

Try our public transport at least once to experience the real Mauritius! Travel with locals and sample our colourful island life. The bus transport system has a vast network. Buses are just about everywhere!
Take a short bus trip along our coastal roads. It will be great fun! The cost? A handful of rupees. It's very cheap.

Coastal road bus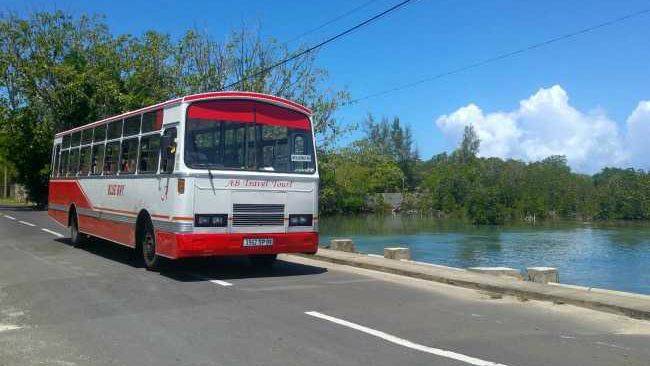 Scooters and bicycles
I am  reluctant to recommend them. It's best to leave this mode of transport to Mauritians. Our 2 lane country roads are still in the process of trying to accommodate motorcars, trucks, buses, pedestrians, vendors, dogs ... never mind scooters and bicycles!
If you decide to go ahead and rent a scooter check it is roadworthy.
Tips on transportation in Mauritius
Please don't book your transportation until you read my advice on each mode of transportation in Mauritius. Taxis, car rental or buses? Then choose the mode of transport that appeals to you for getting around the island. 

Make an informed decision that suits your needs.
Happy travelling!
Home <  Transportation in Mauritius


I'd love to hear from you - add your questions or comments below!