Mauritius people
Who are we?
Mauritius people are a colourful mix of races: our forefathers arrived on the island from Africa, India, Europe and Asia. Some willingly and others unwillingly … the result? A lively melting pot of different races and cultures. 
Yes, the people of Mauritius are called Mauritians.  We are proud of our island and proud to be Mauritians. You'll be welcome with open arms. 
What do Mauritius people look like?
I was driving in the South on a Sunday morning and came across these cute creole girls on their way to church. I stopped and asked them for a photo. Aren't they adorable?
Creole girls dressed in their Sunday best on their way to church
About two third of the people from Mauritius are of Indian origin. Their forefathers came over to the island as indentured labourers after the abolition of slavery during the 19th century. 
Creoles are next with 27% of the population. Their forefathers arrived from Africa and Madagascar to toil in sugar plantations as slaves.  3% of Mauritians are of Chinese origin who came over as merchants and 2% are French Mauritians who were and are still involved in the sugar industry.
Mauritian Indian in a typical village street
What about the British?
Good question. After all we were a British colony for over a century and a half. Only a handful of British lived on the island. Those who married French Mauritians stayed and were soon assimilated into the French culture. 

Mauritius people and their occupation
Occupation and ethnicity used to be closely related. You'll still find most Chinese working in commerce like small grocery shops, supermarkets, casinos, and restaurants. The Indo Mauritians are mostly involved in agriculture. The French Mauritians control the tourism, banking and manufacturing sectors and of course the sugar industry.
Mauritian Chinese boy in his parent's restaurant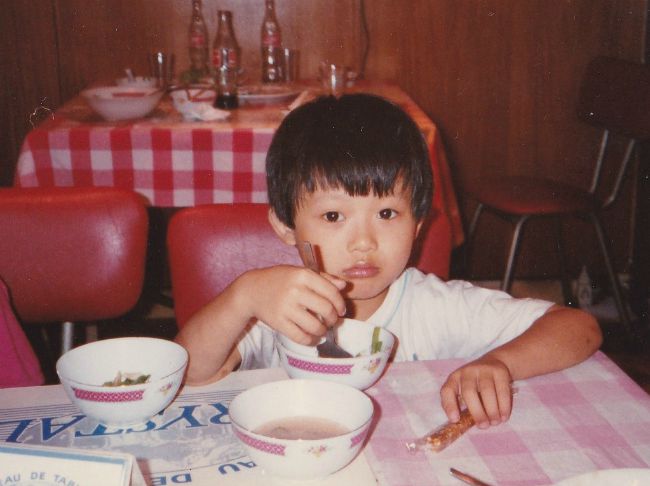 Mauritius people languages - lost for words …
No pun intended. During the course of a day most Mauritians will speak at least two or three languages. French, Bhojpuri, Creole, Hindi, Cantonese … 
We learn English at school. Not many of us are fluent in the language of our ex colonizer. The British did complain that hardly any inhabitants spoke English in their own colony! Click here for some fascinating snippets. 
The people of Mauritius usually converse in creole or Mauritian 'kreol' which evolved from French in the 18th century.  Our unofficial 'national' language has the most charming expressions and riddles that will put a smile on your face. 
Mauritius people religions
Religious affiliations and ethnicity are also closely related. So many religions and so many places of worship …
Quaint churches, colourful Hindu temples alongside sacred lakes, pagodas and serene mosques. You must visit at least a couple during your holiday. In the meantime let me whet your appetite. Have a look and enjoy.
Colourful Hindu Temple
Lively religious festivals
Most of the important religious celebrations are public holidays. At one stage we had 21 of them! It's always good to know when they'll take place so you can plan your stay to experience these lively festivals. One of the many highlights of your visit. 
Some religious celebrations will leave you spellbound. What about Thaipoosam Cavadee with body piercing, Maha Shivaratri the biggest Hindu pilgrimage outside of India at Grand Bassin our sacred lake ...
We also have sega music shows. Mauritius music and dance has been recognized by UNESCO.
Mauritian people will always make you feel at home on our beautiful island where you'll experience our kindness, "joie de vivre" and laid back attitude. 
You should now have a fair idea of what people from Mauritius are all about. 


Home < Mauritius People

I'd love to hear from you - add your questions or comments below!