Thaipoosam Cavadee Festival
in Mauritius

The Thaipoosam Cavadee is one of the most spectacular religious festivals in Mauritius. If you are planning a holiday to our island during January or February don't miss out on this Hindu celebration which involves body piercing. Go, watch and be mesmerized.
Devotee pulling his cavadee during Thaipoosam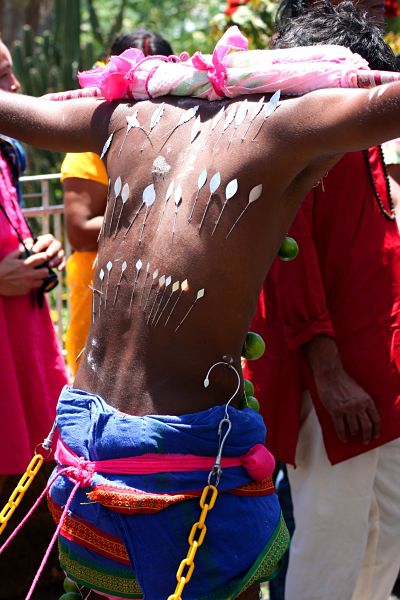 The meaning of Thaipoosam Cavadee
'Thai' means January/February and 'Pusam' a star. Cavadee or kavadi means to carry a piece of wood.
Thaipoosam is also spelled Thaipusam. This religious ceremony originates from Southern India so it's mostly celebrated by Mauritian Hindus of Tamil origin.
The history behind Thaipoosam Cavadee
This Tamil legend is the story of Idumban who is a reformed bandit and a disciple of Agattiyar. Idumban was asked by his guru to fetch two mountains peaks and attach them to the ends of a cavadee which is a pole used to carry loads. 
Lord Muruga disguised himself as a young boy and hid in one of the peaks which made the load much heavier. He was discovered by Idumban who did not recognize him and started a fight. Muruga killed him with his spear.
The guru Agattiyar and his followers prayed for the resurrection of Idumban. Their wishes were granted by Lord Muruga. It was decided that devotees who carry their cavadee to the temple will also have their wishes granted. Hopefully … But the journey is painful as you'll see.
Lord Muruga  with his spear or 'vel'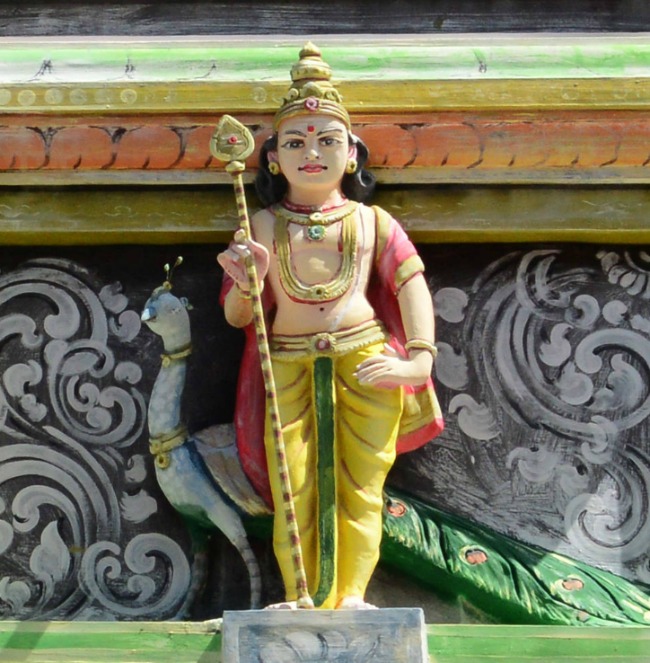 Ten days prior to the ceremony
A ten day fasting starts with a flag hosting ceremony at the temple. During the day devotees drink water, eat vegetarian food and sleep. Abstinence, fasting and prayers contribute to their deep spiritual uplift.
Devotees build their cavadee. Everyone gives a hand. Family, friends and neighbours.
Cavadees vary in size. Some are as high as three metres! They are made of wood and bamboo in the shape of an arch to symbolize a mountain. Add jingle bells, bright clothes, colourful flowers, coconuts, peacock feathers, banana leaves and miniature icons of Lord Muruga.
 Worshippers carry the smaller cavadees on their head. The big ones are pulled by strings attached to hooks pierced into their back. You'll see limes dangling from the end of the hooks.
On the day of the ceremony
Devotees wear fuchsia or saffron coloured clothing. Their body above the waist is smeared with holy ash. They walk barefoot towards a nearby river or the sea where they have a sacred bath. The hot tarred road is sprinkled with water to ease their suffering.
Closeup of devotee with small spears pierced into his flesh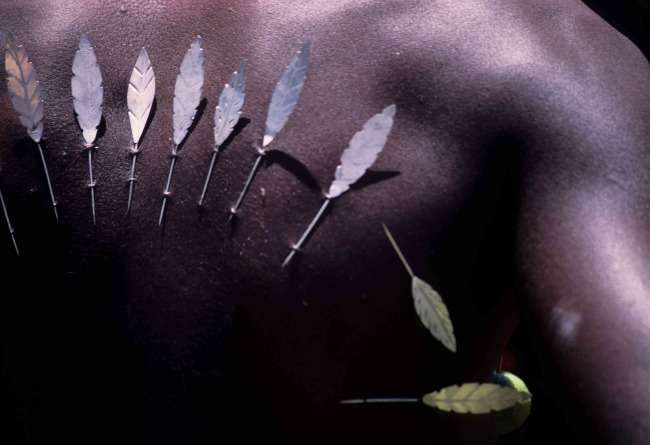 There are prayers, offerings and rituals. Male worshippers have their head shaved. Their back, chest, cheeks and tongue are pierced with hooks, skewers and small lances called 'vel'. This tradition symbolizes Lord Muruga's spear.
Some women and children carry a pot of sacred milk on their head. Others and a few children have their cheeks and tongue pierced or a pink scarf tied around their face to prevent speaking. All this amidst much chanting and drumming.
Some cars follow the Thaipoosam Cavadee procession equipped with speakers playing devotional songs.
Believers walk to the nearest Kovil which is a temple with a Dravidian architecture. There they pray, make their offerings to Lord Muruga and have the piercings removed from their body. 
The religious ceremony is not over … devotees and visitors (that's including you as well} are offered blessed vegetarian food served on banana leaves.

Festival dates 

The Mauritius Thaipoosam Cavadee takes place in most parts of the island. You can join the parade anywhere anytime and experience our culture and colourful spectacle. 
The festival dates are Saturday 4th February 2023 and  Friday 26th January 2024.
In case you can't make it have a look at our public holiday's calendar for 2023 where you'll see a list of festivals we celebrate throughout the year. Dates for 2023 and 2024. I am sure you'll find one that you simply can't miss. 
Enjoy the Thaipoosam Cavadee  festival!
Home < Mauritius attractions < Thaipoosam Cavadee


I'd love to hear from you - add your questions or comments below!