Mauritius Maha Shivaratri
Festival

The Mauritius Maha Shivaratri festival is the largest Hindu pilgrimage outside of India! Thousands of devotees walk from all corners of the island to Ganga Talao our sacred lake at Grand Bassin to celebrate the Great Night of Lord Shiva
The crater lake is tucked away in the mountains of the South West where mist mingles with incense, coconuts with candles, flowers with chanting …
Have a look at the beautiful Hindu temple which was built in honour of Lord Shiva alongside the holy lake.
View of Grand Bassin Sacred Lake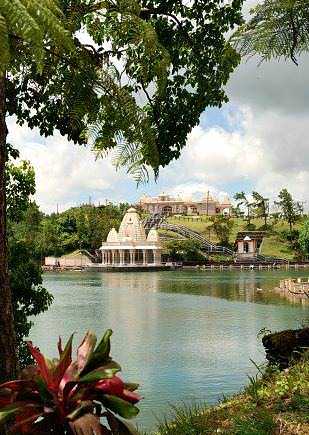 A feast for your eyes ...
The religious festivities last a few days. During this time between 250 000 and 400 000 devotees make the pilgrimage to Ganga Talao!  An amazing spectacle.
Imagine thousands of devotees worshipping, chanting, making offerings and pooja to the Gods. It could be leaves from the sacred 'bilva' or Bael tree or vegetables and fruits to the delight of monkeys.  
Offerings to the Gods at Grand Bassin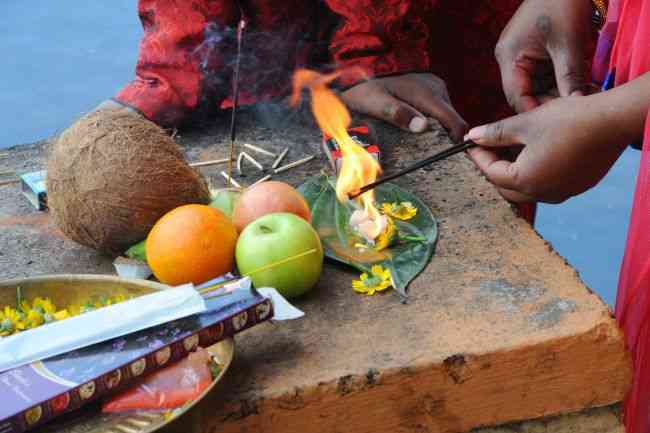 Mauritius Maha Shivaratri - long walk
It can take up to three days and even longer for pilgrims to walk to Grand Bassin for the religious ceremony. It depends where they live.
They are well looked after during the long walk. You'll see lots of rest stops and stalls alongside the road. They are manned by volunteers who offer water, juice and something to eat. Temporary shelters provide a welcome overnight rest stop.
You'll see devotees chanting mantras. Most of them are dressed in white which symbolizes purity. They carry or pull a type of chariot called 'kanwar' made of wood, bamboo and lately some plastic.  All duly decorated with deities, bells, small mirrors and colourful flowers. 

Fierce competition ...
It can take a month to make elaborate kanwars. Some are higher than the street cables across the road. In Mauritius nothing is a problem and a solution was duly put into place. A devotee walks in front of the parade lifting cables with a long pole …
There is now stiff competition among the youth for the biggest kanwar. Some are so large they create traffic jams! At times youngsters play a remix version of Hindi songs. Religious Hindus are not very impressed by this modern behaviour.
Shiva Hindu God
When the Maha Shivaratri festival is over, kanwars are immersed in the lake. There is concern about pollution with the bits and pieces of plastic that can't disintegrate in water. 

Devotees will collect holy water from the lake to take back to their own local temple. The most devout worshipers remain for overnight prayer rituals and fasting.
The meaning of Maha Shivaratri
Maha Shivarati honours Shiva who is a much loved Hindu deity. Together with Lord Brahma and Lord Vishnu, Lord Shiva forms part of the Hindu trinity.
Legends abound about the celebration of Maha Shivratri. One of them is the marriage of Lord Shiva with the goddess Parvati. An auspicious day for women who fast and pray for a happy married life. Those who are unmarried wish and pray for an ideal husband like Shiva.
Goddess Parvati at Grand Bassin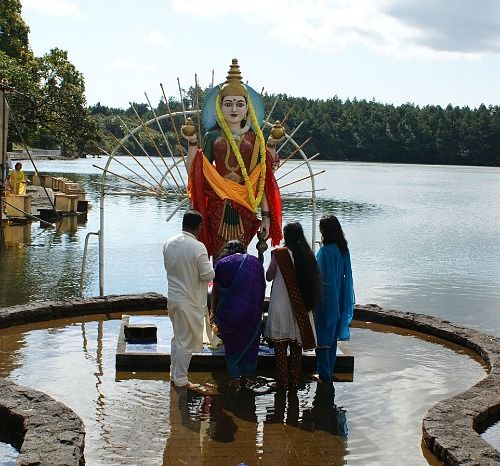 Festival dates
The Maha Shrivaratri festival takes place on  Saturday 18th February 2023 and Friday 8th March 2024. The day is a public holiday. This cultural attraction will be one of the highlights of your holiday.
But ... don't despair if your vacation does not coincide with the Mauritius Maha Shivaratri Festival. You can enjoy Grand Bassin at any time of the year during your island holiday.
I have compiled a list of our festivals for 2023 and 2024  with a  2023 calendar where I have shown our public holidays. Check the dates and decide which one you'll like to see. 
The Mauritius Sanathan Dharma Temples Federation (MSDFT) manages the site at Grand Bassin together with the Hindu Maha Sabha. Other Hindu associations help when there are festivals.
You can well imagine the time and effort needed to organize the Mauritius Maha Shivaratri festival for so many devotees!
Home < Mauritius attractions  < Mauritius Maha Shivaratri
I'd love to hear from you - add your questions or comments below!