Celebrate Diwali in Mauritius
Also called Divali or Dipavali

Diwali in Mauritius will see the island transformed into a fairyland. For 5 days we celebrate the Festival of Lights. You'll be dazzled by the colourful Hindu celebration.
Houses, gardens and buildings are adorned with clay lamps, candles and electric lights. The night sparkles with fireworks to ward off evil spirits.  
Diwali in Mauritius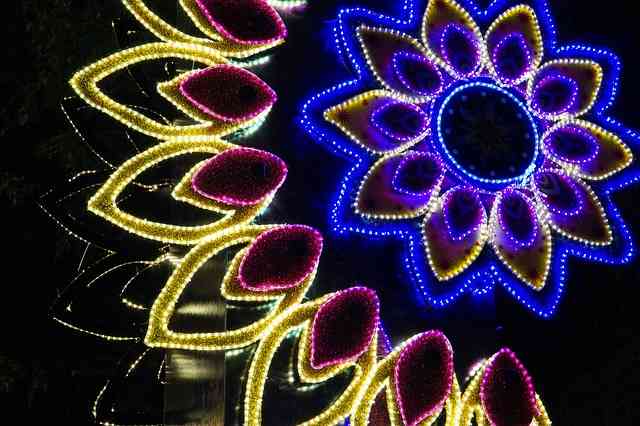 The word Diwali comes from 'deepavali' which is a combination of two words. 'Deep' means 'lamp' and 'avali' means 'row'.
Why a Festival of Lights?
The legends behind the Divali festival are many. One of them celebrates the return of Lakshmi, the goddess of wealth. She does her annual round and chooses the dwelling she finds the most attractive. 

Diwali on the beach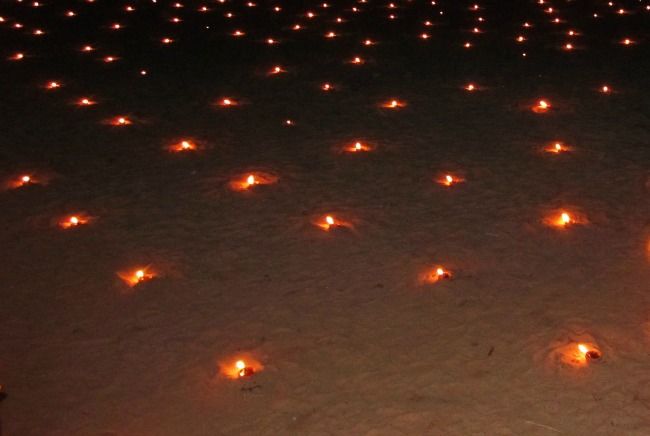 How to attract the Goddess of Wealth
Mauritian Hindus go about serious house cleaning to welcome the deity. Walls are given a fresh coat of paint. Floors, doorsteps and courtyards are adorned with colourful designs called 'rangoli' made with rice flour. And … it's also food for our birds and insects! 
Rangoli design during Divali
'Rangoli' is a type of Indian folk art with intricate patterns. There are even competitions for the most beautiful ones.

Homes and gardens are decorated with dozens of lights. Walkways are lined with small clay lamps or 'diyas' to show the way. Businesses are of course not forgotten and you'll see buildings draped with electric bulbs.

Diwali lights in Mauritius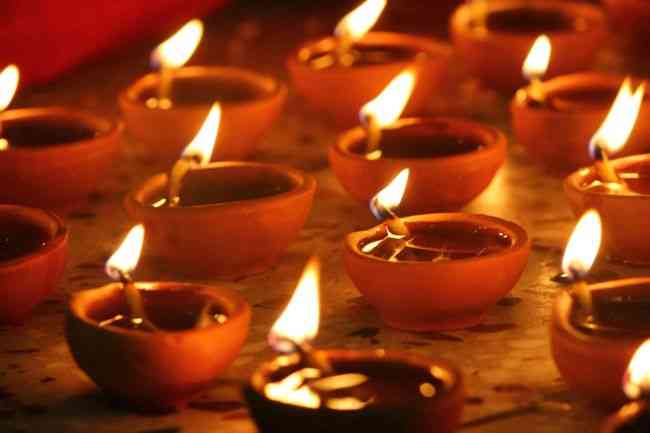 How to celebrate Diwali in Mauritius
During five days various gods and goddesses are worshipped and celebrated with great fervour. In particular the goddess Laskhmi and Lord Ganesh who represent wealth, good luck and enlightenment
Each day the Divali festival has its own celebration with its own story and legends. 
On the first day devotees buy jewellery, utensils and clothes to symbolize the arrival of wealth into their home. The day is celebrated as 'Dhanteras'. 'Dhan' means wealth and prosperity.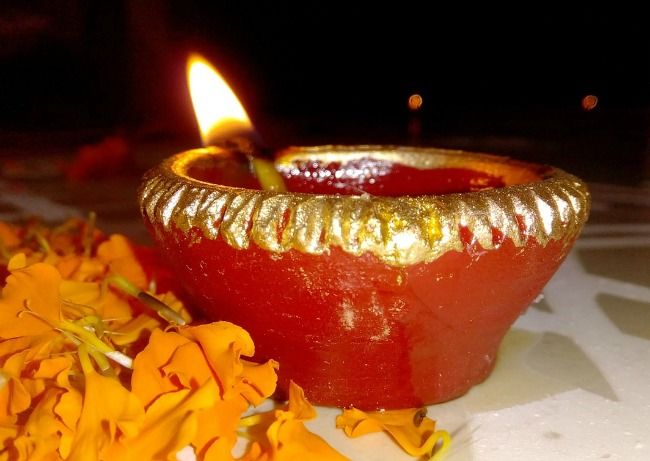 On the fifth day sisters and brothers renew their love for one another with prayers and gifts. Families and friends exchange presents, share food and mithai which are delicious Indian sweets. Prayers are offered to Lord Ganesh and the goddess Lakshmi.
The festival ends with a display of fireworks. The night sparkles to ward off evil spirits. Most Hindu festivals celebrate the conquest of good over evil. Diwali is no different.
It's also an occasion for gambling. According to another legend, Shiva had a game of dice with his wife Parvati who decreed that whoever gambles during Diwali will experience good fortune the following year.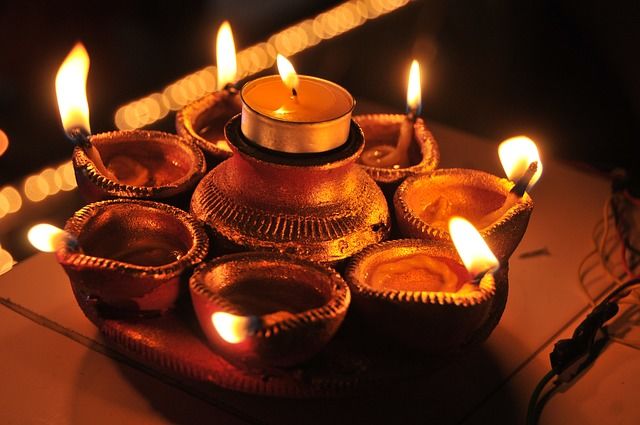 Festival dates
Diwali in Mauritius is a public holiday. The date for the celebration will be Sunday 12th November 2023 and Friday 1st November 2024.
Have a look at the best festivals and take your pick from the main events. As a tourist you should consider combining a cultural attraction with your holiday. Come and celebrate our rich heritage with us!
I have also prepared a calendar with a list of public holidays including festivals and religious celebrations. 
And from all of us in Mauritius: "Happy Diwali Celebrations".
Home < Mauritius attractions < Diwali


I'd love to hear from you - add your questions or comments below!