Grand Bassin in
Mauritius 
Grand Bassin in Mauritius should be on your 'must see' list of attractions. The sacred lake also called Ganga Talao represents the mighty Ganges river of India. You'll find her tucked away in the mountains of the South West surrounded by colourful Hindu temples and gods. 
View of Grand Bassin in Mauritius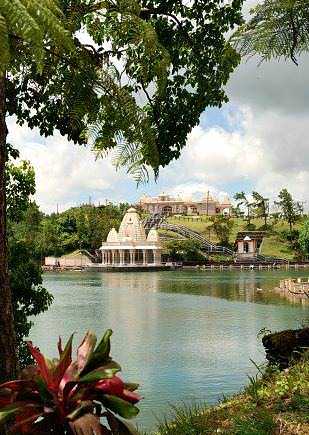 The history of Grand Bassin in Mauritius
Grand Bassin was discovered by Pandit Jhummon Giri Gossagne Nepal who lived in a village in the North of the island called Triolet. The Hindu priest had a dream and in his dream he saw a holy lake which was connected to the sacred river Ganges in India. 

At the time roads were far and few. We are talking about 1897. The priest searched for the sacred lake and eventually arrived at Grand Bassin where he came across a lake he recognized from his dream. 
News of the divine lake soon spread and the following year pilgrims started walking to Grand Bassin from all over the island.  Grand Bassin in Mauritius is now one of the most important Hindu pilgrimage site outside of India!

The sacred lake at Grand Bassin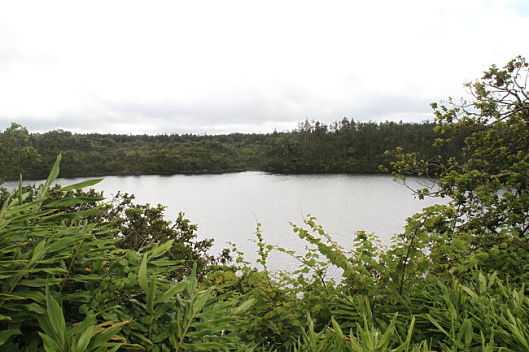 Grand Bassin is a crater lake about 550 meters above sea level with a depth of between 50 and 55 feet.

In 1972 a priest from India brought sacred water from the Ganges and amid much ceremonial poured the holy water into the lake. From then on the lake would be known as Ganga Talao. Ganga for Ganges and 'Talao' means 'pool'.
Hindu Gods at Grand Bassin in Mauritius
Hindu temples and statues of deities at Grand Bassin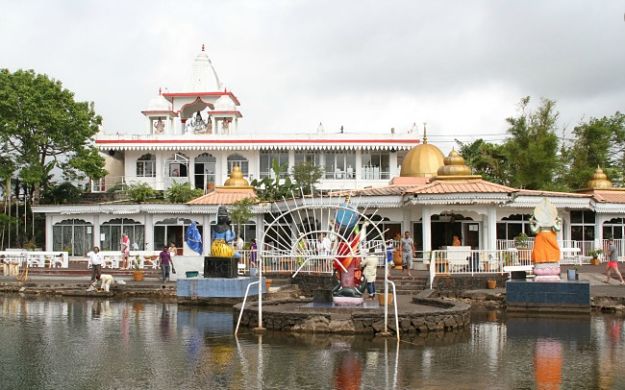 You'll see devotees praying to Hindu deities with offering of fruits or vegetables. Incense sticks are gently lit up. Watch the reflection of small lamps flickering on the water. Feel the spiritual atmosphere. 

Have a look at the smaller shrines and colourful statues dedicated to other popular Hindu deities. Ganesh the elephant God can easily be recognized with his elephant head. We even have a festival dedicated to Lord Ganesh called Ganesh Chaturthi.

Hanuman the Monkey God on the shore of Grand Bassin is another popular Hindu God.

Hanuman the monkey god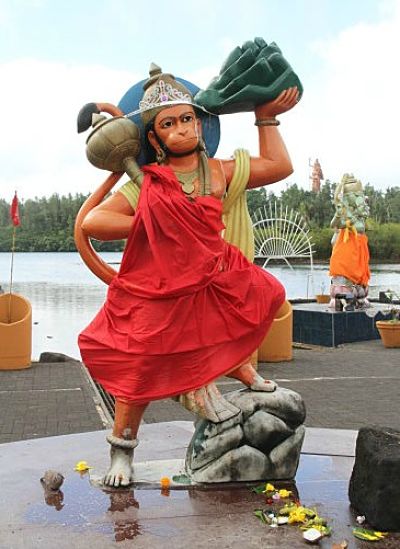 The giant statues of Grand Bassin
The Indian sculptor Shri Matu Ram Verma who is famous for his giant statues was commissioned by the government of Mauritius to design the statues of Lord Shiva and Lord Durga. They'll welcome you on arrival.
Mangal Mahadev the statue of Shiva who is a beloved Hindu deity. At 33 meters high Mangal Mahadev is the third highest statue of Shiva in the world. 
Giant statue of Shiva at Grand Bassin - Mauritius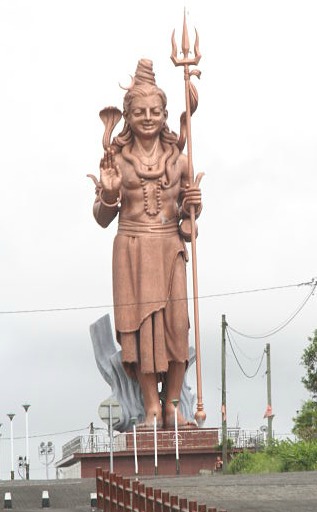 Below you'll see a picture of Lord Durga taken in November 2015 when the statue was being build. It will give you an idea of the size and work involved.

Giant statue of  Lord Durga at Grand Bassin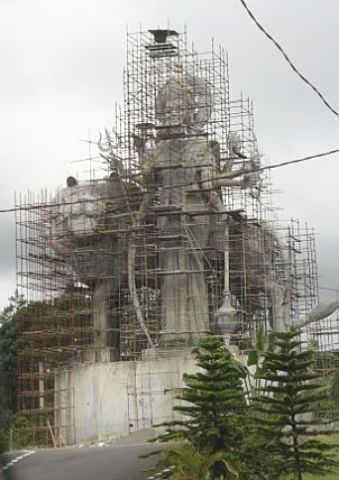 Mist often rises from the holy lake. Make time to explore the main Hindu temple built in honour of Lord Shiva alongside the sacred lake. Enjoy the scenery and spirituality.
You might even catch a glimpse of giant eels and some fish in the lake.

Ganga Talao Mauritius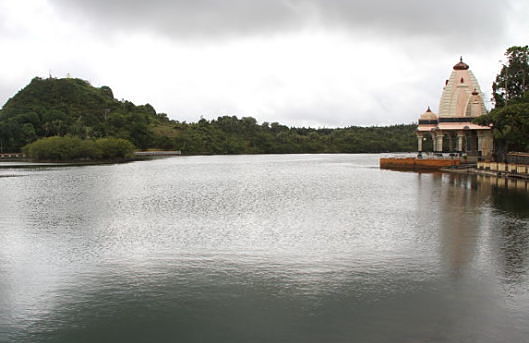 Or wild monkeys happily munching on coconuts.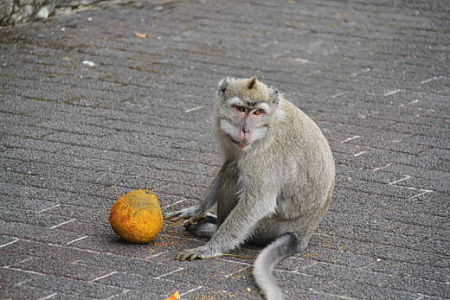 A most spectacular pilgrimage to Grand Bassin takes place at the end of February or beginning of March every year. Up to 400 000 devotees visit the holy lake to commemorate the Great Night of Lord Shiva or the Maha Shivaratri.
You are most welcome to join this amazing festival. Don't be shy. It's a great opportunity to immerse yourself in the Mauritian culture and celebrate with us!
How to get to Grand Bassin
Please don't drive during your Mauritius holiday. It can be stressful with small village roads, bad drivers and stray dogs. Plus incorrect Google Maps directions! Rather book a taxi with a driver-guide. They will share interesting stories about the island. While you just relax and admire the views...
I really enjoyed this private tour which includes Grand Bassin. You'll experience the best of Mauritius in one day! Don't forget your camera...
I may receive a small commission from these affiliate links. At no extra cost to you! This helps me run my website and give you insider information for your Mauritius holiday. Thank you for your support!

Don't forget to ...
Ganga Talao is a holy place for Hindus. Please remove your shoes before entering a temple and dress modestly. No shorts or low cut tops. Out of respect, ask for permission before taking a photo. Bring a warm jersey because the weather is unpredictable in the mountains. It can get quite cold during winter.

You are most welcome to visit Ganga Talao at anytime of the year. The sacred lake is open to visitors and pilgrims every day. There is no entrance fee. A donation is always welcome.
See you at Grand Bassin in Mauritius ...
Home < Mauritius People < Grand Bassin Mauritius


I'd love to hear from you - add your questions or comments below!