Mauritius Festivals
the most famous
Mauritius festivals are a must during your island holiday. Combine your vacation with our cultural attractions. Which one to choose? Our Spring Festival, Festival of Lights, Festival of Colour, Hindu pilgrimage, Cavadee … Don't miss out!
Scroll down the list where I have included the six most famous celebrations with a short description and links.
Holi - the Festival of Colours
The sages of ancient India expressed divinity through symbols and not words. Why? They knew that unlike symbols, words can change.  
Click on the links for each festival and read about the symbols. They are fascinating. Otherwise how will you understand and appreciate what you'll see?
Thaipoosam Cavadee
January or February
This spectacular religious ceremony originates from Southern India and is celebrated by Mauritians of Tamil origin. Devotees have their body pierced with skewers, hooks and needles as a sign of penitence and sacrifice.
Body piercing during Thaipoosam Cavadee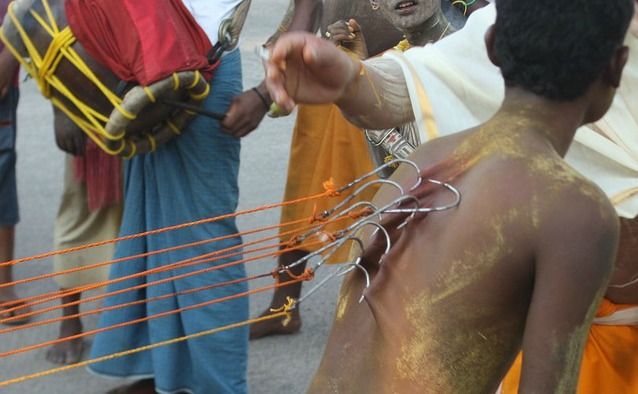 You'll see processions all over the island. If you are planning your holiday during the Thaipoosam Cavadee you'll be absolutely mesmerized.

Maha Shivaratri 
February or March
The main Mauritius festival in honour of Lord Shiva. Maha Shivaratri is the largest Hindu pilgrimage outside of India!
During several days you'll see processions of devotees walking to Ganga Talao our sacred lake at Grand Bassin. 
Chinese Spring Festival
January or February
Mauritius is the only non-Asian country that celebrates Chinese New Year or Chinese Spring Festival as a public holiday. The date varies according to the lunar month.
You'll see dragon and lion dances through China Town in Port Louis where the streets are decorated with red lanterns. Plus lots of fireworks to welcome the Chinese New Year.
Red lanterns celebrate the Chinese New Year
Holi the Festival of Colours
February or March
One of the most joyous Hindu festivals celebrated all over the island. During the celebrations people throw coloured powder at one another wherever they happen to be.  Streets, parks, beaches ...
Holi Festival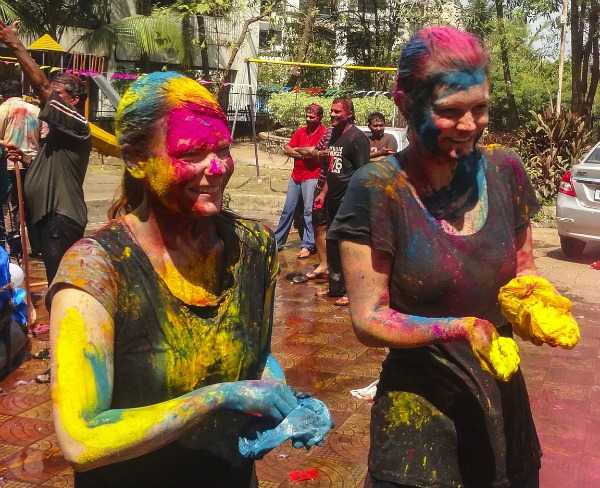 If you are going to take part in the Holi Festival of Colours wear an old T-shirt!

Ganesh Chaturthi 
August or September
This festival honours Lord Ganesh the beloved Hindu God of prosperity, knowledge and wisdom. You'll see processions of devotees carrying statues of the Elephant God adorned with colourful trinkets.
They are marching to the nearest pond, river or lagoon where the clay statues will be immersed in water.
Lord Ganesh - Beloved Hindu God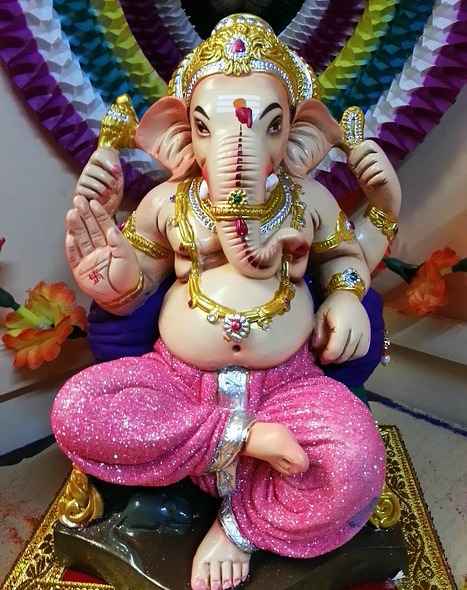 Why does Ganesh have an elephant head?  Why are the statues immersed in water? Click here for the answer to Ganesh fascinating symbols.

Diwali - the Festival of Lights
October
Diwali means 'row of lamps' and symbolizes enlightenment. During five days Mauritius is illuminated! Houses, gardens and buildings are adorned with oil lamps, candles and electric bulbs. The sky sparkles with fireworks to ward off evil spirits. 
Diwali lamp on a rangoli folk art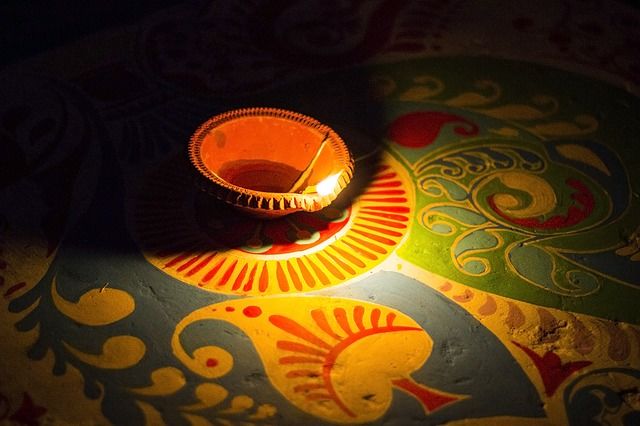 You'll be dazzled by this traditional festival! The legends behind the Diwali celebrations are most charming.

More Mauritius festivals …
We also celebrate many religions: Christmas, the end of Ramadan, the Telegu New Year called Ougadi, Varusha Pirappu the Tamil New Year, Easter and others.

These celebrations are mostly low-key with family and friends praying at a temple, church or mosque. Afterwards they'll meet at home to share presents and delicacies.
I have prepared a list of public holidays and festivals with dates for 2023 and 2024 together with a calendar.
Not all Mauritius festivals are public holidays. Imagine if the Mauritian government was to declare a public holiday for all our religious events … 
Home < Mauritius festivals
I'd love to hear from you - add your questions or comments below!