Mauritius Public Holidays
Have a look at the  list of Mauritius public holidays and calendar I have prepared for you before booking your flights. Why? They include unique traditional festivals that will delight you. 

It would be such a pity to travel all the way to our island and miss our cultural attractions!
Mauritius Public Holidays - 2019 Calendar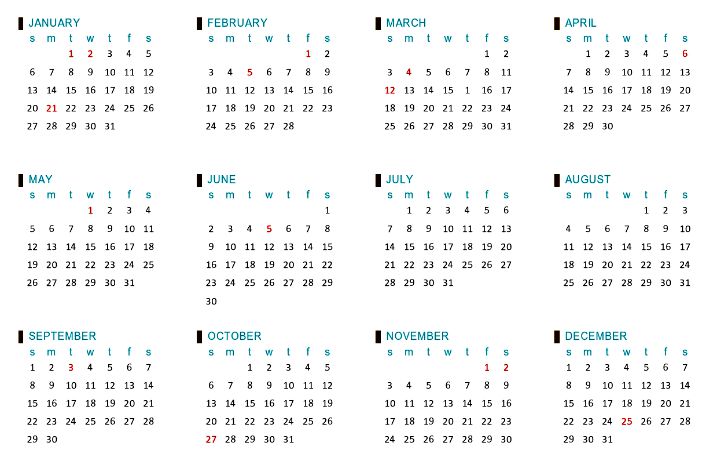 List of Mauritius public holidays 2019
  Tues 1 January - New Year's Day                  
  Wed 2 January - New Year Holiday                
  Mon 21 January - Thaipoosam Cavadee
  Fri 1 February - Abolition of Slavery            
  Tue 5 February - Chinese New Year (Spring Festival)    
  Mon 4 Mar - Maha Shivaratree (Hindu Pilgrimage)  
  Tue 12 March - National Day / Independence Day      
  Sat 6 Apr - Ougadi  (Telegu New Year)            
  Wed 1 May - Labour Day                             
  Wed 5 June - Eid-Ul-Fitr **  End of Ramadan       
  Tue 3 September - Ganesh Chaturthi (Hindu Festival)         
   Sun 27 Oct - Divali  Festival of Lights  
   Fri 1 Nov - All Saints Day 
   Sat 2 November - Arrival of Indentured Labourers 
   Wed 25 December - Christmas  
  ** Eid-Ul-Fitr the Muslim Ramadan depends on the local sightings of the moon. 

15 public holidays and counting …
It must have been a difficult decision for the government to select the number of public holidays to allocate to each religion. Who wants to offend anyone's religious belief? After lengthy debates the number was reduced from 21 to 15! 
Add cyclones visiting us without being invited and the number of holidays gets longer and longer.
Celebrate with us ...
Important note:

Seven holidays are fixed holidays. Others change from year to year. It depends on the lunar calendar. 
The Tamil New Year and the Thaipoosam Cavadee  celebrations alternate every second year. Our government tries very hard to please all religious faiths. Don't worry the festivals will still take place.
We have one cultural festival celebrated all over the island which is not a public holiday.
Holi the Festival of Colours will start on Wednesday 20th March and will end on 21st March 2019 in the evening
Celebrate at least one of our rich heritage with us and share our 'joie de vivre'.
Home > Travel to Mauritius > Mauritius Public Holidays

I'd love to hear from you - add your questions or comments below!