Famous People from Mauritius
Meet some famous people from Mauritius. Our island has produced talented novelists, poets, musicians and our beloved father of the nation, Sir Seewoosagur Ramgoolam. Enjoy the short biographies.                                        
Artists, novelists ...
Famous people from Mauritius:  Malcolm de Chazal

Malcolm de Chazal: 1902 -1981 was a writer, poet, philosopher and artist. His well-known books include 'Sens Plastique' and 'Petrusmok'. His works are studied at PhD level in African, American and European Universities. He is also famous for his colourful landscapes and still life paintings in a delightful primitive style.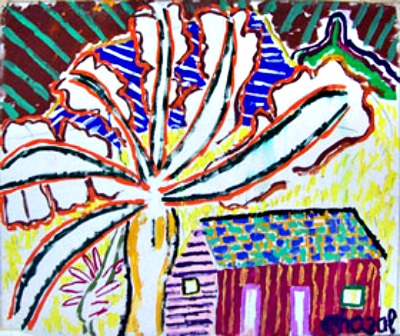 Malcolm de Chazal qualified as a sugar engineer and chemist at Baton Rouge University in Louisiana and worked in the sugar industry in Cuba. He returned to Mauritius in 1932 and published a 'Nouvel Essai d'Economie Politique' which is a strong criticism on the economics and methods of the sugar industry in Mauritius - to the consternation of his family who was involved in the sugar industry …

He then dedicated his life to writing and painting. He led a frugal life living in an attic and never learned how to drive.
Famous people from Mauritius:  Dev Virahsawmy  

Dev Virahsawmy born 1942 is a poet and playwright. He studied English and French at Edinburgh University and specialized in Applied Linguistics. He is famous for promoting our Creole language. 
Dev Virahsawmy has translated several of Shakespeare plays into Creole as well as poems from Baudelaire, Keats, Khalil Gibran, La Fontaine, Blake. Works by Hans Christian Andersen, Kafta, Grimm, and Voltaire. Sacred texts such as the Bhagavad Gita …
He is in the process of producing a translation of the New Testament and the Book of Psalms in cooperation with the Mauritius Bible Society 
You can download translations of his works for private reading from his website at www.boukiebanane.orange.mu/
Enjoy!
Famous people from Mauritius:  Carl de Souza

Carl de Souza born 1949 is a well-known novelist. He was a national badminton player and it's only in his thirties that he decided to become a writer.
His first short story 'La Comete de Halley' won the Mauritian Prix Pierre Renaudin 1986. His first novel 'Le Sang de l'Anglais' won the prize from the ACCT (Agence de co-operation Culturelle et Technique) in 1989. Another novel 'La maison qui marchait vers le large' won the regional Prix des Mascareignes. 

Famous people from Mauritius:  Marcel Cabon  

Marcel Cabon 1912 - 1972 was a novelist and poet. He wrote the novel "Namaste" (1965) which is about Indo Mauritian peasant life. He also wrote the biography of Sir Seewoosagur Ramgoolam.

Other Famous People from Mauritius ...
Ananda Devi

Ananda Devi born 1957 has published numerous novels, short stories and poetry. She won her first literary prize at 15 for a short story in a Radio France International Competition. Her work has been translated into several languages. 
Ananda received a doctoral thesis at the School for Oriental and African Studies in London and was made the "Chevalier des Arts et des Lettres " by the French Government in 2010. She speaks Telegu, Creole, French, English, Bhojpuri and Hindi. She lives in Switzerland. 
Her literary prizes include:
2001 Prix Radio France du Livre de l'Ocean Indien 'Moi, l'interdite'
2006 Prix des Cinq Continents de la Francophonie 'Eve de ses decombres'
2007 Certificat d'Honneur Maurice Cagnon du Conseil International d'Etudes Francophones
2007 Prix Television Suisse Romande 'Eve de ses decombres'
2010 Prix Louis-Guilloux ' Le sari vert'

Two of her novels 'les enfants de Troumaron' et 'Eve et ses decombres' were brought to the screen.

Famous people from Mauritius: Khal Torabully

Khal Torabully  born  1965  is a novelist, poet and film maker who has won movie awards. He has over twenty published collections of poetry. His film 'La Memoire Maritime des Arabes' won the Golden Award du Cairo Arab Media Festival.

Famous people from Mauritius:   Neel Burton

Neel Burton: born 1978 is a philosopher, psychiatrist, writer and wine-lover. Neel has received numerous awards for his books on psychiatry, schizophrenia and 'best in the word Gourmand Award' for the Concise Guide to Wine and Blind Tasting.


Famous people from Mauritius - Musicians
"Ti Frere"

"Ti Frere" or Jean Alphonse Ravaton 1900 - 1992 . His nickname means 'small brother' in creole. He was 'crowned' the king of Mauritius sega in 1964 when he became well known in Reunion, Seychelles and Rodrigues islands. Despite his popularity Ti Frere was very poor and became blind towards the end of his life. This illiterate man could improvise a song in no time at all. His sega was typical 'sega typic'. 

Typical Mauritian sega players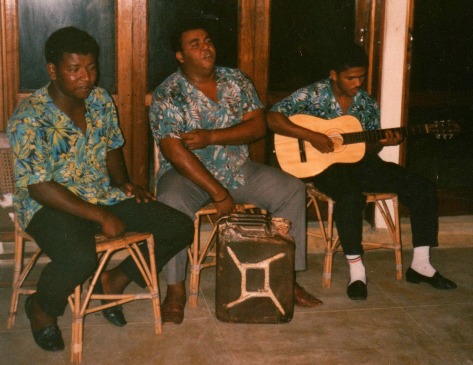 When our sega took on a modern twist in the eighties, "Ti Frere" was sadly forgotten mostly by the new generation of Mauritians.
Ti Frere was made a Member of the Order of the British Empire.

Famous people from Mauritius:  Kaya

"Kaya" or Joseph Reginald Topize 1960 – 1999  Kaya was a musician and creator of seggae which is a fusion of reggae and Mauritian sega.
Famous people from Mauritius:  Lelou Menwar

Lelou Menwar or Stephano Honore born 1955  is a musician, songwriter, composer, singer and a pioneer  of modern sega music. The ravanne which is a type of drum used in sega features prominently in his music. He was named Artist of the Year by Radio France Internationale, a French radio Station.

Famous people from Mauritius:  Ernest Wiehe 

Ernest Wiehe: 1944 - 2010 was a musician, composer, architect and painter. Ernest studied at the Berklee school of music in Boston and founded the Boston Jazz Orchestra. 
He returned to Mauritius in 1978 where he worked as an architect and sold his paintings to support his great love for music. 
Ernest Wiehe started the Ten Piece Big Band in Mauritius. His unique jazz style was influenced by European, Creole, African and Indian elements. He has produced several albums and composed the music for the film 'Benares'.
The Ernest Wiehe Jazz Festival or EWJF started in 2012 as a tribute to this great musician. The concert takes place once a year and lasts for three days.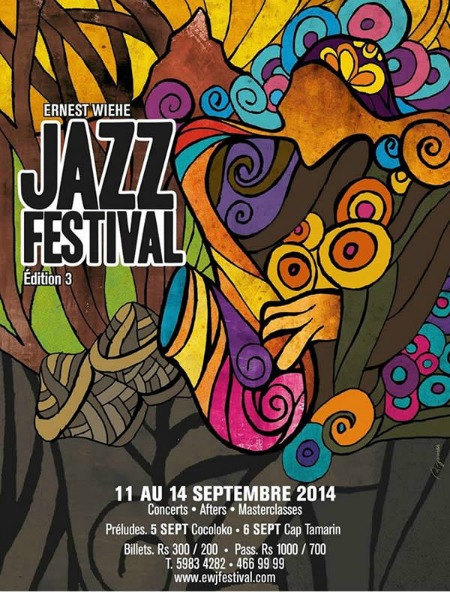 Poster for the Ernest Wiehe Jazz Festival designed by our very talented illustrator Evan Sohun

The most famous person from Mauritius
 Sir Seewoosagur Ramgoolam

Sir Seewoosagur Ramgoolam: 1900 - 1985. Sir Seewoosagur Ramgoolam or SSR for short was our first prime minister and the founding father of independent Mauritius. 
He has played such an important role in shaping our island that I have dedicated a special page to this remarkable man. 
Other writers and musicians such as  Roger Charoux, Edouard Maunick, Jean Paul Maunick, Henri le Sidaner, Joseph Tsang Mang Kin and Yusuf Kadel have also contributed to our rich cultural heritage.

A list including other writers, scientists and politicians can be found on Wikipedia or Worldatlas.

Home < Mauritius People < Famous people from Mauritius
I'd love to hear from you - add your questions or comments below!