Sir Seewoosagur Ramgoolam
Father of the Nation 
Sir Seewoosagur Ramgoolam or SSR for short was our first prime minister and the founding father of independent Mauritius. This remarkable man is the most famous Mauritian. He deserves a top place in the history of our country. 
Our beautiful Botanical Gardens at Pamplemousse, our international airport, our national hospital and medical college are named after him.
You'll see his portrait on our stamps, one rupee coins and 2000 rupee notes. 
SSR portrait on one rupee coin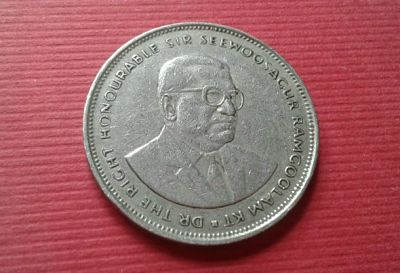 Sir Seewoosagur Ramgoolam: 1900 - 1985 
Our father of the nation was born into a humble family. His father, Mohit Ramgoolam was an Indian indentured labourer who came to the island to work in the sugarcane fields. He married Basmati Ramchurn who was a widow with two sons. They had a son, Seewoosagur or 'Kewal'. 
The family lived in a hut in a small village in the eastern part of the island. Kewal learned Hindu culture from an early age at the local school. His father died when he was 7 years and at 12 he lost an eye in an accident. He was well looked after by mother and his stepbrothers who were much older than him.

Later on he moved to Curepipe and stayed with his uncle to attend school. He did his schooling at the Royal College where he enjoyed English culture and literature. He was also fond of French literature. After passing his senior examination for Cambridge he left for the UK to study medicine at University College in London. His half-brother Ramlall help finance his studies.

Sir Seewoosagur Ramgoolam - political career
In London, he became involved in politics and was a founding member of the Indian Student's Central Association and then president of the London branch of the Indian National Congress. He returned to Mauritius in 1935 where he pursued his political aspirations. 
He married Sushil known as Lady Sushil Ramgoolam in 1939 and the couple had two children.
Sir Seewoosagur Ramgoolam - achievements
He became the leader of the Labour Party, Chief Minister and Minister of Finance then Prime Minister of Mauritius in 1968 after independence. 
SSR was distressed by the living conditions of the indentured labourers. He fought for equality and social justice in Mauritius. He established free secondary education, health care service, social security and introduced the old age pension. 

In 1973 he was awarded the United Nations prize for outstanding achievements in the field of human rights. 
SSR portrait on 2000 rupee note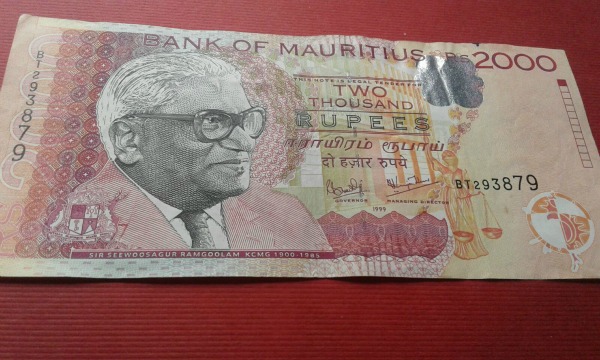 He was elected chairperson of the OAU or Organisation of African Unity in 1976.
In 1983 he was nominated Governor General and Commander in Chief of Mauritius. SSR died in 1885. His body was cremated at the Pamplemousses botanical gardens and his ashes were scattered in the holy river Ganges in India.
During an interview with the Mauricien newspaper in 1985 he declared that "the freedom of the individual is the most precious heritage I bequeath to my country"
Sir Seewoosagur Ramgoolam was a man of great intellect and could converse with ease about medicine, literature, philosophy and politics. Above all he was a fine politician, a visionary and committed humanitarian. Despite his many achievements he led a simple life. 
Home < Mauritius People < Sir Seewoosagur Ramgoolam

I'd love to hear from you - add your questions or comments below!