Your own Mauritius beach tours
the North coast
Just imagine ... your personal Mauritius beach tours of the North coast where you come and go as you please! Simply follow my self-guided itineraries on the map. Explore the North with a slice of the East and West. Secluded  beaches, gentle lagoons, historical ruins ...   
Hire a car or taxi. For a local flavour try the buses that travel the coastal road of the North. Keep in mind that buses stop operating in the late afternoon. 

Have a look at the Mauritius map with location and names of public beaches you'll explore today. Our North coast includes a slice of the West and ends above Port Louis our capital.

Mauritius North Coast Beach Map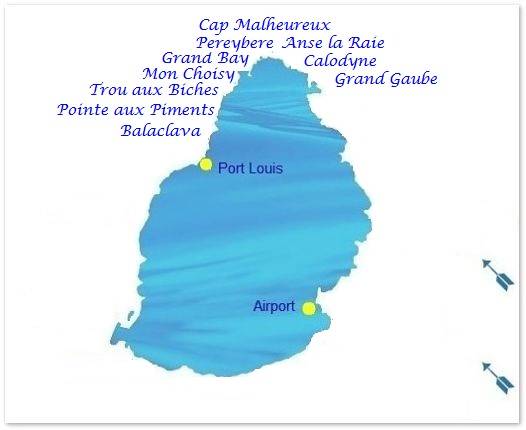 Your Mauritius beach tour itinerary 
Grand Gaube, Calodyne and Anse la Raie - quiet and laid back

Cap Malheureux - visit the famous red roof church

Bain Boeuf - stop to admire the view 
Pereybere - popular beach- if too busy head for…
La Cuvette - small and quiet- enjoy a swim
Grand Bay - stop for a creole lunch at Dalon
Mon Choisy - a 2 km long quiet beach 
Trou aux Biches - lively beach
Pointe aux Piments - quiet and laid back
Pointe aux Piments Aquarium - watch shark feeding at 3pm or 11am
Balaclava historical ruins - explore and enjoy
Balaclava - watch the sunset from the beach 
Click on the image below and follow the itinerary on the Google map then return here for a detailed itinerary of the North coast with images.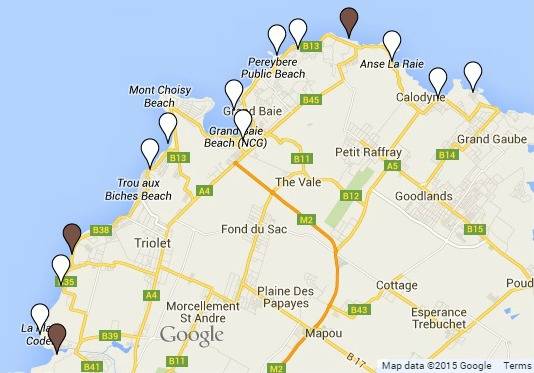 Ready for your beach tour?
You'll need a love of discovery, beach towel, swimming and snorkelling gear and your bottle for water.
Follow me your beach guide. Lets' start your North coast sightseeing with a small slice of the East coast.

Secluded gems ...
The quiet public beaches of Grand Gaube, Calodyne and Anse la Raie. Vintage Mauritius here we come. Forget about long stretches of white sandy beaches here. Instead a wonderful and relaxing laid back feel.
Grand Gaube on the North East coast

Sit on a bench and ponder at the beautiful views towards Gunners Point Island or 'Coin de Mire' in French. You'll be mesmerized by the shades of blue and turquoise.
Anse La Raie in the North East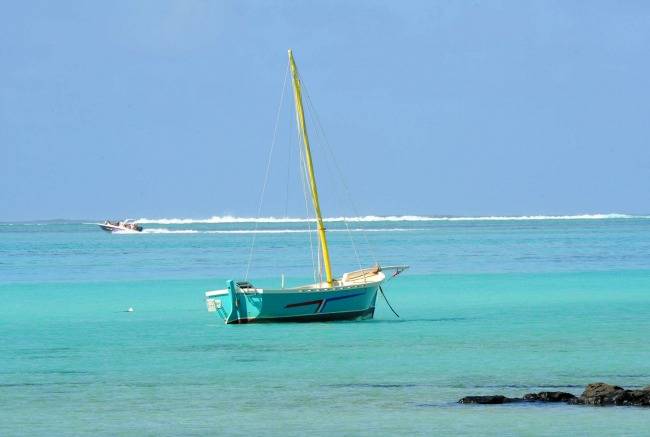 Drive to nearby Cap Malheureux.

Cap Malheureux 
Visit the famous red roof church overlooking the small bay of Pointe aux Roches. You can always walk to the beach and admire the church from the shallow lagoon. 
Pointe aux Roches beach in Cap Malheureux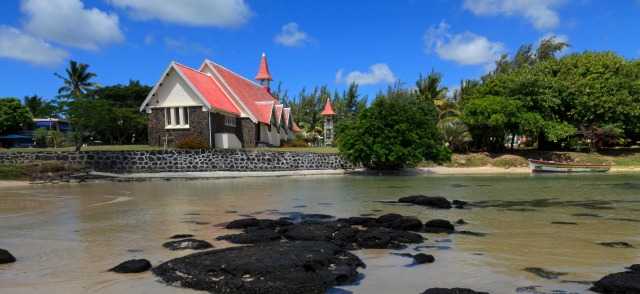 Bain Boeuf in Cap Malheureux 

Enjoy the beautiful view from Bain Boeuf public beach. One of my favourites … with her quaint bay, fishermen boats and islets.
Some locals eat their lunch sitting on benches. What a relaxed way to live! Great for some cultural interaction too.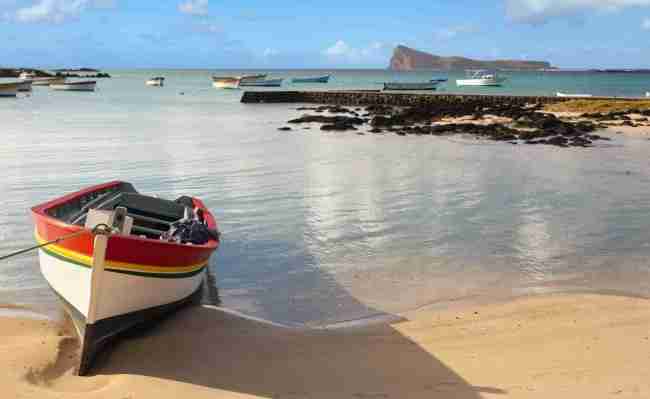 Let's resume your Mauritius beach tour of the North coast and head for Grand Bay.

Popular Grand Bay 
I remember when Grand Bay was a fisherman village with only one small hotel! Hard to believe when you see the choice of accommodation, shops and nightclubs. 
Grand Bay offers you three public beaches:

Pereybere
La Cuvette
Grand Bay Beach
 Pereybere - a popular public beach 
Pereybere Beach in Grand Bay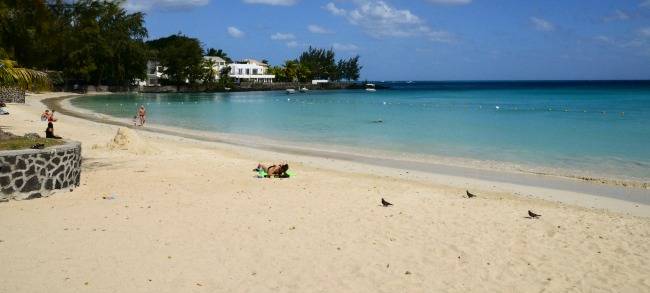 There are lots of holiday accommodation in Peyerbere. Plus food stalls, restaurants and ATM machines across the road. Pereybere is convenient if you don't mind sharing your space with many beach lovers. If you prefer a quiet swim wait until the next beach.
La Cuvette public beach - small and cosy
'La Cuvette' beach is about 500 meters from the bay of Grand Bay. This small secluded beach with her inviting turquoise sea is waiting for you next to the Grand Baie Yacht Club. 
La Cuvette beach in Grand Bay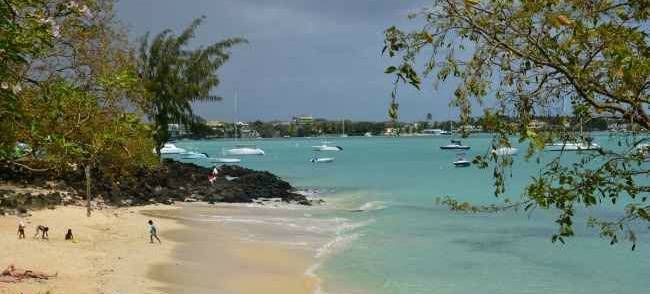 You arrive in the heart of Grand Bay with her fashion shops and restaurants. The bay is another lovely sight with lots of boats which makes swimming a little difficult off the public beach. 

The Bay in Grand Bay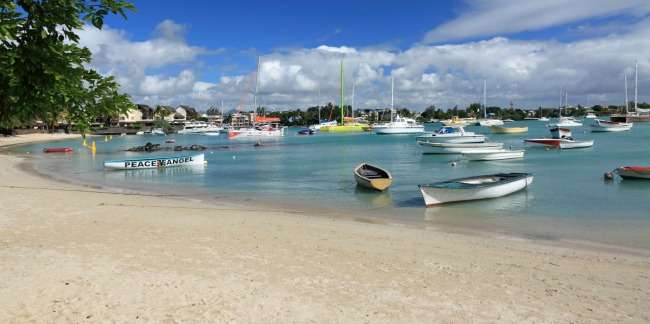 Lunch at Dalon for delicious creole food far from tourist spots. A small restaurant with lots of charm where Lawrence and Olivier will welcome you.

Travel around the bay where you'll discover the long beaches of the North West coast complete with romantic sunsets. Your first stop is Mon Choisy, only five minutes away.
Mont Choisy beach 
Another favourite beach of mine. A fairly quiet public beach on the most touristic coast of Mauritius? Yes! Most of the activities take place next door at Trou aux Biches or Grand Bay. Imagine a beautiful stretch of white sand over two kilometers long with a turquoise lagoon, lined with casuarina trees …
Mont Choisy beach on the North West coast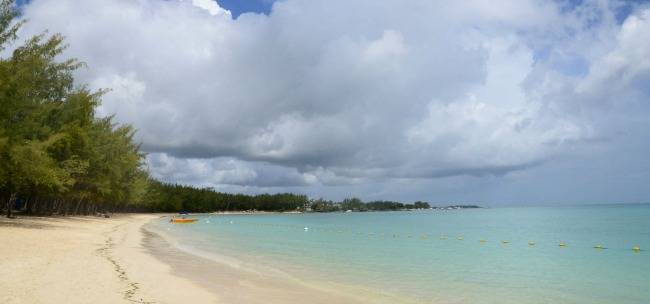 I enjoy Mont Choisy beach in the early mornings and sometimes I return in the late afternoon to marvel at the romantic sunsets. It makes you feel at peace with yourself and the world.

Popular Trou Aux Biches beach  
Another beautiful beach with plenty of holiday accommodation. Over 3 kilometers long with lots of space for swimming and sunbathing. The casuarina trees alongside the beach will provide all the shade you'll ever need.
Trou aux Biches in the North West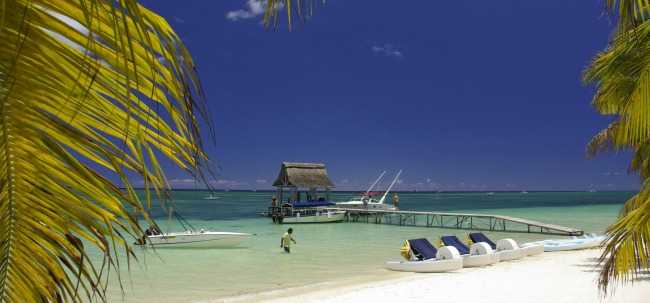 You continue your beach tour to Pointe aux Piments where the highlight will be …

Watch giant sharks being hand fed 
The Mauritius Aquarium is another must see during your beach tour. It's small and cosy like our tropical island. Don't expect huge tanks.
Make sure you're there at 11 am or 3 pm to watch sharks and sea turtles being fed by hand. Enjoy our colourful tropical fish and have a good look at the famous stone fish. A highly poisonous creature.
Click here to learn how to safely swim in our lagoons.
Next have a peep at Pointe aux Piments beach which is quiet. Another long stretch of beach about 4 kilometers in length. 
Pointe aux Piments Beach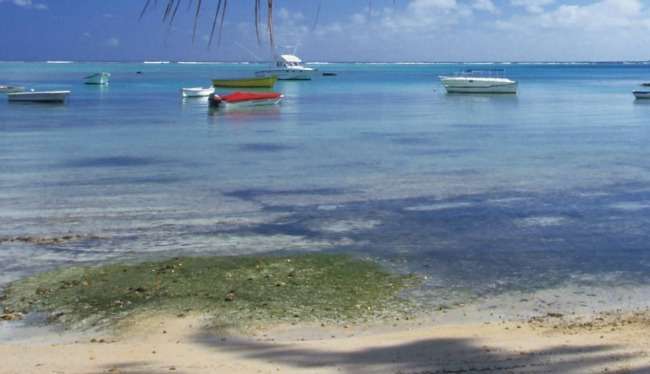 Balaclava historical ruins - a national monument 
Visit the preserved ruins of a fortress build by the first French Governor. Apparently the ammunitions exploded in 1774 causing great damage. High walls made of cut stones mingle with palm trees and ancients settlements.
Lots of greenery and a lovely walk with magnificent mountains views on the horizon. 

Most of the ruins are located within the grounds of the Maritime Hotel. Phone the hotel ahead of your visit to ask for permission. Their number is + 230 204 3333. The security guard will let you in and show you the way. It's easy to find. Simply turn right after you drive through the entrance.

Admire the sunset from Balaclava beach
What a great way to end your day!
I hope you enjoyed touring the beaches of the North of Mauritius with my self-guided itineraries.

Gone Fishing...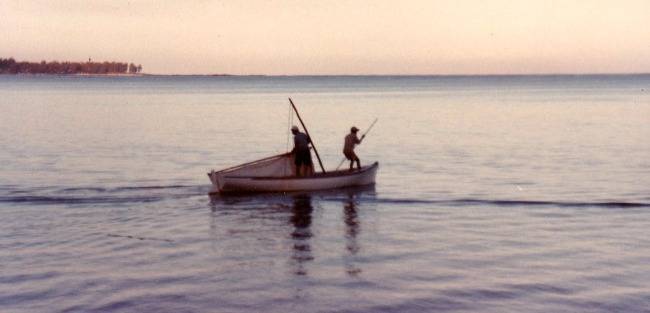 Home < Mauritius Beaches < Mauritius Beach Tour - North coast itinerary
I'd love to hear from you - add your questions or comments below!