The untamed South coast  
 Mauritius beach tour

Discover the wild South coast with your own Mauritius beach tour. I have included my island's little secrets in my self-guided itinerary. Secluded beaches, deserted islet, waterfall, high cliffs ... lovely, quiet and haunting. 
You'll meet Rosy who prepares delicious Mauritian creole food in her "no frills down to earth" restaurant.
Your beach tour of the South coast
Use it as a guideline for your holiday and enjoy!

La Prairie Beach - watch kite surfing
Baie du Cap - stop for the scenic view
ilot Sancho - explore the tiny islet
Saint Felix and Riambel - quiet and wild, have a swim
Rochester Falls - nature's paradise
Souillac - lunch at Chez Rosy
Gris Gris - high cliffs and crashing waves
Riambel - ride a horse into the sunset
Click on the image below to follow your tour on the Google map. Then come back and scroll down the page for a detailed itinerary with lots of images.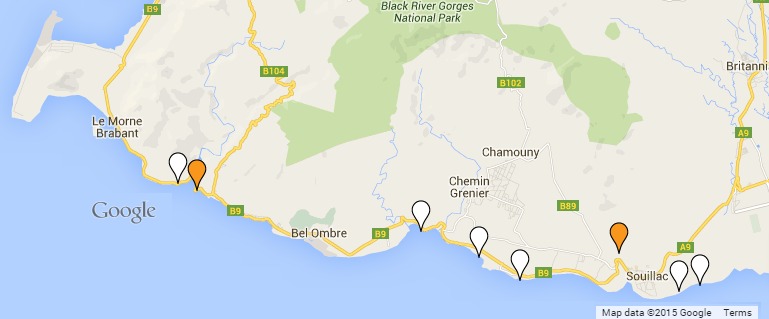 Your South coast Mauritius beach tour 
You'll need a car or taxi, a love of adventure, beach towel, swimming and snorkelling gear and your bottle for water. Bring a pair of trousers and shoes if you are going to horse ride into the sunset (beginners and children are welcome).

Ready to go?
We'll start at Le Morne on the left and make our way East following the scenic South coast road. 

La Prairie - your first untamed beach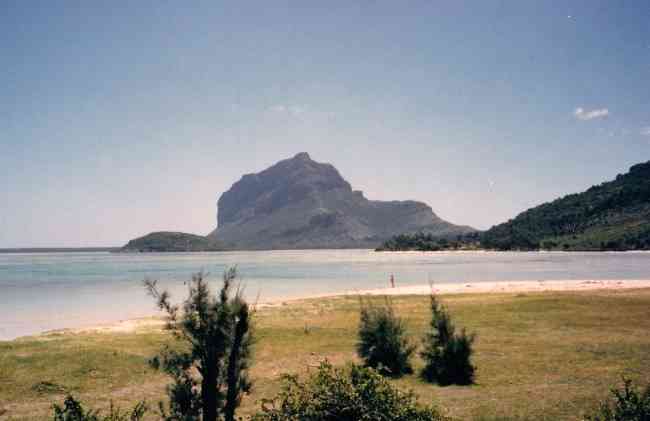 Your first stop is La Prairie public beach where you'll enjoy the majestic Le Morne mountain on the horizon. It's a popular beach for kite surfers with a windy weather most of the year. Watch them doing acrobatic somersaults.

Stop at Baie du Cap 
Continue your beach tour alongside the South coast. Drive around Bay du Cap and stop at the entrance where you climb some steps to admire another scenic view and the turquoise lagoon.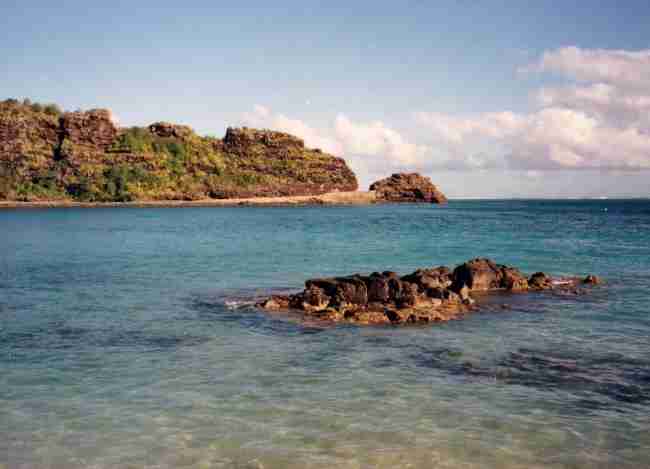 Resume your drive towards Bel Ombre. Pass through the village and you'll soon come across a small bay. Drive around it to and you'll see a small islet at her entrance. It's ilot Sancho. 
Visit ilot Sancho on your Mauritius beach tour
Take the short walk to the tiny islet. Depending on the tide you can either walk on the sand or walk in shallow water.
Bring your shoes for walking on the volcanic rocks. Explore the virgin island. Maybe you'll see Mauritians looking for crabs or a lone fisherman hoping for a good catch. Enjoy! 
Saint Felix and Riambel - six km of beaches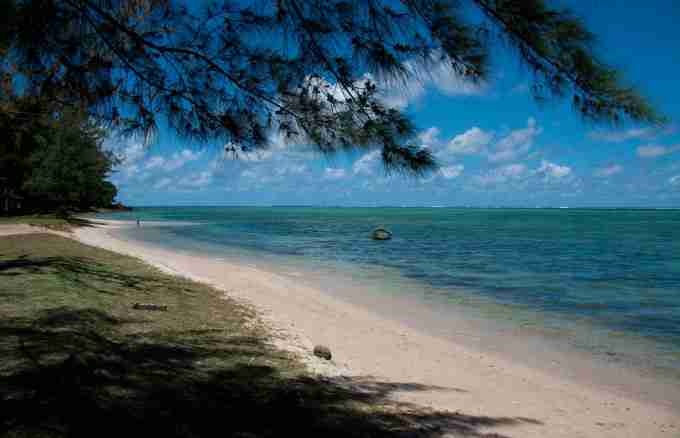 Resume your South coast beach tour and travel towards Saint Felix and Riambel. Both public beaches are quiet with a shallow lagoon. Have a dip next to the shore. If you decide to swim please don't venture too far away because of strong currents. 
Rochester falls for nature lovers
On your way to Souillac visit the quaint Rochester falls with her volcanic rocks and clear water. The falls are signposted from the main road.They are only 2.5 km inland and worth the small detour for the view and a swim.

If you are approached by a self-appointed 'guide' be firm and send him away.

Resume the short drive to Souillac and have lunch at Chez Rosy. Rosy prepares the most delicious Mauritian creole food. A feast for your palate. I recommend her famous banana flambé. 

Gris Gris beach at Souillac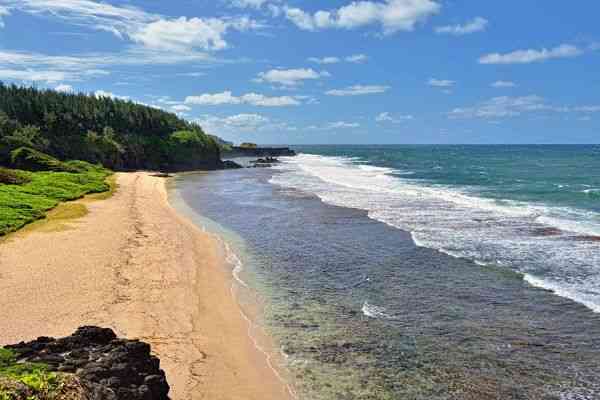 After lunch, visit Gris Gris public beach with her high cliffs and big waves. Don't go too close to the edge of the cliffs. You could lose your balance with the wind. Enjoy the haunting landscape. One of the many highlights of the Mauritius South coast.

La Roche qui Pleure or "Crying Rock"
Follow the footpath on top of the cliffs to secluded La Roche qui Pleure or 'Crying Rock' to watch huge waves crashing onto the cliffs.

The wild South coast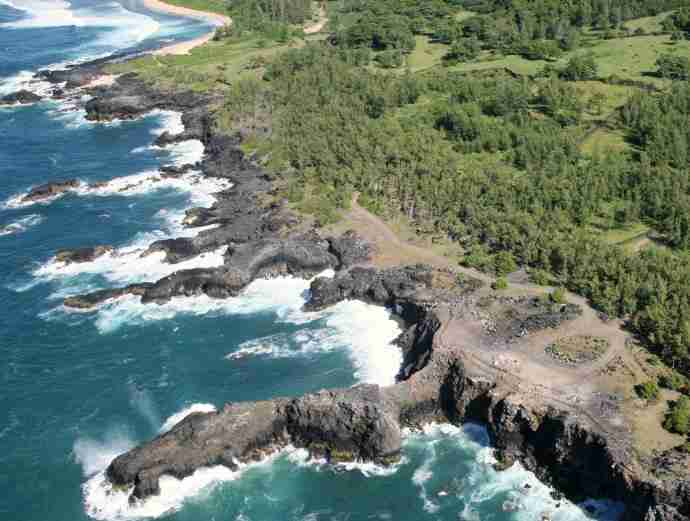 Time to whet your appetite even more. Take the short drive back to Riambel.
Ride a horse into the sunset  
How romantic! For me it's one of the highlights of a vacation to my paradise island.
An amazing horse ride into our tropical sunset on a quiet beach over 2.5 km long! If you are an experienced rider you can ride into the sea.
Meet Arumina and her beloved horses at the Centre Equestre de Riambel. She lovingly looks after her 9 horses and 3 ponies. Arumina rescues race horses when their owners don't need them anymore. They are beautifully looked after. Please support them.
The Centre accommodates all levels of riders. The rides are personalized so if it's your first time don't be shy. It's an adventure you'll remember forever during your Mauritius beach tour.
Did you enjoy my self-guided itinerary?
Home < Mauritius Beaches < Mauritius beach tour - South coast itinerary
I'd love to hear from you - add your questions or comments below!