The romantic West coast
Your own Mauritius beach tour
Travel the West coast at your leisure with your own Mauritius beach tour! 
Simply follow my self-guided itineraries on the map. Rent a car or hire a taxi for the day. Come and go as you please. Add a curious mind, beach towel, swimming and snorkeling gear, your water bottle and off you go! 
Discover the little known attractions of the West coast.
From secluded to world famous beaches, romantic sunsets, peaceful lagoons, high cliffs and crashing waves, scenic mountains …  

Sunset at Flic en Flac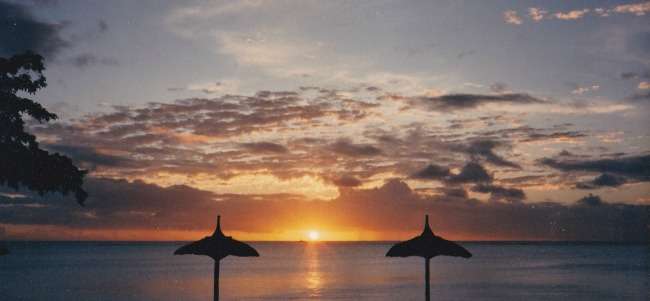 Have a look at the map for your Mauritius beach tour with location and names. Our West coast starts below Port Louis our capital. We call anything above Port Louis 'the North'.

Mauritius Beach Tour - Map for the West Coast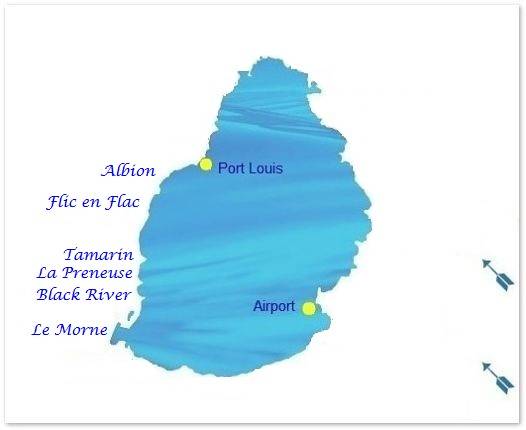 Your Mauritius beach tour of the West coast
Tamarin Salt Pans

 - be there at 9 am for salt harvesting

La Preneuse

- visit the Martello Tower 

La Preneuse Beach

- have a peep 

Le Morne Mountain 

- UNESCO Site

Le Morne Beaches

- watch kite surfing and swim

Tamarin Bay

- scenic and laid back

Flic en Flac

- famous 6 kilometres long beach 

Albion

- quiet and laid back beach

Albion lighthouse

- sunset from the high cliffs
Click on the image below to see where you'll be travelling on the Google map then scroll down for a detailed itinerary with images.

West coast beach map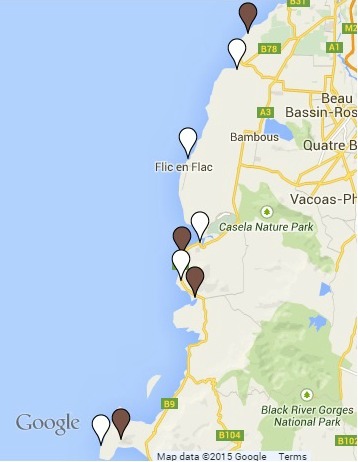 Ready for your beach tour? Follow me, your guide.

The salt pans of Tamarin 
Workers harvesting salt in Tamarin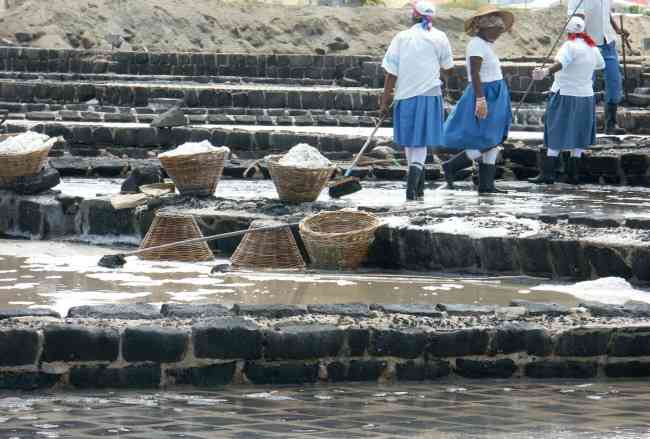 La Route du Sel or 'Salt Road' in English … a must stop during your Mauritius beach tour. You should arrive around 9 am at the latest to see the salt workers harvesting salt the traditional way. They stop at about 10 am. 

It takes three days from harvesting to the finish product. If it rains the whole procedure must start again because the salt turns brown. It is then used in agriculture. Have a look at the shop where you can buy some natural salt. A nice and unusual souvenir from your vacation.

Next is Black River or 'Riviere Noire' in French if you can pronounce it. 

Explore la Preneuse and her historical Martello tower 

La Preneuse Battery in front of the Martello Tower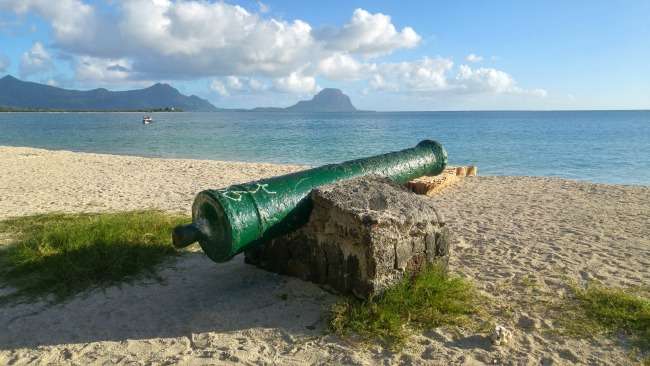 A visit to the Martello Tower on the path leading to the beach is another must in the history of Mauritius. When our island was part of the British Empire, the British built five small fortresses around the coast to protect the island against unwelcome visitors. The fort at la Preneuse has been lovingly restored. 

Inside you'll find a small museum and a cannon on top where the view is splendid. Have a peep and maybe a swim at La Preneuse beach.
Make your way down the West coast to Le Morne.

Le Morne where slaves leapt to their death
You can't miss the majestic mountain of the Morne at the southern tip of our tropical island. There is a sad story about the mountain which was used as a shelter by runaway slaves.
In 1835 a police expedition was sent up the mountain to inform them that slavery had been abolished. Somehow the slaves did not understand what was going on and leapt to their death. Le Morne was declared a world heritage site by UNESCO.
Le Morne
Le Morne beaches
Drive to the kite surfing beach on the southern tip. You'll enjoy watching surfers on their board. Then have a swim and something to eat at the public beach a little further up. Enjoy the turquoise sea, the snow white sandy beach lined with coconut and casuarina trees.
Kite surfing in the South West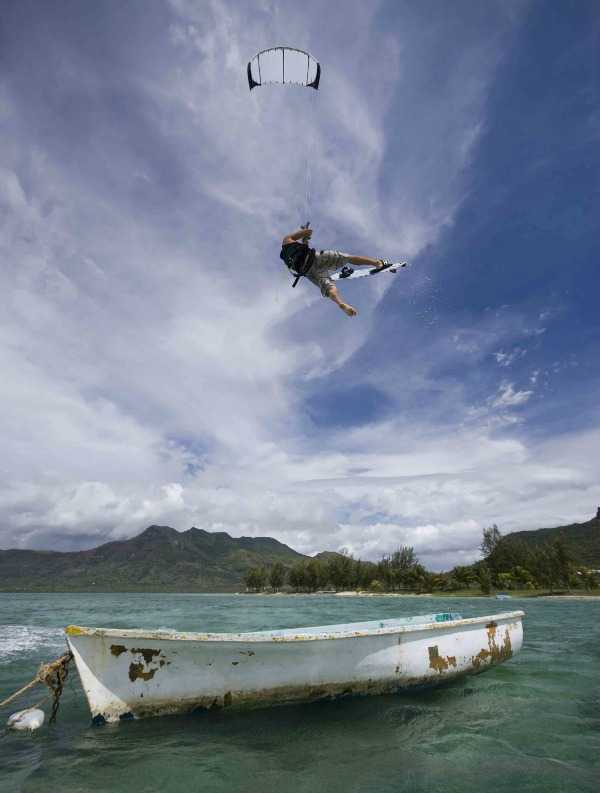 It's back up the coast to …

Scenic Tamarin bay 
Don't miss Tamarin bay with her beautiful mountain and laid back atmosphere. Peaceful and romantic. You'll have the beach practically all to yourself expect maybe for a couple of surfers.

Tamarin Bay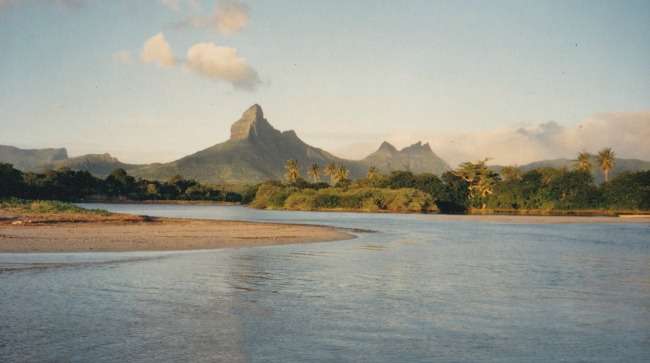 Famous Flic en Flac beach
Flic en Flac … this famous white sandy beach is about 6 kilometers long and well worth a stop to admire the view or enjoy a swim in her turquoise lagoon. 
Looking for a quiet spot? Go to the right. Looking for some action? Stay in the middle where you'll find shops, restaurants and snack vendors. 
Mauritius West Coast - Flic en Flac Beach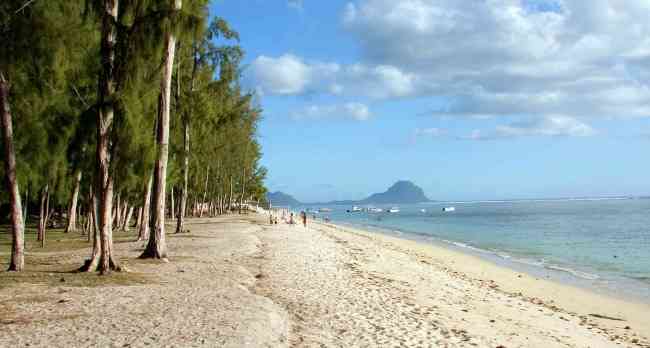 Your last stop is secluded Albion…
Albion offers you the best of both worlds. A quiet beach plus rugged cliffs, raging sea and the bonus of a lighthouse! The only one in operation on the island.
Buy some food at the supermarket near the beach on your way to the lighthouse. Scroll down to find out why ...

Albion Cliffs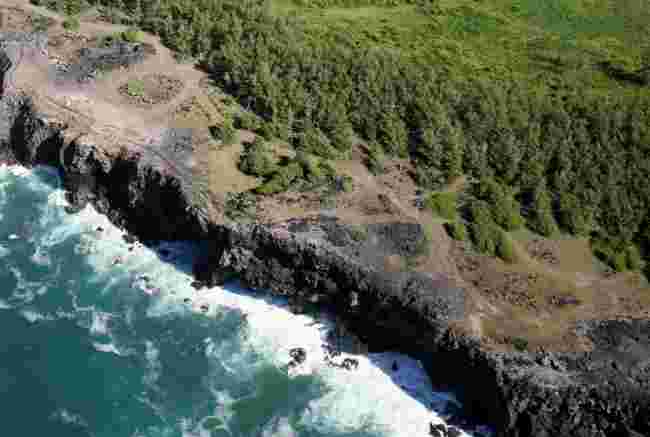 Explore Albion best kept secret …
Her quaint lighthouse is perched on high cliffs. You could walk there from the beach or take the short drive. It's wild, deserted and very beautiful.
The coast guard will probably spot you before you see him. The fence is not to keep you out but to keep his goats in. It seems one has escaped!

Albion Lighthouse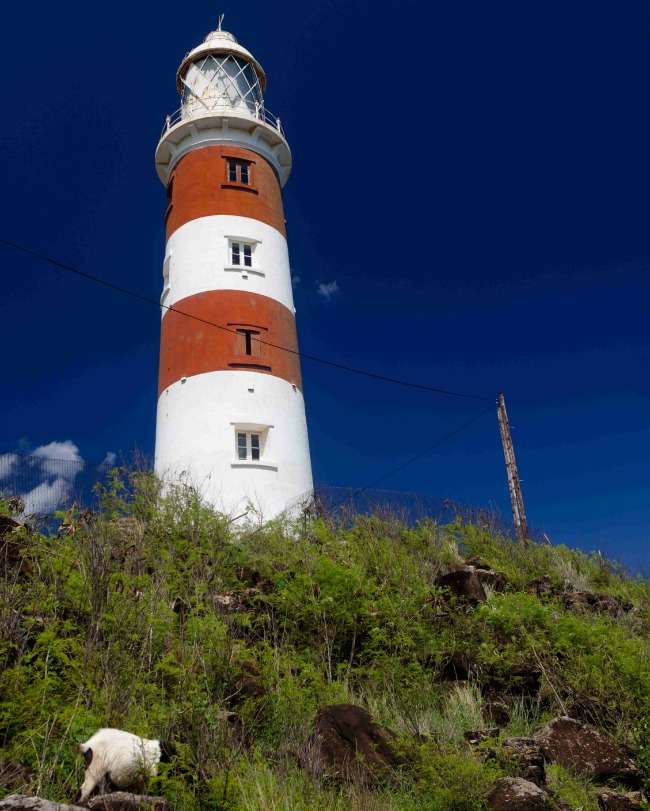 You could ask the coast guard to show you the lighthouse then end your sightseeing tour with a picnic on the cliffs. Enjoy the magnificent sunset from high up.

My father told me that during the Second World War he was walking on the Albion cliffs when he saw the telescope of a submarine. He contacted the authorities who arrived with binoculars and after much deliberations concluded it was a turtle. The next day a ship was sunk by a German submarine.
That bring us to the end of your beach tour of the West coast. I hope you like my itinerary and enjoyed your visit. 
Home > Mauritius Beaches > Mauritius beach tours West coast
I'd love to hear from you - add your questions or comments below!