Mauritius cyclones
Ready for a real adventure?
Mauritius cyclones, hurricanes, typhoons ... different names from various parts of the world, it all depends where you come from.
Watching cyclones on a TV screen can be alarming. Don't worry, buildings, including hotels, resorts, villas and apartments are designed to keep you safe. 

It could be an adventure to experience a strong tropical storm during your holiday in Mauritius but the chances of a cyclone passing over or near the island are remote. Imagine a tiny tropical island in the vast Indian Ocean. One never knows …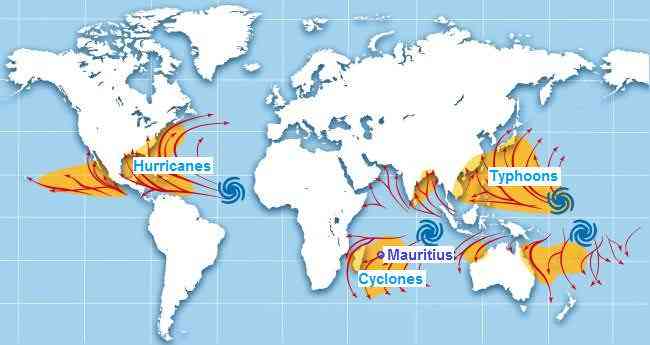 Cyclones and Mauritians grow up together - we are family

Every two years countries in our region, from East Africa to Mauritius allocate them with names starting with the first letter of the alphabet. Alix, Beryl, Carol …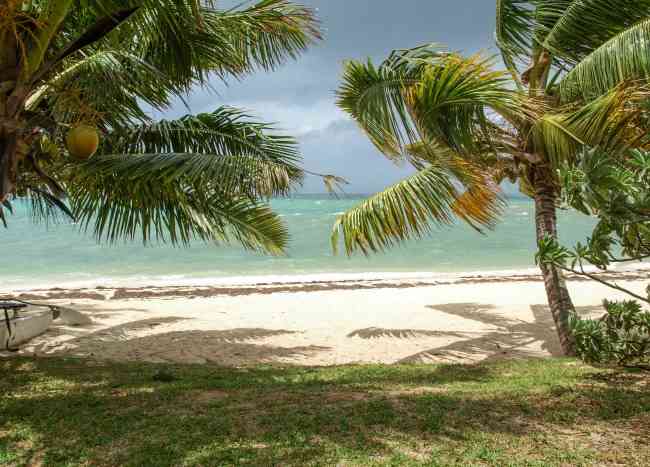 As kids we could hardly wait for cyclone season
We were so excited when we heard news of a cyclone approaching Mauritius.                 
Why?
Schools would close. More holidays! Never mind the damage, we were too young to care or understand. Sometimes it took days before power and telephone lines were restored and water running from taps. Generators were far and few. 
Then there was the thrill of venturing outside after a strong cyclone. The sight of blown tin roofs, fallen poles and broken trees thrilled our young minds.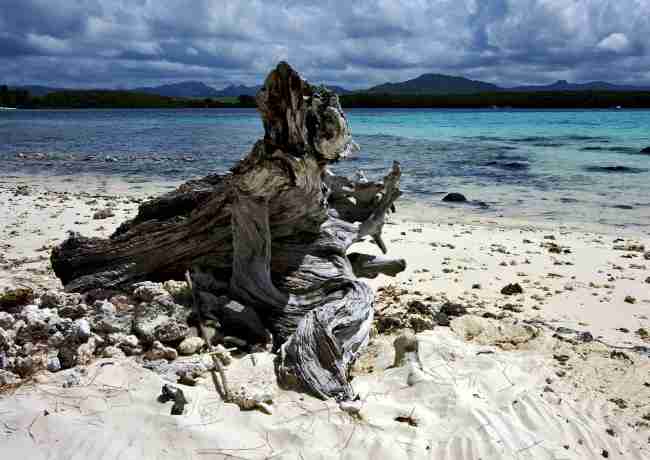 The first thing our parents did was to drive straight to our grandparent's home to see if they were OK.
There were hardly any fruits or vegetables left so we had to wait until the next crop or cargo ship. Mauritians learned to cook without onions for a while. They are imported from India, we still call them "Bombay Onions". A tomato became a most prized possession …
But there was always lots of sugar. Sugar cane is the ideal crop in Mauritius because the long flexible stems sway with the wind and are really not affected by strong winds.
Now there are generators just about everywhere and cargo planes bring loads of food. As a visitor your wellbeing is our priority.

You'll still feel the excitement of a cyclone alert

Mauritians rush to the shops to buy groceries, candles, matches. Tap … tap … tap … you'll hear nails being hammered to secure loose fittings. Boats are pulled onto the beach and everyone gives a hand.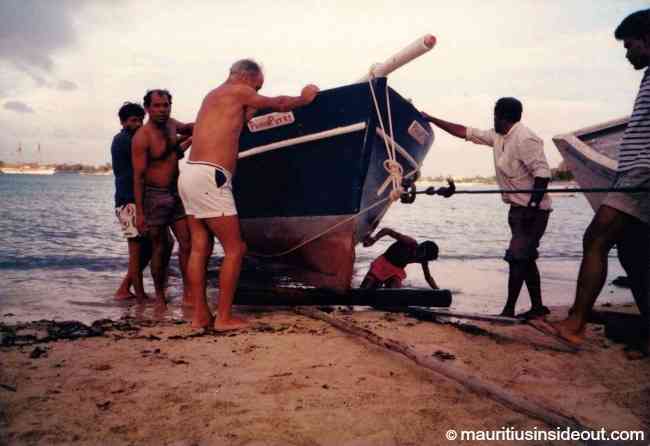 Mauritius cyclones  -  a summer get-together
Cyclone season is from November to April, at times a little later probably due to climate change. Tropical storms are unpredictable in their trajectory. One thing for sure: they don't turn around and go back to where they came from. 
What is the difference between a cyclone and a tropical cyclone? The latter becomes a cyclone, hurricane or typhoon once the winds reach 119 km/h. 

If you are planning your holiday during cyclone season, please protect yourself with travel insurance. Delayed flights mean you'll have to extend your stay or postpone your holiday.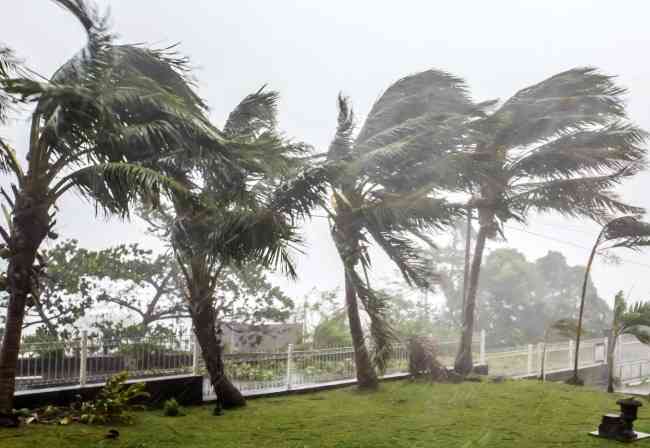 Mauritius cyclone weather forecast
The Mauritius Meteorological Services has an excellent satellite tracking system with daily updates. A few basic precautions will safely see you through these stormy winds. Might be a good idea to stock up with a bottle of our delicious rum …

I remember when a strong cyclone greeted us in December. The power was off for a week. Our parents had bought lots of delicacies for the holiday celebrations and fridges were full to the brim. We had to gorge ourselves before it all went bad. When Christmas and New Year came, everything was gone except for bread and processed cheese.
Click here for more real life cyclone stories.
We also have anticyclones that visit us during our winter from May to September. You can expect rain, strong winds and cooler temperature for a couple of days. 
There is no record of tsunamis damaging our coast. They are triggered by undersea earthquakes off the coast of Pakistan and Sumatra, far away from us. Mauritius has a five to seven hours lead time.
Home < Mauritius weather < Mauritius cyclones

I'd love to hear from you - add your questions or comments below!