Sunset cruise in Mauritius
 Sailing in a catamaran
A catamaran sunset cruise in Mauritius? How romantic! Imagine sailing on a cloud. Watch the sea and sky change from jade, turquoise, bubble-gum pink to midnight blue. 

You'll soon surrender to this magical cruise tour from the comfort of your boat ...
Sunset in Mauritius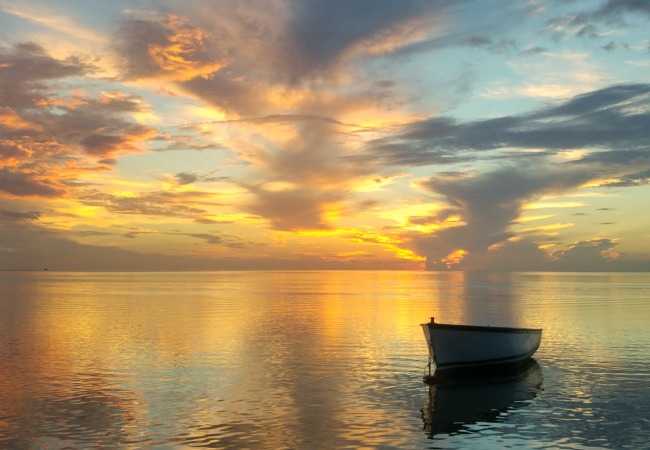 Sunset cruises last two hours. Spoil yourself whilst you nibble on tasty snacks and toast the setting sun with a rum cocktail. All included in the price of a shared cruise!
Below you'l find a choice of two shared sunset cruise tours and a private luxury sunset cruise. 
Mauritius map with islets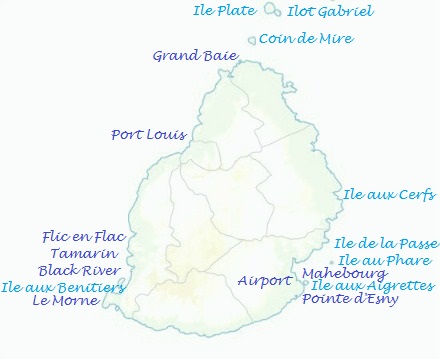 Shared sunset cruise in the South East 
Beautiful Mahebourg Bay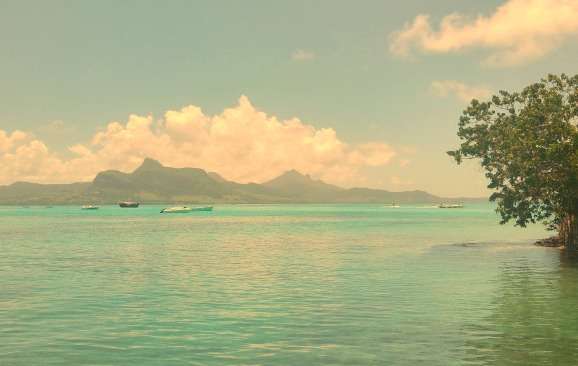 Enjoy a sunset cruise cruise in the lovely Mahebourg lagoon. Have a look at the view above.

The itinerary varies according to the tide and wind conditions of the day. You'll embark at Pointe Jerome in Pointe d'Esny and then you'll either …

1. Cruise across Mahebourg bay towards Ile de la Passe. This small islet witnessed the famous naval battle of Old Grand Port between the French and the English for control of Mauritius.

2. Cruise towards Pointe d'Esny lagoon and have a look at the remains of the "Dalbair' which ran aground on the reefs in 1902.
The Dalbair wreck in Pointe d'Esny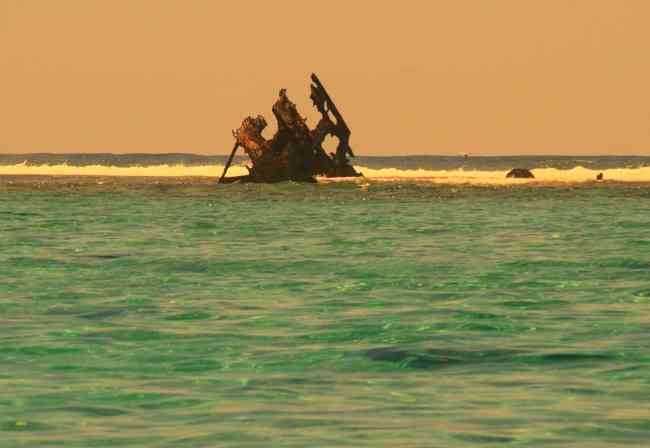 Either way the catamaran will then sail to Ile aux Aigrettes in the Mahebourg lagoon. The boat will cast anchor near this protected nature reserve. 

Ile aux Aigrettes at sunset

Ample time to admire the sunset from ile aux Aigrettes plus of course tasty snacks and drinks before sailing back to Pointe Jerome jetty.
Private sunset cruise in the South West 
Le Morne mountain with ile aux Benitiers on the right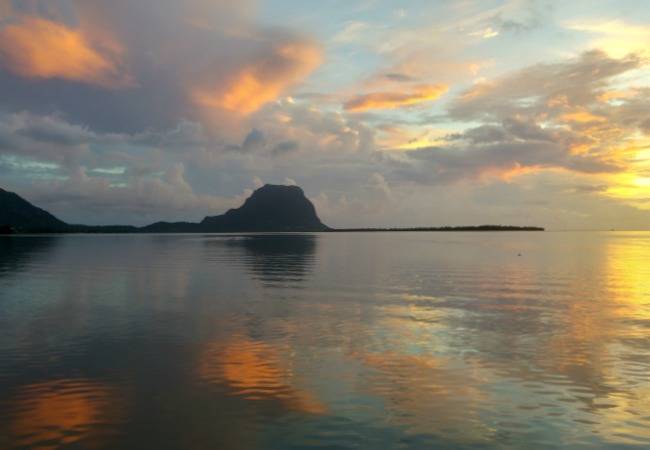 This luxury cruise accommodates up to 12 guests in a Fontaine Pajot Evolution 36 catamaran.
Sail from Black River and watch the sunset over Le Morne. The mountain is Mauritius' famous World Heritage Site. 
Then sail towards Tamarin Bay with Ile aux Benitiers on the left. Time to nibble on tasty snacks with a local drink whilst you enjoy a gentle sail back to Black River.

Sunset cruise in Mauritius - sailing schedule 
The sunset catamaran excursions set sail at 17.00 and return at 19.00 during our summer months. November to April.
During our 'winter' season, the boats depart at 16.30 and return at 18.30 . That's from May to October. All you need is a windbreaker for our cooler weather.
If you feel like spending more time on board and having supper on the boat you can charter a catamaran for a sunset dinner cruise. Skipper and crew included!

Please keep in mind that space is limited on boats. I suggest you book early.
Have a great evening and enjoy your sunset cruise in Mauritius.


Home < Sailing in Mauritius < Sunset cruise in Mauritius

I'd love to hear from you - add your questions or comments below!