The airport in Mauritius
From rags to riches
The history of the airport in Mauritius is priceless.The airstrip was a racecourse track alongside the beach and the first plane arrived by sea! SSR international airport is now an award winning first class airport.
1922

  First flight

over

the island

The first plane arrived on a ship! The aircraft was a World War 1 British biplane. After some flips over the island the plane was dismantled and shipped back to the UK.


Biplane - first flight over Mauritius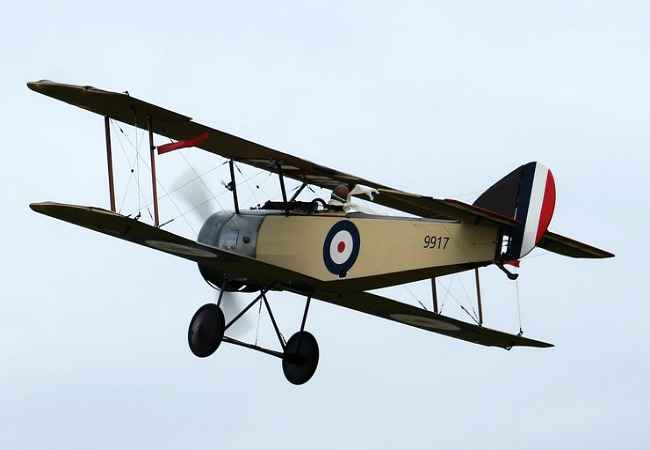 1933

  First flight to

land

The 'airport' was a racecourse used as a landing strip alongside the beach at Mon Choisy in the North. The first regional flight made headlines as you can imagine. The hero of the day was Mr Maurice Samat who flew his plane from nearby Reunion island with his friend and co pilot Mr Paul Lemerle.


There is a memorial to commemorate this historic landing at Mon Choisy. Two planes were used to carry mail between Mauritius and Reunion island.

Monument to commemorate first landing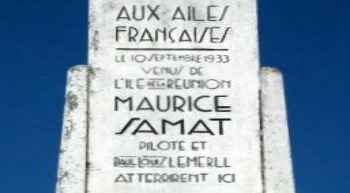 1936 

First international flight

I should call it an expedition rather than a flight. The voyage took ten days from Paris to Mauritius with stops in Tunisia, Egypt, Djibouti and Madagascar. Sounds very romantic. Most probably with some camel riding in the desert as well. Lawrence of Arabia comes to mind ...
1942 

Airport being built

Let's keep in mind Mauritius was a British colony and the island is in a strategic location in the Indian Ocean. We are talking about World War 2 and the need for an airport for the Royal Air Force. At first the British used hydroplanes for reconnaissance flights. 

The spot they chose to build the airport was Mahebourg in the South East and Mon Choisy 'airstrip' is abandoned.
1943 

First landing at Plaisance airport

The first plane to land at Plaisance was a Dakota from the Royal Air Force. In those days most flights carried mail and hardly any passengers.


Dakota aircraft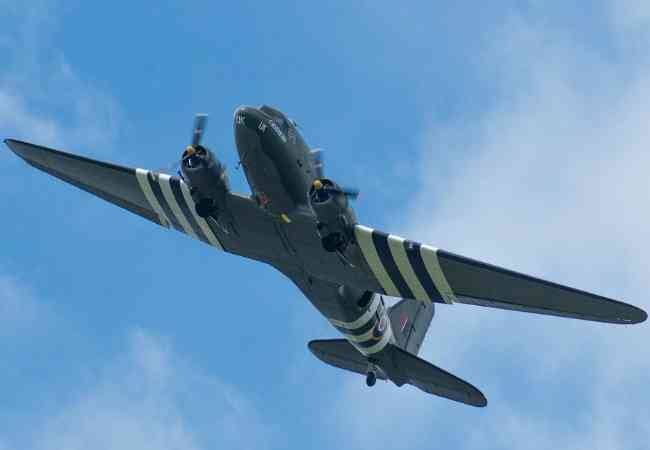 1945

  First commercial flight

The start of a weekly flight from Madagascar to Mauritius via Reunion by the Reseau des Lignes Aeriennes Francaises which became Air France.
They were the first commercial flights using  Junkers 52 capable of carrying 15 passengers and a crew of 3.

Junkers 52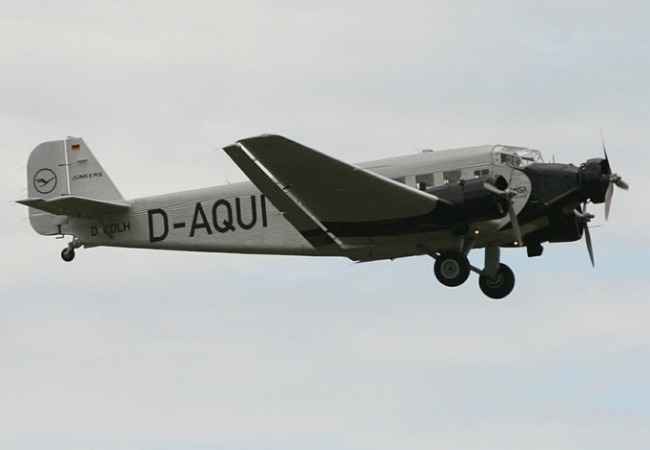 1947

  First flights from Paris

They were operated by Air France using the Douglas DC4 which took two days with six stops to reach Plaisance airport in Mauritius.


Douglas DC4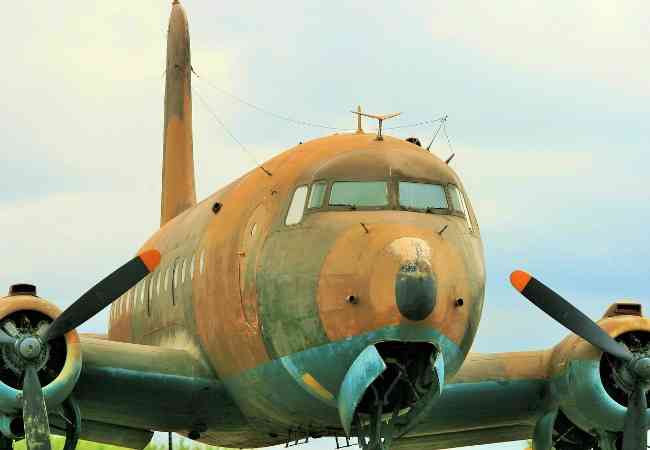 1948

  First flights from Australia

First Qantas plane landed at Mauritius airport on its way from Sydney to South Africa. The Lockheed Constellation flight took 2 days with two stops.


Lockheed Constellation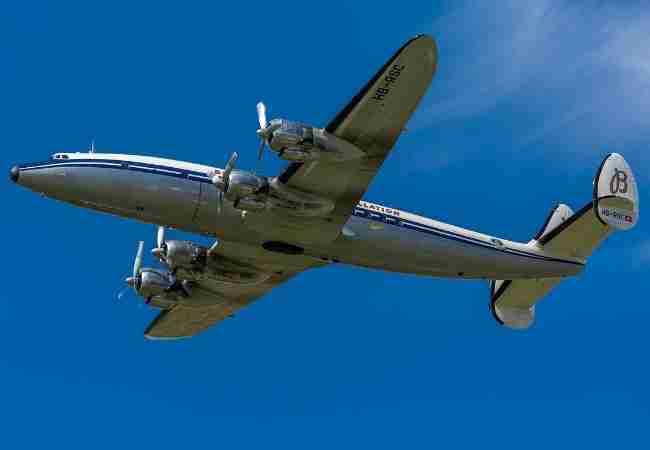 1962 

  First flights from London

They were operated by BOAC the previous name for British Airways. The journey took 25 hours with four stops. Flying time was reduced to seventeen hours when the De Havilland Comet 4 was used on the route.


De Havilland Comet 4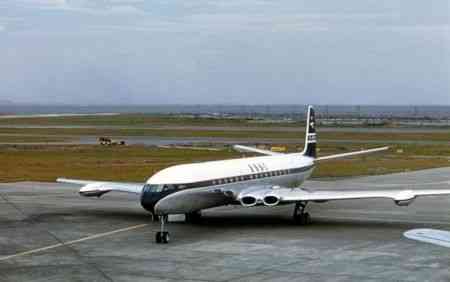 1967

  First flights from India

They were Air India flights from Bombay now called Mumbai.

Our national carrier is born. Air Mauritius starts operating as a ground handling agent for other airlines.
1972

  First Air Mauritius flights

Air Mauritius first flights to nearby Reunion Island and Rodrigues. A year later Air Mauritius starts a Mauritius / London flight via Nairobi.


Air Mauritius Boeing 707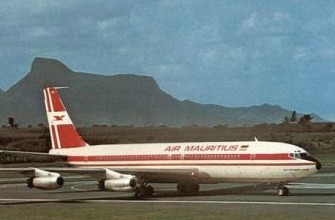 1987

  Airport in Mauritius renamed

Good bye Plaisance welcome SSR Mauritius Airport. Our airport is renamed after the father of our nation, Sir Seewoosagur Ramgoolam or SSR for short.
2013

SSR airport upgraded

The upgrade is necessary to accommodate the increasing number of visitors.
From 15 000 passengers in 1968 to over 3 million in 2016. 200 private jets land at the airport in Mauritius every year.

Mauritius airport has won many awards since the construction of the new terminal 2. She is a real beauty in the shape of the traveller's palm tree designed by Aeroports de Paris. The steel and glass structure is in line with the 'Maurice ile durable concept', plus the use of solar energy, rainwater recovery systems and green spaces.


SSR international airport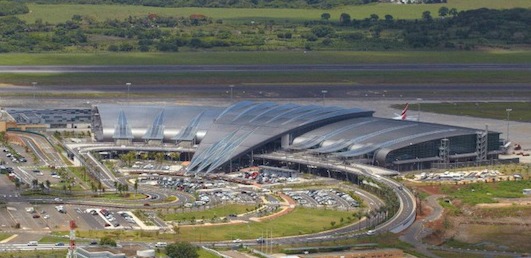 The new 57 000 m² terminal is the largest structure on the island. The airport is now able to handle over 4 million passengers a year. 140 000 tonnes of steel were used for its construction which is one and half times the weight of the Eiffel Tower.

Mauritius airport awards
The World Airport Awards featured the airport in Mauritius in their top 10 airport ratings in the following categories:
Best Airport under 5 million passengers 
Best Airport staff in Africa
Best Airport in Africa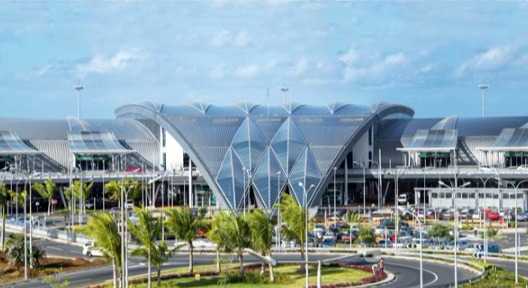 The Airports of Mauritius Co.Ltd (AML) is the owner and licensed aerodrome operator at SSR International Airport. They are a public company that started its operations in 1999.
The Airport Terminal Operations Limited (ATOL) is responsible for the operation of the new terminal. 
SSR International Airport, Plaine Magnien, Mauritius
Email: info@atol.aero
Airport IATA code (3 letter code): MRU
Phone number with international code: (230) 603 8000
GPS: 20°25'48"S 57°40'59"E
ICAO code: FIMP
Runway length: 3361m
Home < travel to Mauritius <  airport in Mauritius 
I'd love to hear from you - add your questions or comments below!