Mauritius all inclusive holidays
The best package for you
Tips on Mauritius all inclusive holidays. What's best value for your needs?
Fully inclusive, full board or half board? Which one to book? 
My advice will help you decide on meal packages offered by resorts and hotels. From 5 star luxury to budget accommodation for families, honeymoon, adult only …

Delicious coconuts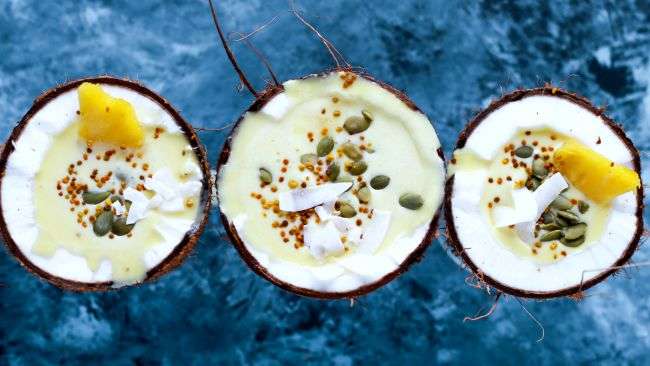 What does all inclusive mean (AI) ?

A fully inclusive option is good value and convenient compared to half board or full board if …
you are travelling with your family and children  
you are planning to stay at your resort or hotel most days
Breakfast, lunch, dinner and drinks are included. You have a choice of locally made alcoholic and non-alcoholic beverages. Some luxury resorts and hotels offer afternoon snacks and tea.
The top 5 star luxury accommodation don't usually offer all inclusive packages.

Beverages on Mauritius all inclusive

I might dampen your enthusiasm. If you have a grand vision of the sommelier coming to your table, bending over with a selection of Moet et Chandon champagne or Premier Cru French wines … it's unlikely to happen. 
The all-inclusive packages include "made in Mauritius" alcoholic beverages. You'll be offered our island made wines, beers, gin, whisky and rum. A good opportunity to sample them. 
By the way, our Phoenix beer has won 12 gold international awards. Our Penny Blue rum has also won gold medals.

You can still order imported alcohol on Mauritius all inclusive holidays. The cost will be added to your bill.

Cheers ...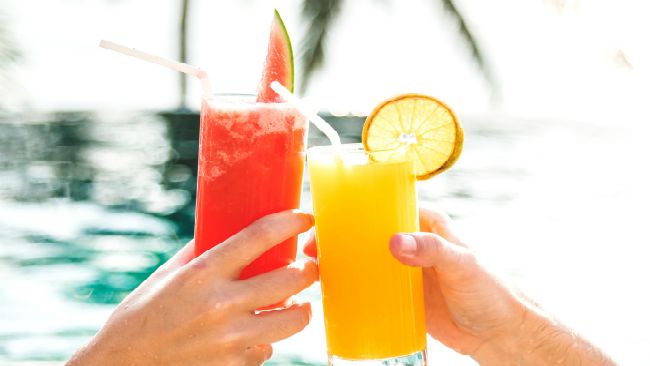 Resorts and hotels have a cut off time for drinks on the all-inclusive package. It varies between 10 pm and midnight. 
Drinks are expensive. Imported and local. Alcoholic and non-alcoholic. When guests complain to the hotel management the answer is usually: "Our prices are in line with prices at similar hotels." A no-win situation.

All inclusive premium
You pay an extra which can be anything from about 15 pounds a day per person. 'Extras' could be a special lobster meal, additional massages, imported alcohol and a couple more activities. These vary from establishment to establishment.
Check with the hotel directly.  Not all tourists think it's worth it.

Sea food on all exclusive premium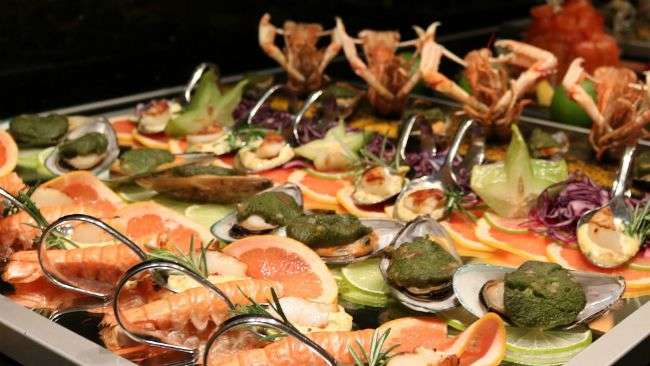 Full board (FB)

Breakfast, lunch and dinner are included - no drinks. Ideal if you don't consume many beverages. Compare the rates between all inclusive and full board and then decide what's best for your specific needs. 

Half board (HB)

Breakfast and dinner are included. Good if you'll be going out exploring during the day. You have lunch or a snack during your outings.
Keep this option in mind if you are thinking about 10 or 14 day packages. Hotel food tends to lose its novelty after some days. Whether in Mauritius or elsewhere. 
Bed and breakfast 

I would not advise you to book a breakfast only package during your vacation. I have noticed that most tourists are tired in the evenings and happy to have dinner at their accommodation. It's also suitable to visitors doing business in Mauritius.
Buffet breakfast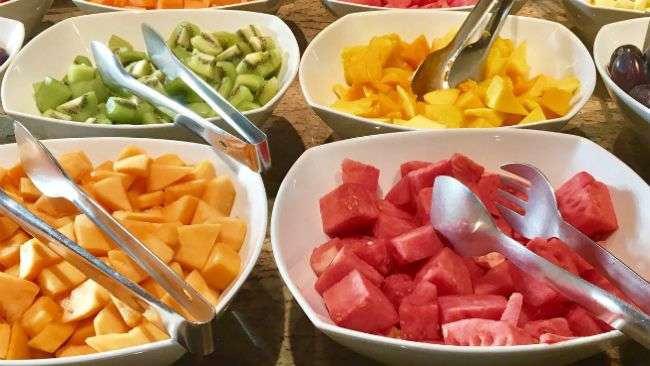 Warning before you book

You should first …
Have a look at my guide on Mauritius hotels and resorts with recommendations on which coast to stay during your vacation. Our weather changes from coast to coast.  Don't worry you won't board your flight as white as a cotton puff even in winter.
Plus …
Tips on restaurant meals

Resorts and hotels have a choice of restaurants with top chefs offering a mouth-watering selection of delicious food. Your 'included' meals will most probably be a buffet meal. Nothing wrong with that. The problem is …
These could become a little repetitive. After a few days you might want to try an a la carte meal. Here is what you do:
Speak to management and offer to swop your buffet meal for a la carte and pay the difference. I often did that when I was touring the world with my passengers. 
This short guide will give you a good idea of the various meal packages on offer. You can now decide  which package to select when booking your Mauritius all inclusive holiday.


Home < Mauritius hotels and resorts < Mauritius all inclusive holidays
I'd love to hear from you - add your questions or comments below!