Mauritius Economy 2018
Outlook and Overview
How will the Mauritius economy benefit your investments?
Have a look at the economic facts, growth, statistics and offshore sectors. Global businesses are attracted by the island's good infrastructures, skilled labour force and political stability. Add booming financial services and a free market economy.
A recipe for success!
Port Louis our capital is a Freeport 
The Bank of Mauritius Tower on the left is the tallest building on the island
Mauritius economy - ranking 

1. The Heritage Foundation, Washington's no.1 think tank: "Mauritius's economic freedom score is 75.1, making its economy the 21st freest in the 2018 Index" 
2.  Voted the most competitive economy in sub-Saharan Africa by the World Economic forum
3.  Sovereign credit rating is 'Baaa1 Stable' from the rating agency, Moody Investor Services
4. The island was ranked 25th out of 190 countries by the World Bank's Ease of Doing Business Report 2018. Up 24 places from last year. 
Mauritius economy - outlook

Mauritius has a place in the global economy as a well-developed financial hub. The island is the 'investment gateway' to Africa.
Additional double taxation treaties and improvement in diplomatic ties will see the increase of Foreign Direct Investment going into the African continent via Mauritius.
Mauritius and a handful of countries in Africa have qualified for support from the International Bank for Reconstruction and Development (IRBD). India will provide financial grants to support the ongoing economic reform. 
The aim of the 2017/2018 budget is to uplift Mauritius to a high income country by 2023. From the current level of US$9,620 to about US$13,600. Third world or a poor country does not apply to Mauritius.

Economic Outlook
The island offers numerous tax advantages but is not a tax haven. The aim is to attract global investments not because of tax benefits but rather as a business gateway. 

Freeport zone

The government established a Freeport zone for re-exporting goods and transhipment. The aim is to position Mauritius as a warehousing, distribution, logistics and distribution centre for the region.

CyberCity and business parks

Our Information and Communication Technology 'ICT' and Business process outsourcing 'BPO' are of world class. Mauritius is a digital nation in the making. There are over 21,500 multilingual (French and English) professionals working in the 'ICT' sector.
Business Parks of Mauritius Ltd 'BPML' which is a government owned company has developed a CyberCity next to the airport and business parks at other strategic locations. They provide state of the art facilities and attract global companies such as Huawie, Accenture, Ceridian and Infosys.
The Cyber Tower won the prestigious 'Intelligent Building of the Year' award in 2005. It was awarded by the Intelligent Community Forum of New York out of 250 applications.
Part of the CyberCity in the North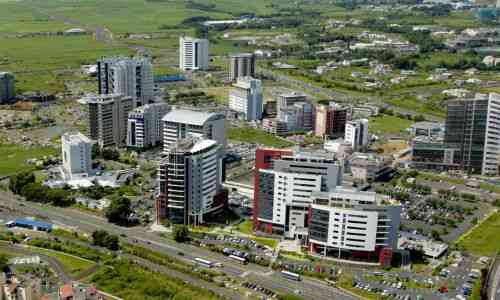 Mauritius economy - exports / imports

Exports 2017 
domestic exports were 53 billion rupees
domestic exports and re-exports were 72 billion rupees
forecast for 2018 is 84 billion rupees
The main export markets were the EU countries.
UK, France and USA 11.8% on average and South Africa at 9% 
Imports 2017

180 billion rupees
Forecast for 2018 is 190 billion rupees
From India and China 18%, followed by South Africa 9% and France 8%
Mauritius global economy
Mauritius economy - statistics 

GDP - composition by sector 2017
agriculture: 4% - farming, fishing and forestry
industry: 21.8% - manufacturing, energy production, mining and construction
services: 74.2% - communications, government activities, transportation, finance, plus private economic activities that don't produce material goods
GDP - real growth rate 
3.9% -2017 
3.9% - 2016 
3.5% - 2015 
GDP - per capita (PPP) 
US$21,600 - 2017 
US$20,900 - 2016 
US$20,100 - 2015 
gross international reserves rose to $5.3 billion in June 2017.
inflation rate was 3.5% in 2017 with an estimation of 3.8% in 2018
unemployment rate was 6.9% in 2017
total population is estimated at 1,356,388 
The average salary depends of course on the type of job you do. In 2018 the government introduced a minimum monthly salary of 8,140 rupees plus various government compensations bringing the total to 9,000 rupees 

Mauritius economy - tourism 

The tourism sector is doing well with more flights to Asia, Russia, Australia and Europe.
Arrivals in 2017 were 1,341,860 an increase of 5.2% from 2016. France led the way followed by the UK, Reunion Island, Germany, South Africa, India and China.
Earnings from the tourism industry was 60.3 billion rupees in 2017. The forecast for 2018 is 62.5 billion rupees.
High-end tourism
Overview of the economic history
From rags to riches. From sugarcane to Africa's most competitive economy. All in the space of 50 years! 

When the island became independent in 1968, Mauritians were worried about the future. How would the island survive on its own? Thousands left for Australia and South Africa. I remember the big passenger ships sailing away with these emigrants. 
The per capita income was about US$260. Now it's US$ 9,620. 
Our economy was agricultural dependent on one commodity: sugarcane. Sugar exports were 90% in 1968 compared to 3.5% at the moment. 
Sugarcane in Mauritius
In between, an export processing zone 'EPZ' was established for textiles and garment manufacturing. Since 2000 these manufacturing industries have declined with competition from low-cost producers from Asia and changes in preferential tariff agreements.
The government met these challenges by starting privatization programs, offshore activities and progressive reforms in the financial markets. By 2005 financial and business services were already contributing 20 per cent of GDP.
Tourism, financial and business services, Information and Communication Technology 'ICT' are now important sectors of our economy. 

Our successful economic transition is remarkable when you think the island is isolated from major world markets. And … she is only 65 km long and 45 km wide! Size does not matter …
A paradise island with an economic success story
Investment and business opportunities

You now have an idea of the economic success of the island.  A great location to reach profitable markets and create wealth. 
Click on the links below for information and tips on investments opportunities for global businesses. The Mauritius economy is booming. Don't miss out!
Reference / Source
World Bank, Mauritius Chamber of Commerce and Industry, the Economic Development Board
Home < investment opportunities < Mauritius economy
I'd love to hear from you - add your questions or comments below!