Mauritius family villas in summer
Where to book?
The  top Mauritius family villas in summer. Which coast for the best weather? North, West, South or East. View my select choice of holiday homes.
All private and licensed family friendly vacation houses on the beach. 
Some with pool and chef. From budget to luxury. Enjoy!
A word of caution:
Be careful of some accommodation that are operating illegally. I have seen some listed on online booking platforms.

Belle Mare on the East coast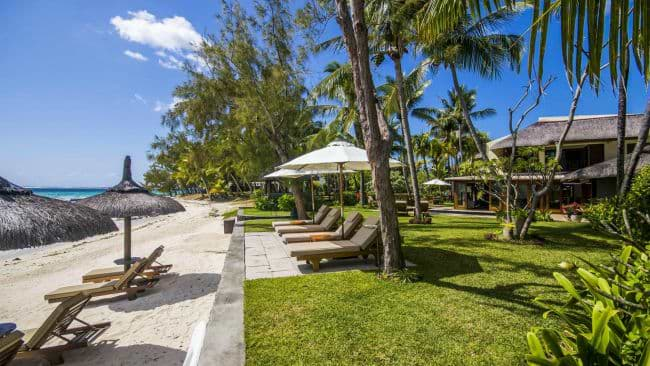 Where to stay for the best weather?

Mauritius summer is hot and humid. Like all tropical islands! The thought of hot temperatures does not appeal to you? I have good news for you.
Carry on reading to see why … 
South East trade winds visit our island every year. These welcome breezes will keep you refreshed in the East and South during our summer months. Let's say from mid November to the end of April.
Below you'll find my selection of Mauritius family villas in summer that are located in the East and South. It's where you'll have the most enjoyable temperatures. 

Lovely outdoor area East coast villa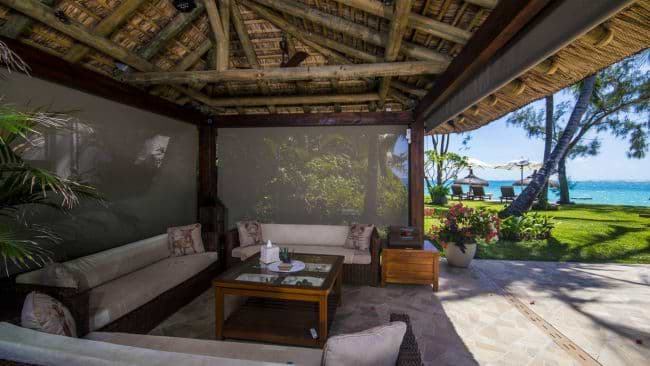 Mauritius family villas in summer - East coast
Famous Belle Mare beach and nearby Trou d'eau Douce. Fabulous during our summer months. I have also included Roches Noires a little further up the East coast. I spent my school holidays there. The beach faces North. So this area is also great during our winter months.
---
Villa Kavanga - Roches Noires, North East 
4 bedrooms, 4 bath, max 8 people
A simply spectacular beach villa! Modern and luxurious with a private pool and beach hut gazebo. I spent my childhood holidays in Roches Noires and there's something special about this laid back coastline... 
Are you a big group of family with friends? Villa Kavanga is in a complex with other villas. So this set up is perfect! 
---
Villa Ilot - Roches Noires, North East 
4 bedrooms, 3 baths, max 9 people
It doesn't get much better than this! A beach villa on your own private island? Seems like a paradise dream. Every corner of this contemporary holiday house will take your breath away.
The accommodation offers open plan living areas with loads of space for the family. Enjoy a morning kayak into the lagoon while your personal chef prepares your al-fresco family breakfast. I think your kids will never want to leave!
---
Villa Badamier - Belle Mare, East
5 bedrooms, 5 baths, max 12 people
One of the most beautiful and elegant villas I've seen in Mauritius... 
Swim in your private pool or in the turquoise sea right in front. I especially love the thatched-roof beach kiosk for tropical evening cocktails!
The spacious entertainment and living areas are absolutely wonderful for a big family. Add a stylish bar and pool table and you have an ideal holiday for older children. Fun and memorable moments await in paradise!
---
Villa Carene - Pointe d'Esny, South East
2 bedrooms, 2 baths, max 4 people

What a perfect beach house for a small family!  Pointe d'Esny  is one of my favourite places in Mauritius. I'm sure you'll love the tranquility and laid-back atmosphere. Bonus for kite-surfers... you can kite right from the beach! 
Villa Carene is close to the marine reserve in Blue Bay.
A tropical dream holiday come true! 
---
Do you have any questions about the Mauritius family villas in summer? I am a message away!


Home < family beach villas < Mauritius family villas in summer
I'd love to hear from you - add your questions or comments below!