Mauritius family villas in winter 
Careful of windy beaches!

The best Mauritius family villas in winter. Make sure you choose a location with no winds blowing onto the beach!
My choice of private and licensed holiday houses is below. From budget to luxury.
All fully serviced. Some with a private pool and cook. 
Where is the best location in winter?

Are you thinking of travelling to our island during our winter months? That's from mid May up to September.  Please be careful of where you book your accommodation. We do have a 'winter'! Maybe it could be compared to an early European autumn ... 

Our weather is varied for a small tropical island. It changes from one coast to the next. There are trade winds blowing on our East and South coast. It's not going to be enjoyable on these coasts during our cool months.
Rather book a villa on the West or North coast. Don't even consider the East or South.
Many tourists are tempted by reduced prices in these parts of the island: 
Belle Mare, Pointe d'Esny, Poste Lafayette, Trou d'eau Douce ... Skip them!

Enjoy tropical drinks by your private pool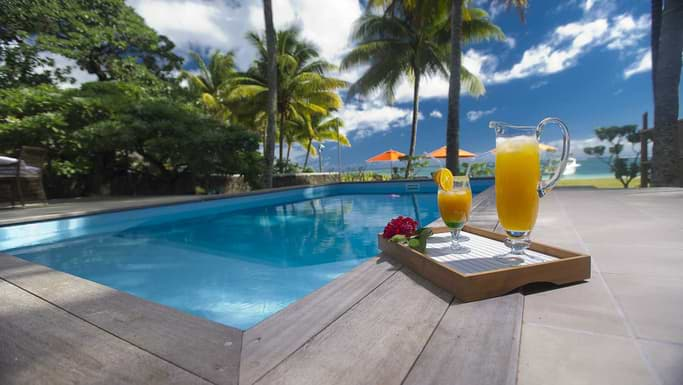 Mauritius family villas in winter

Below you'll find a list of my favourite villas away from the winds. You'll be able to enjoy the beach without being blown back to your own country...
These family friendly holiday homes are all operating legally. Yes! You also have to be careful of unlicensed accommodation. There are many of those for rental on the internet.
Let's start with vacation houses on the West coast and then move to the North coast.

Please note:
At the bottom of the page you'll find a link to villas in Roches Noires. Although it's on the East coast, the beach is protected from trade winds being North facing.
Mauritius family villas in winter - West coast

The West coast will be the warmest. Black River, Tamarin … There are many family friendly excursions in the area. Sea activities for teens and your adults. Children will enjoy watching dolphins in the lagoon. 
---
Villa Turquoise (6 bedrooms, max 12 people)
Tamarin, West Coast
This is a gorgeous family villa with lots of space for everyone. It's located on a quiet beach with few people passing by. I love the open plan living areas that flow onto the pool! 
You'll be close to lots of family-friendly attractions like adventure parks and animal encounters. Bonus for the outdoor-type family... you are near mountains, waterfalls and nature parks. Not to mention admiring the beautiful beach sunsets from your elevated patio!
---
Villa Tamarin - Black River, West Coast
4 bedrooms, 3 bath, max 8 people
Wake up to tropical birds singing around this stunning beach house. I especially love the island feel of the thatched roof and stone wall accents. If you're looking for tranquil and natural surroundings it doesn't get much better than this!
This villa is located on a big family estate so you can get a real sense of living in Mauritius. Like the holiday home above, you are close to many activities your kids will love.
PS. There are similar villas for rental on this private estate. So don't worry if one villa is not available, the others might be!

---
Mauritius family villas in winter - North coast
It's where Grand Baie and Trou aux Biches are located. They are lively areas with many restaurants and villages.
Villa Pointe Azur (4 bedrooms, 3 baths, max 8 people) Grand Baie, North
I like the cosy, homely feeling of this beach villa. It's located in one of the most sought-after bays in the North! You are close to many shops, restaurants and bars so it's ideal for young adults in the family.
I spent my childhood picking up what we call "tec tec" (small clams) by the seafront of Merville Bay. Enjoy al-fresco dining under the palm trees 

---
Villa Opale (3 bedrooms, max 8 people)
Trou aux Biches, North
A modern holiday home in the North! You'll be in a central location with cosmopolitan hotels around you.
I love people-watching and admiring the boats whizzing off into the ocean...
This villa is ideal for families who enjoy watersports. You can also walk to nearby diving schools. A fun-filled family holiday guaranteed!

---
Villa Beryl (2 bedrooms, 2 bath, max 4 people) Trou aux Biches, North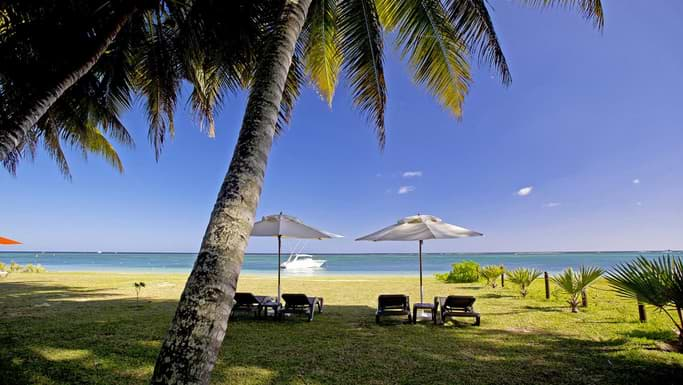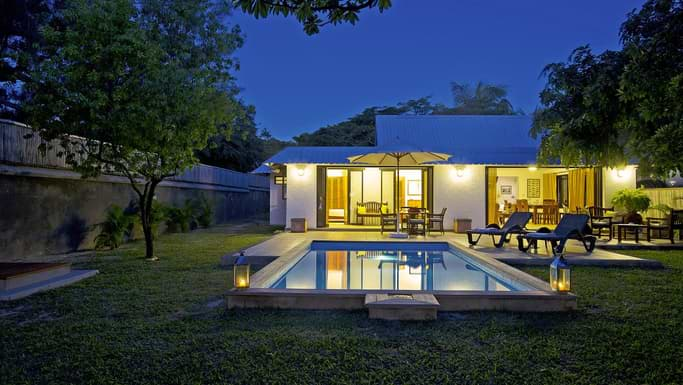 Tucked away behind tropical palm trees, this home-away-from-home is perfect for a small family!
Remember Villa Opale above? Well this beach villa is right next door! So you have the same lively beach in front with festive resorts around you.
---
Roches Noires on the North East coast
Have a look at some lovely family beach villas on the North East coast at Roches Noires. The beach faces North which means it's also suitable during our winter months.
Click here to view
If you need help simply contact me. I hope you enjoy looking at my choice of Mauritius family villas in winter.


Home < family beach villas < Mauritius family villas in winter

I'd love to hear from you - add your questions or comments below!