Mauritius sunset dinner cruise 
Imagine a catamaran and crew at your disposal for a dinner cruise in Mauritius. Five hours of bliss sailing in our lagoon at sunset.
Charter a boat for a private sea excursion. Enjoy a romantic evening with friends or family. You'll soon surrender to the spell …
The magic of sailing at sunset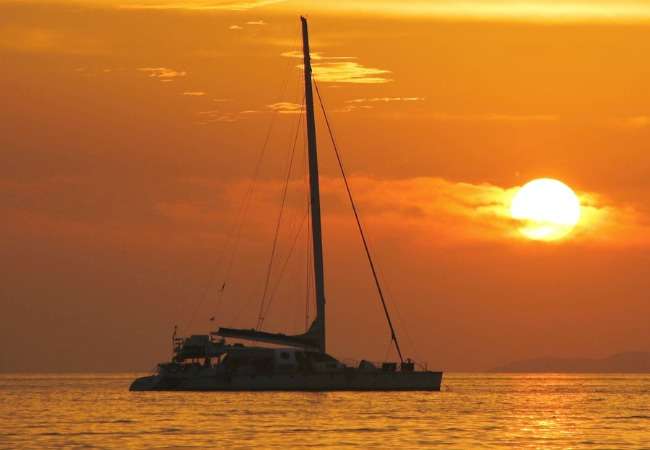 These private sea excursions usually set sail at 5.00 pm and return to anchor at about 10.00 pm. You can bring your own food or drinks or order dinner when you book the cruise tours.

Below you'll find a map of the island and the itineraries for the sunset dinner cruises.  
Mauritius map with islets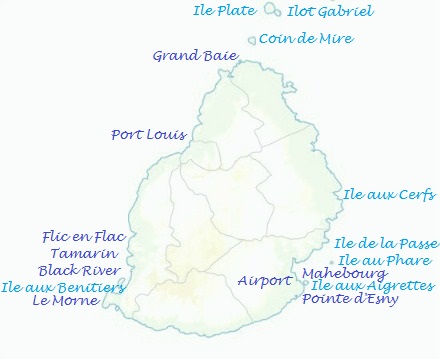 Private sunset dinner cruise - South East
View of Mahebourg Bay from Pointe Jerome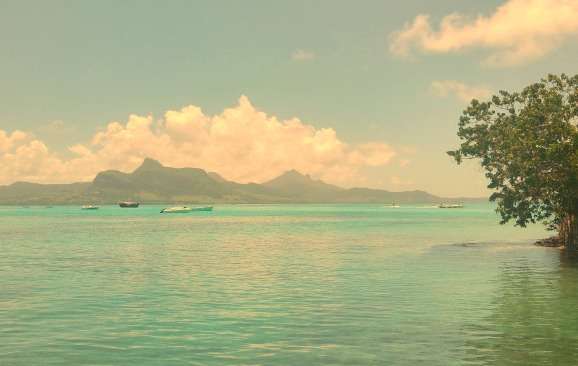 You'll embark at Pointe Jerome in Pointe d'Esny and set sail across Mahebourg bay. For the whole evening the boat and crew will be yours! You could cast anchor near ile aux Aigrettes. The islet is a famous nature reserve.
Savour every moment. You'll have a choice of menus when you make a booking. I recommend the VIP menu with lobster. It's worth the extra cost! The seafood is delicious in Mauritius. 
Private sunset dinner cruise - South West
Le Morne from Black River during early sunset
Your catamaran will set sail from La Balise Marina in Black River. Ample time to admire the lovely mountains views and our colourful tropical sunset.
You'll navigate the peaceful lagoon and cruise North alongside the coast towards Tamarin Bay. 
Savour a delicious dinner or bring your own whilst watching the sunset on the horizon.
Private sunset dinner cruise - the North 
Sunset dinner cruise in Mauritius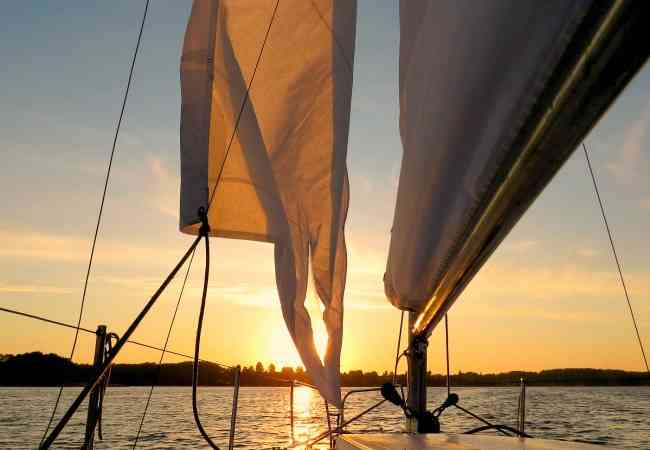 You'll sail from Grand Baie in the North of the island. Then across the lagoon alongside the coast where you'll have a peep at Mauritius' luxury resorts. The catamaran will either sail into the Indian Ocean towards 'Coin de Mire' island or cruise within the lagoon.
Dinner and drinks will be served according to your selection when you booked or maybe you decide to bring your own food and beverages. It's up to you. 
Mauritius sunset dinner cruise - schedule 
The Mauritius sunset dinner cruises are available throughout the year. If you book one of these attractions during our mild winter all you need is a windbreaker.
The best part when you rent the boat is … you can organize the cruise tour to suit your needs!
A Mauritius sunset dinner cruise is a delightful boat trip. A great opportunity to spend a romantic evening on our tropical island. You'll cherish the memories long after you return home.
I recommend you hire the catamaran well ahead of your holiday. 
Home < Sailing in Mauritius < Sunset dinner cruise in Mauritius


I'd love to hear from you - add your questions or comments below!