Mauritius restaurant
Le Palais de Barbizon
Sample the delights of a traditional Mauritius restaurant at Le Palais de Barbizon in Chamarel. Imagine your very own buffet with tasty creole specialities. Organic vegetable and fruits prepared the island way, chicken and fish rougaille dishes, plus of course a rum punch ...

A tasty Mauritius restaurant - Le Palais de Barbizon
Your very own 'buffet' at 'Le Palais de Barbizon' restaurant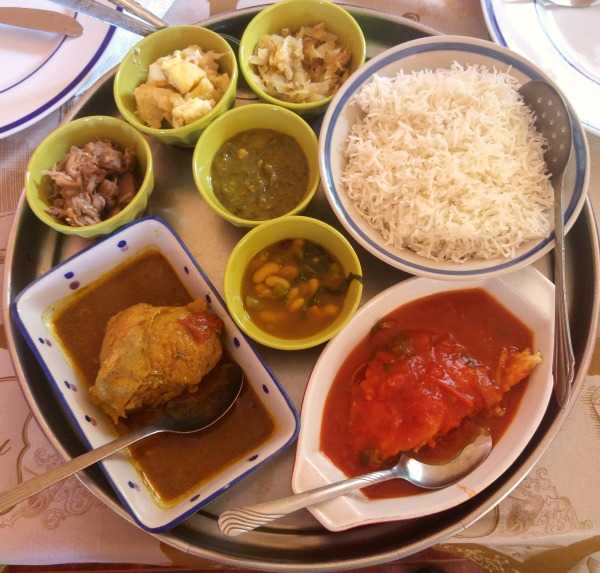 The food is lovingly prepared by Rico and his sister in law Marie-Ange in their humble restaurant in the South West of the island. You'll be welcome with open arms by this warm creole family. 

With Marie-Ange and Rico l'Intelligent in front of their restaurant
What's on the menu?
The lunch menu varies everyday depending on what is available. At only 450 rupees it's very reasonable. Le Palais de Barbizon offers you a selection of exotic vegetables and fruits plus typical creole food in lightly spiced sauces. Don't worry about chilies. They are served on the side. 
The family photo album with Marie-Ange proudly preparing her mouthwatering dishes.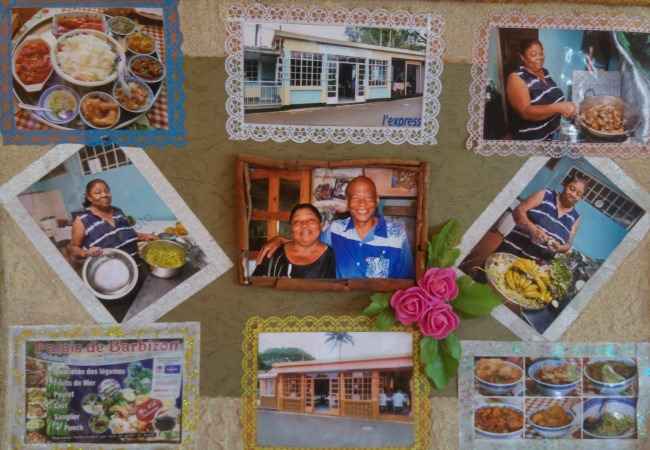 Le Palais de Barbizon restaurant - Mauritius location
The laid back village of Chamarel is located in the mountains of the South West. The restaurant is off the small main road leading to Saint Anne church. It's very easy to find.
The telephone number is: +230 483 4178
Plus ... it's only a 15 minute scenic drive from le Morne, Black River or Tamarin up the mountain's slope with breathtaking views.
Le Palais de Barbizon restaurant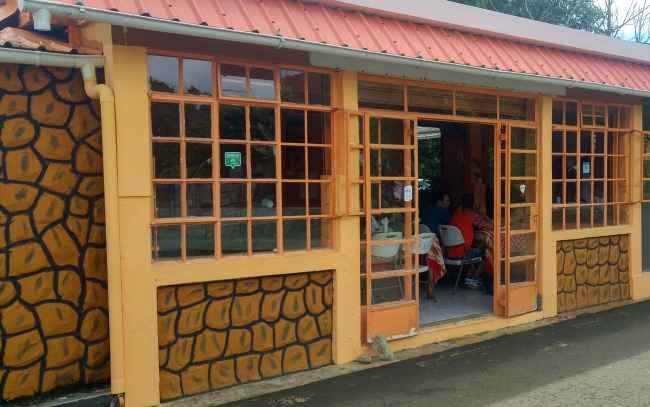 Marie-Ange inside her restaurant is ready to welcome her first guests of the day
Tip:
If you are travelling by taxi your driver might suggest another restaurant. Be firm and ask to be taken to le Palais de Barbizon.  

Nearby attractions
Have lunch at the Palais de Barbizon after you visit the Ebony Forest Reserve at Chamarel. The restaurant is literally around the corner! In the afternoon you could explore the Black River gorge which is another nearby attraction.
Imagine savouring an authentic Mauritian creole meal amid wild mountain scenery. Good old Mauritian food is all part of our tradition and culture. 
The restaurant has received the Certificate of Excellence from Trip Advisor.
What more can I say about the Palais de Barbizon, Mauritius' authentic restaurant?
 'Bon appetit'! and enjoy every mouthful.
Home < Mauritius food < Palais de Barbizon Mauritius restaurant
I'd love to hear from you - add your questions or comments below!